Does This Photo Mean Prince William and Kate Middleton Were Always Destined to Be Together
It has officially been eight years since Prince William and Kate Middleton tied the knot in what turned out to be a gorgeous ceremony inside Westminster Abbey. The Duke and Duchess of Cambridge would go on to share three children — Prince George, Princess Charlotte, and Prince Louis — and after all these years their marriage is still stronger than ever. But a newly surfaced photo suggests that William and Kate were always destined to be together.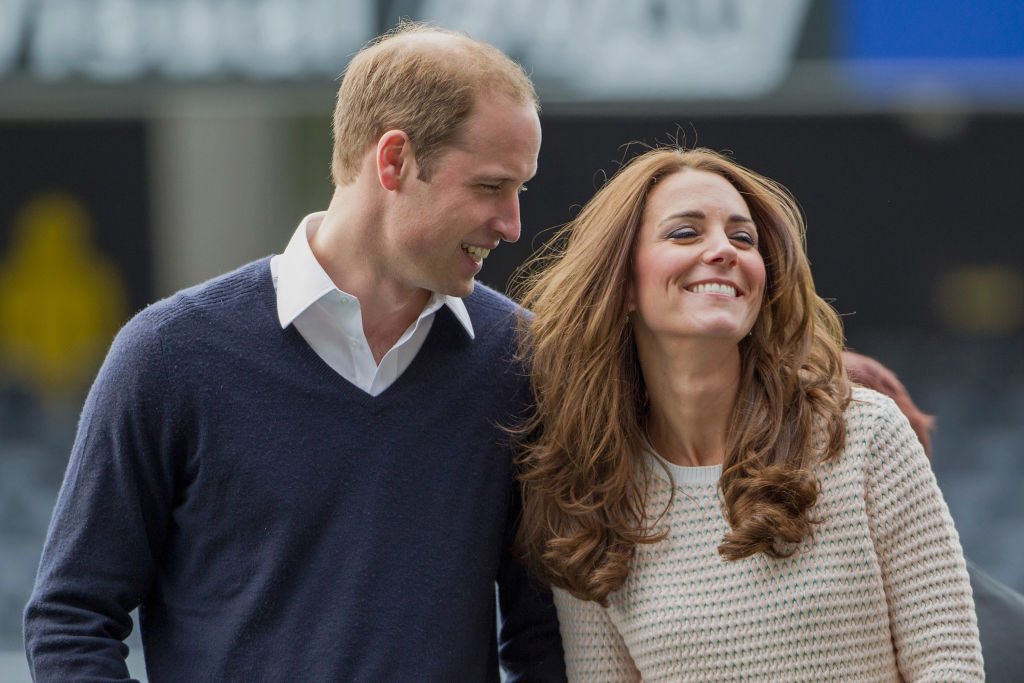 A look back at Prince William and Kate Middleton's engagement
William and Kate met while attending the University of St. Andrews in the early 2000s. The pair immediately struck up a friendship at the university, and things turn romantic in their second year.
After graduating in 2005, William and Kate went public with their romance, though they experienced quite a few ups and downs in the following years. This includes a public breakup in 2007 that thankfully only lasted a few months.
Although it took a while before they got engaged, William popped the big question in November of 2010. According to Hello Magazine, Clarence House issued a statement on the 16th of November confirming the exciting news.
"Prince William and Miss Middleton became engaged in October during a private holiday in Kenya. Prince William has informed the Queen and other close members of his family. Prince William has also sought the permission of Miss Middleton's father," the statement read.
The announcement was long in coming and confirmed that William was finally ready to take things to the next level. While many royal watchers considered it to be a fairytale romance, a recently surfaced photo suggests that the pairing was decades in the making.
Where William and Kate destined to be together?
A photo was recently posted on Twitter that indicates there was a link between Kate's family and the royals since at least the 1960s.
The image in question shows Kate's grandfather standing beside Prince Philip as he exits a plane on a runway. The black and white photo was snapped in 1962. Although Kate's grandfather is clearly one of the pilots of the plane, royal watchers are convinced that it proves her fate was "written in the stars" some 40 years before she laid eyes on Prince William.
"This is Kate's grandfather, Peter Middleton, with Prince Philip in 1962. The family connection was written in the stars 40 years before William and Kate met in 2002," one of the Tweet captions read.
Fans of the Cambridges reacted with surprise over the image, with many complimenting Kate's grandfather on his good looks.
There is no telling how much he mingled with Philip, but there is no denying that the Middleton family crossed paths with the royals way back in the 1960s. Little did they know that their legacies would be forever intertwined decades later.
Inside Prince William and Kate Middleton's 2010 engagement
After announcing their exciting engagement, William and Kate took part in a photoshoot inside St. James's Palace. The engagement photos featured Kate's stunning engagement ring — a diamond and blue sapphire mix that was originally part of Princess Diana's jewelry collection.
William later opened up about the importance of the ring, revealing that it was meant to honor the memory of his late mother, who died in a tragic car accident in Paris in 1997.
"It's very special, as Kate is very special. It's my way of making sure my mother didn't miss out on today and the excitement," he explained.
The Duke of Cambridge later revealed that he popped the big question during a romantic getaway in Kenya. He got on bended knee near Mount Kenya and had been planning the engagement for quite some time.
Kate admitted that she was very surprised by the engagement and assured royal watchers that the whole thing was very romantic.
William and Kate share a laugh
Fast forward eight years and Prince William and Kate Middleton's marriage is stronger than ever. Not only does the couple enjoy a very hands-on approach to raising their three children, but they also know how to share a good laugh in public.
During a recent outing to celebrate their newly launched project, Shout, Middleton tripped and almost fell down while getting into the couple's car.
Fortunately, William was there to lend a hand and prevent his wife from taking an embarrassing tumble in front of the cameras. After she regained her balance, Kate shared a knowing smile with William that proves just how close they remain after all these years.
Prince William and Kate Middleton have not commented on the newly surfaced photo of her grandfather with Philip. As far as anyone knows, the couple met at random at St. Andrews University and were not directly set up by their respective parents.