Does Tom Brady Have Any Close Friends?
Tom Brady is now in his nineteenth season as quarterback for the New England Patriots. He has one of the longest-running, most successful quarterback careers in the National Football League (NFL). The reason he's managed to stay on top for so long? Dedication.
Brady adheres to a rigorous diet that was set up by his nutritionist, Alex Guerrero. His football training keeps him physically healthy, and he even ensures he does daily brain training. Brady also has a strict bedtime that keeps him feeling refreshed and energized every morning. It's no wonder the 41-year-old looks as good as his 20-something teammates. His routine is so good that some of his teammates have started following his same regiment.
But does this dedication to health and football take a toll on Tom Brady's social life? Does he have any close friends, and who does he spend most of his time with?
Gisele Bundchen
Tom Brady and Gisele Bundchen were named as one of Forbes' most powerful couples in the world, and that doesn't happen without a lot of effort. The 5'11", 38-year-old wife of Brady is a Brazilian model and actress who is among the best paid in the world. The two tied the knot in 2009, and have been going strong since.
Mark Wahlberg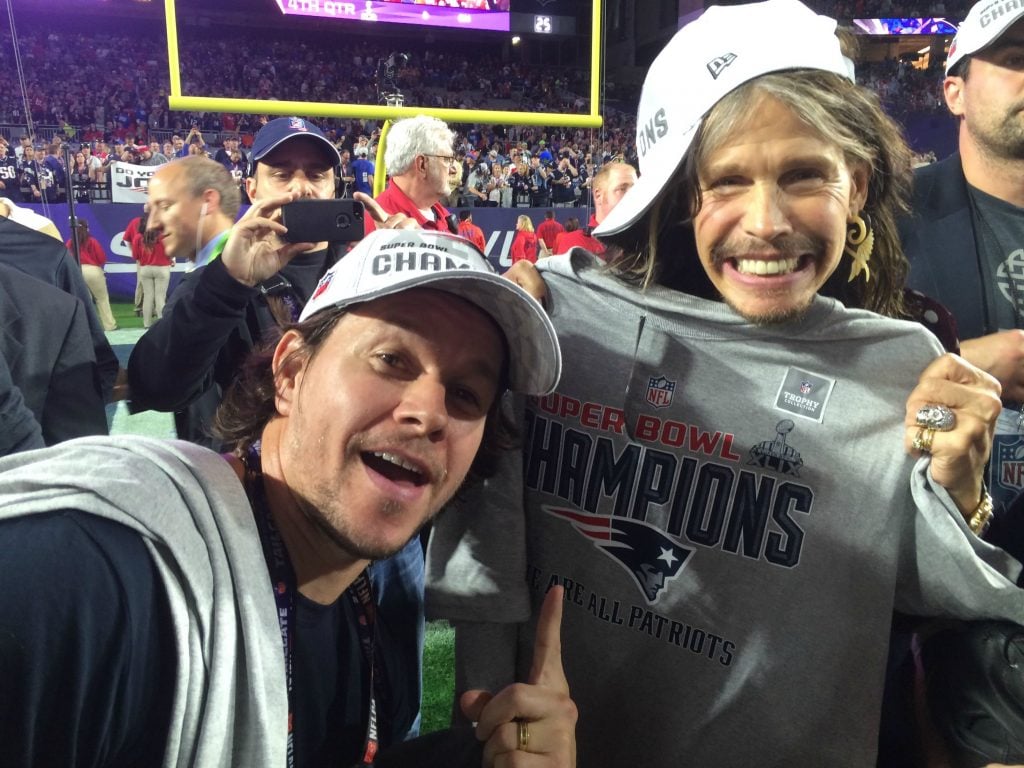 Brady is close friends with Ted actor, Mark Wahlberg. The two are so close, in fact, that Wahlberg was able to convince Brady to appear in his movie, Ted 2. That he appeared isn't the shocking part, but rather that he played a scene where he argues about "ball deflation"… and we all know what a mess that was for Brady.
Julian Edelman
Fellow Patriot, Julian Edelman, spends a lot of time with Brady both on and off the field. During the offseason, the two friends work out on a regular basis. They have an amazing wide receiver-quarterback relationship that has been the turning point in a lot of Patriot games. Not only this, but Edelman is the only consistent wide-out Brady has had since 2013.
Alex Guerrero
The one person that Brady spends the most time with is his personal trainer and nutritionist, Alex Guerrero. The two are so close friends that Guerrero is godfather to Brady's son, John. Not only do they spend time together almost daily while working on Brady's athletic abilities, but they also hang out together outside of training. It wouldn't be a far stretch to call Guerrero one of Brady's very best friends.
Peyton Manning
It may come as a big surprise for many that the two best quarterbacks of the 21st century are actually friends, but it's true. On the field, the two have an intense football rivalry that has seen years of excitement and disappointment for both sides. Off the field? Manning and Brady are good friends, and Brady has even gone so far as to say his friend is the best quarterback he's ever seen. They hang out in the offseason and are friendly after one of their competitive football matches.
Donald Trump
Although neither likes talking to the press about their friendship, it is a known fact that Trump and Brady play a lot of golf together. President Trump has gone vocal on Twitter to support Brady. Brady, in turn, openly supported the fact that he thought Trump would "be great" as president during his election campaign.
Rob Gronkowski
Another Patriot teammate that Brady is close with is tight end, Rob Gronkowski. In 2016, the tight end played an epic prank on Brady that involved a nap and a bowl of water. The two are also often together outside of football. Gronkowski is probably right up there in the "best friend zone" with Alex Guerrero.