Does 'True Detective' Need to Lighten Up?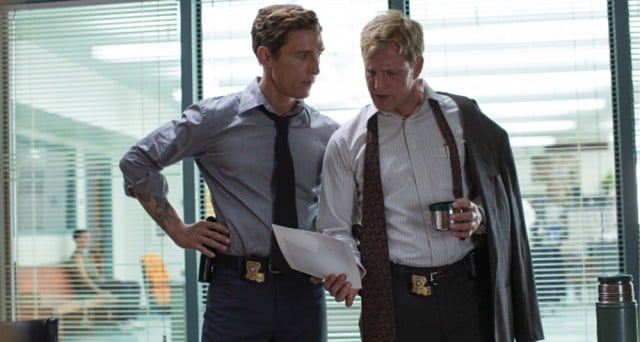 The second season of HBO's new anthology crime series True Detective has been the most fervently speculated-about entertainment item outside of the Star Wars and Marvel franchises this year. The first season of the show took the television world by storm when it debuted, becoming easily the most critically acclaimed new series to hit the airwaves in 2014. Critics and viewers couldn't get enough of the suspenseful show, due to an incredible script by creator Nic Pizzolatto and career-high performances from Woody Harrelson and Matthew McConaughey.
The first season followed two police detectives, played by Harrelson and McConaughey, as they tracked down a depraved serial killer over the course of nineteen years in rural Louisiana. The show sprang from the mind of writer Nic Pizzolatto, whose writing and creative vision made the show a twisted masterpiece.
Journalists and fans have been hounding Pizzolatto for details about the show's next season since it was announced that there would be a next season. At first it was thought the show would be considered a miniseries and would not continue after eight episodes, then True Detective threw a big wrench into the Emmys when it entered as a regular drama series rather than a miniseries. HBO and Pizzolatto have decided to pursue the anthology format, in which each season has a different, unrelated cast and storyline than the last.
Now HBO program director Michael Lombardo has given some more details about the next season of the show, and promised that the official cast announcement is coming soon. "We're going to start shooting in September for it to air next summer," Lombardo said at the Edinburgh TV Festival, according to The Hollywood Reporter. "[It has] different characters, a different setting. It's set in California, all of California. There are three cops. One of the characters is female. I think that's probably all I'm allowed to say. We'll probably be announcing casting soon."
The most surprising thing Lombardo had to say about season two was that there is going to be a definite tone change, with the next season being a bit lighter than the first. "It's still dark," Lombardo said, per Variety. "Nic explores the darkness in people's souls… It's not as dark, but it's not a light ride. Nic likes looking into the crevices of the soul."
In all fairness, it's hard to imagine anything much darker than the first season of True Detective, which featured a serial killer of children obsessed with satanic rituals, an essentially good man completely broken by the death of his young daughter, and the vicious poverty of the backwoods bayous in Louisiana. Just because the tone is going to be a bit lighter doesn't mean True Detective is turning into True Blood.
Fans and television writers have been speculating and wondering about the cast of the second season for months, and it seems we're all going to have to wait a little bit longer to find out who will replace McConaughey and Harrelson. According to the most recent rumors, Vince Vaughn is in talks to play the show's villain, with Elizabeth Moss, Colin Farrell, and Taylor Kitsch as the three main police officers. Whichever actors come on board will have just as much pressure to live up to McConaughey's performance as Pizzolatto does to write a script on the same level as the first season.
The first season of True Detective is nominated for five Emmy awards. Harrelson and McConaughey will compete against each other for outstanding lead actor in a drama series, but McConaughey is seen as a shoe-in for the award for his portrayal of the cynical, hyper-intelligent cop Rustin Cohle. Even Harrelson himself has said that McConaughey deserves the award. For best drama series, True Detective will be competing against the final season of Emmy favorite Breaking Bad and Emmy voters could choose to honor the long-running show about the high school teacher turned meth dealer rather than the hot new sensation.
The huge amount of attention True Detective's first season has gotten means that the new season will be picked apart by fans and critics, compared to the first in every which way. Pizzolatto has said of the pressure, "I don't think you can create effectively towards expectation. I'm not in the service business." Whether the slightly lighter tone ends up being what fans and critics want or not, it seems Pizzolatto is doing exactly what he wants.
More from Entertainment Cheat Sheet:
Follow Jacqueline on Twitter @Jacqui_WSCS
Want more great content like this? Sign up here to receive the best of Cheat Sheet delivered daily. No spam; just tailored content straight to your inbox.