'Dog's Most Wanted': Is Beth Chapman on Dog the Bounty Hunter's New Show?
Duane "Dog" Chapman is still in deep mourning after losing his beloved wife Beth Chapman, but she will appear on his new show 'Dog's Most Wanted'
Duane "Dog" Chapman is still in deep mourning after losing his beloved wife Beth Chapman to throat cancer in late June at age 51. The star of Dog the Bounty Hunter has said he's been struggling to adjust to life without his long-time partner, telling In Touch Weekly, "never did I think it'd be this bad." 
Beth Chapman is clearly missed by both her family and her many fans. But her presence will live on in Chapman's new TV series, Dog's Most Wanted. 
'Dog's Most Wanted' was filmed before Beth Chapman's death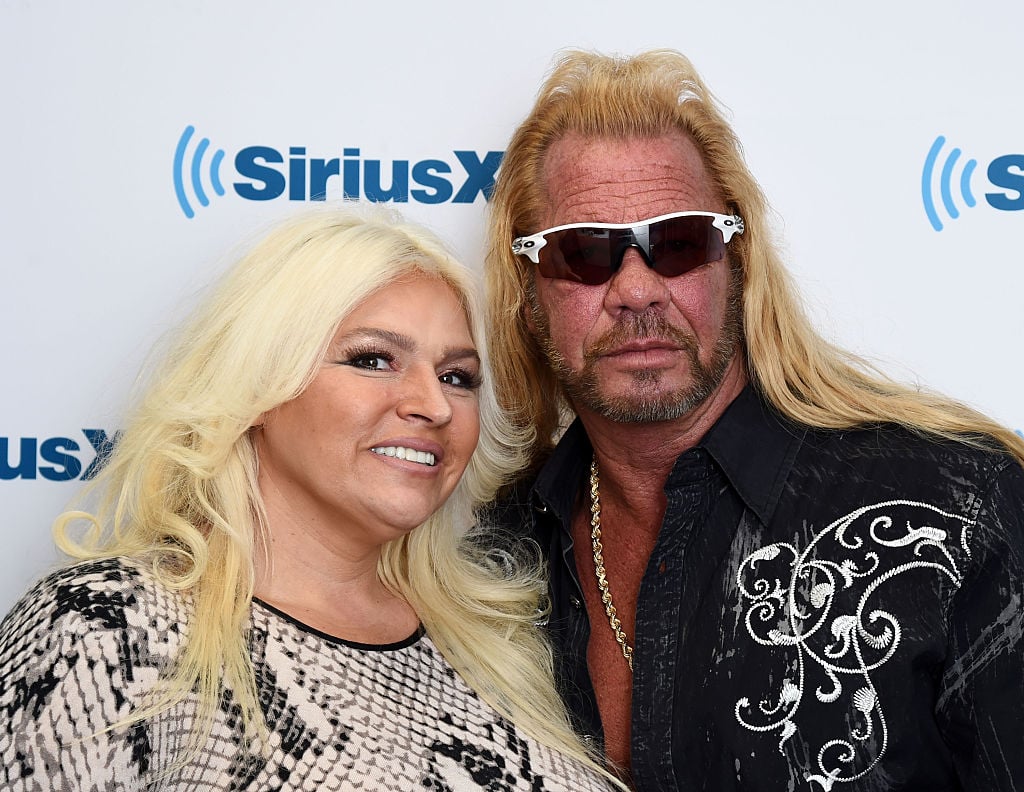 Beth Chapman was diagnosed with throat cancer in September 2017. Though she received treatment and was declared cancer-free, the disease returned in November 2018. She embarked on another round of treatment, but by June 2019 she was hospitalized and in a medically-induced coma. She died on June 26.   
As Beth and Dog dealt with her health problems, the couple was also filming a new TV series called Dog's Most Wanted. The show will feature the couple doing what they do best — hunting down criminals. But based on the preview, it will also shine a light on Beth's battle with cancer.
In a trailer, Beth says she has a "fifty-fifty chance" of beating her cancer. She also talks about how she wanted to go out doing what she loved. 
"If I'm gonna die, I'm gonna die in my boots," she says. 
"I don't want to have my kids all surrounding my bed, I want to have them all in my car. I want to be out on the streets, I want to be kicking a**, booting in doors, and taking names, and dragging guys to jail," Beth says. 
"My wife is, was, and always will be the heart and soul of Dog's Most Wanted," Dog said in a statement. "Beth wanted nothing more than for the show to go on, and I am so proud of the legacy that she left behind. She lived and died for this show, and she would be so proud of how hard we worked bringing these criminals to justice."
What else we know about 'Dog's Most Wanted' 
Dog's Most Wanted will air on WGN America and is the network's first unscripted series in more than five years. The show will follow Dog and Beth along with a team of hunters dubbed "The Dirty Dozen" as they travel cross-country to hunt down some of America's most wanted fugitives.
"In Dog's Most Wanted, we chase the most wanted criminals in America, whether they be on the FBI's top 10 list, the Federal Marshals … it's up to me who I choose to be the most wanted," Dog says in the trailer. "Previous shows we chased bond jumpers, somebody out on bail. This one we're chasing fugitives."  
"These guys are your urban terrorists, your everyday domestic thugs," Beth adds. 
Beth described the show as being about more than just chasing bad guys. "I think America really needs shows like this where they can anchor on justice and compassions," she says later in the trailer. 
Dog's Most Wanted premieres Wednesday, September 4 at 9/8c on WGN America. 
Check out Showbiz Cheat Sheet on Facebook!