'Dolemite Is My Name' Review: Eddie Murphy Wood
From Ed Wood to The Disaster Artist, movies about filmmakers can make those creators legends far bigger than the films they made. Who better than the writers of Ed Wood to tell the story of Rudy Ray Moore (Eddie Murphy), creator and star of the blaxploitation classic Dolemite? Dolemite Is My Name is just as endearing as Ed Wood, although Moore's film ended up a bigger hit than any of Wood's.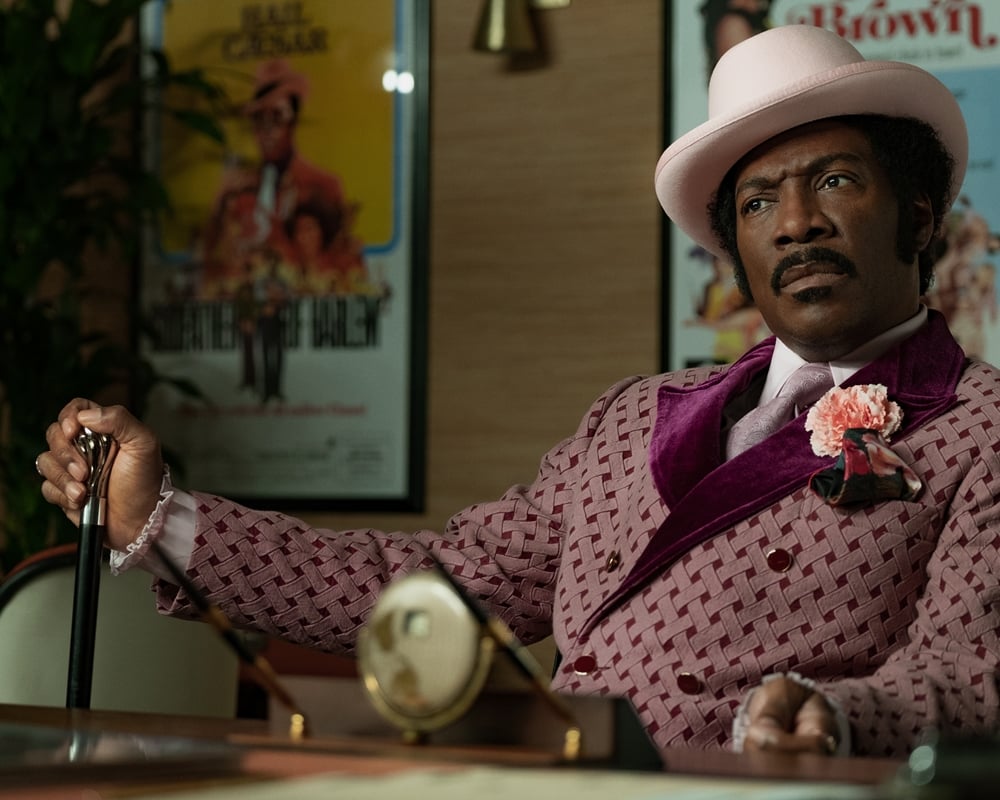 How Dolemite was born
Screenwriters Scott Alexander and Larry Karaszewski start from the beginning. Moore works at Dolphin Records trying to get the DJ to play his albums. He creates the character of Dolemite by paying neighborhood characters (often homeless) to tell their stories while he records them. He develops Dolemite on stage and creates albums. They're too dirty for record stores, so he self-distributes.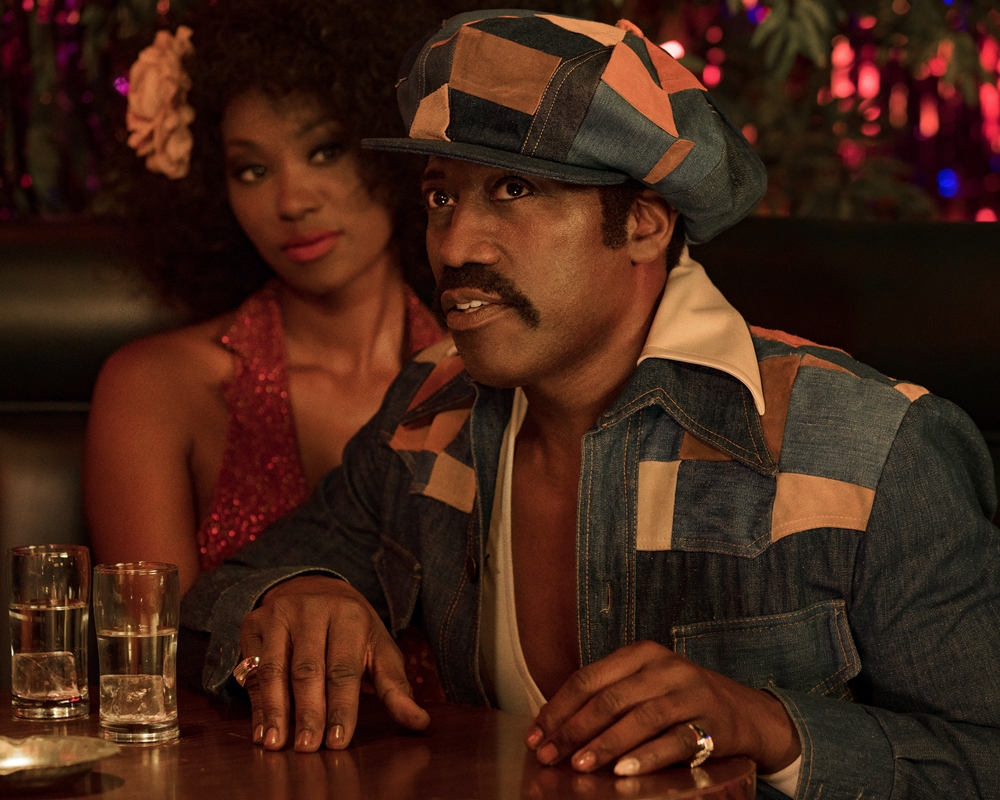 When he decides to turn Dolemite into a movie, even the low budget independent studios say no, so once again he has to make it himself. D'Urville Martin (Wesley Snipes) is about the only person with industry experience he has on his crew. Making Dolemite is a do it yourself endeavor.
Dolemite 101
Fans of Dolemite will definitely enjoy seeing scenes from the film recreated by the likes of Murphy and Snipes, and the behind the scenes perspective. Absurd scenes like the love scene show that even Moore wasn't taking it too seriously, and dangerous scenes like the car chase make one glad nobody got seriously hurt.
You need not be familiar with Dolemite though, just as one needn't have seen Plan 9 from Outer Space to appreciate Ed Wood. Everyone has Hollywood dreams, so that part is universal. You can follow Moore's passion and the film explains his premise. Murphy is endearing using any means necessary to get it done, and settling for less than perfect takes. He also replaces his own iconic laugh with Moore's for the duration of the film.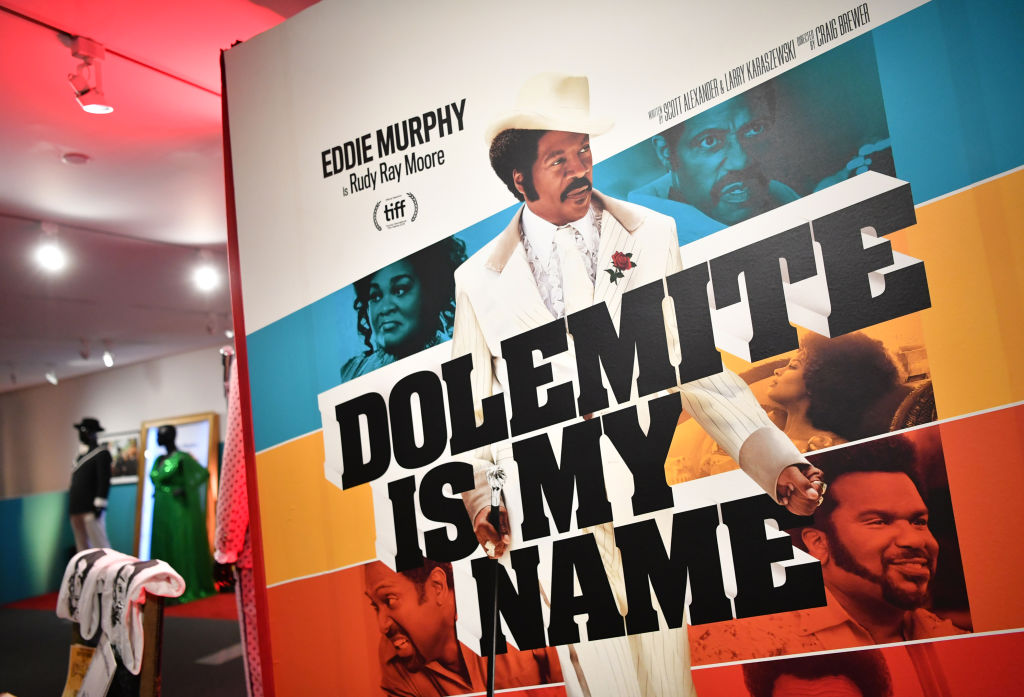 Some of Dolemite Is My Name is just about the realities of filmmaking that often go unexplained. Moore didn't pay for power or water in the studio space. They have to find a way to get those utilities to run the set, and they don't have any extra money for them. Lighting black people is a real photographic issue that rarely gets discussed by professional cinematographers. Moore's crew had to figure it out just to get the right exposure.
It's apparent to anyone watching the film that the fight scenes in Dolemite are not convincing. Moore was not a martial artist and couldn't even fake it. On a Hollywood film set, that would feel like frustrating incompetence, but for an amateur it is, again, endearing. During some of the stilted scenes, director Craig Brewer throws a little style in behind the scenes, without distracting from Moore's foreground shenanigans.
If you liked this movie, there's more Rudy Ray More to see
Finishing the film is only half the story. Moore faced a distribution battle too. Doing that his own way paid off too. Dolemite was viral decades before there was ever an internet but its no less endearing or any less of an underdog. Dolemite Is My Name is a comeback for Eddie Murphy and a Rudy Raynaissance for new audiences.