Dolly Parton, Kenny Rogers Sing Final Duet | Watch the Performance Here
Dolly Parton joined Kenny Rogers on stage to sing the duet "Islands in the Stream" Wednesday during Rogers' goodbye concert in Nashville. The concert celebrated the Gambler's 60-year career and marked his retirement from touring.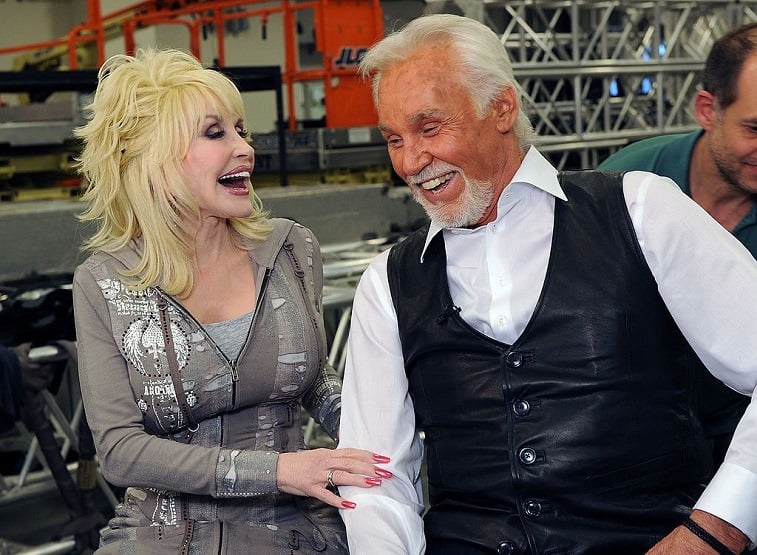 The duet was first released on Rogers' 1983 album Eyes That See in the Dark, and it became a No. 1 hit for each of them. The two have been friends for decades as they both have had highly successful music careers.
After the music video played for the duo's duet "Real Love," Rogers and Parton came on stage. "Kenny, of course, says he's retiring. I want to see what condition your condition's really in," Parton said, making reference to Rogers' early hit, while she felt his shoulders. "Looks good to me. Don't he to you?"
Parton went on to add, "I just hope many, many years from now when I'm older that I'll know when to hold 'em and when to fold 'em." As she turned toward Rogers, she said, "Anyway, we've been accused of it all through the years. You are retiring. You want to hold 'em now?" The crowd laughed and clapped in response.
The two went on to sing "You Can't Make Old Friends," followed by Parton singing "I'll Always Love You," while leaning against Rogers as he sat on a stool. The duo then performed their duet "Islands in the Stream" together:
https://www.youtube.com/watch?v=tNdNDk5bJ7k
At the end of the song, Parton asked, "Kenny, how about we go out like rock stars?" to which both singers dropped their microphones, hugged, and walked off the stage.
The two singers were interviewed earlier in the day Wednesday on Today and talked about why they never became a couple. "First of all, she's hard to look at for me," Rogers joked, to which Parton replied, "I'm not his type." Rogers added, "I'm a believer that tension is better if you keep it than if you satisfy it. And then secondly, she said no to me."
Parton replied, "Nah. You know what, we were almost like brother and sister. And it would almost be like incest. So we just never went there."
Before Wednesday night's concert, the pair were interviewed walking the red carpet together. "You'll never get away from me," Parton said to Rogers.