Has 'Black Monday' Star Don Cheadle Ever Won An Emmy Award?
Born in Kansas City, Missouri in 1964, Donald Frank Cheadle ended up auditioning for popular television show, Fame, after being encouraged by his college friends.
The 35-time award-winning actor has been acting almost non-stop and has since appeared in over 90 different television series and movies after his appearance on the series.
He's also received a total of 104 nominations including eight Primetime Emmys. Has he ever won the prestigious award?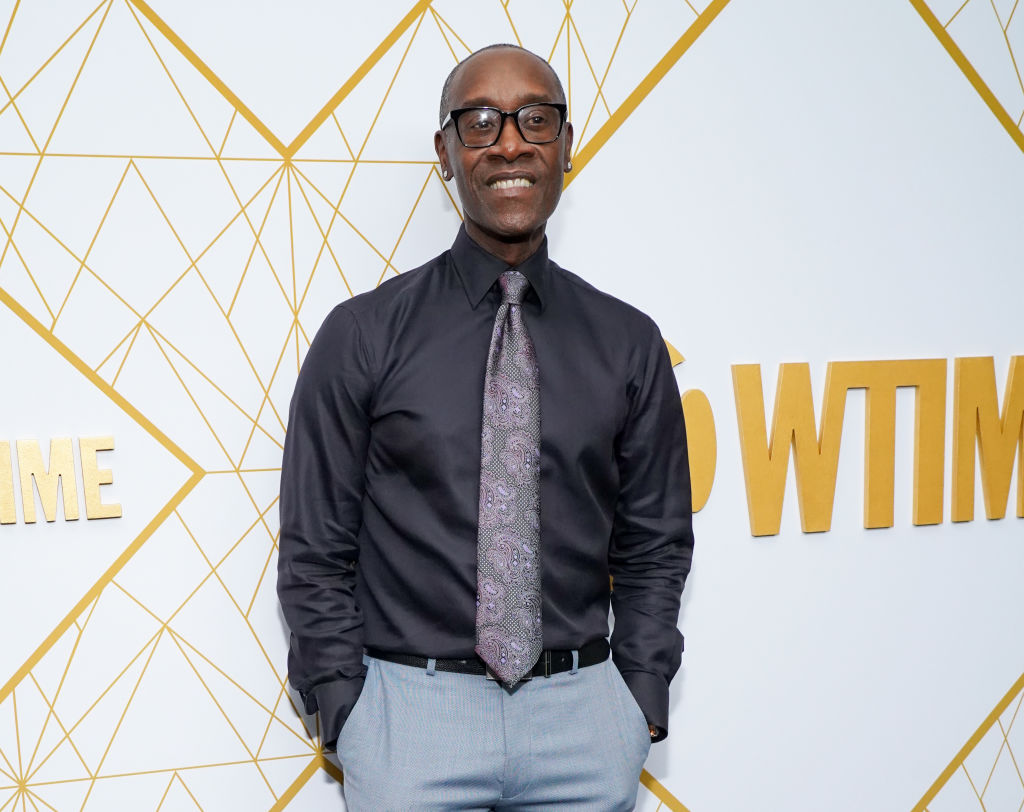 Don Cheadle's television and movie history
The actor started his career in the late 1980s by appearing in classic shows including Fame, L.A. Law, Hill Street Blues, and The Fresh Prince of Bel-Air. He received his first recurring role as Roland Wilson in 1992 Golden Girls spin-off sitcom, The Golden Palace.
Shortly after the series ended, he landed another recurring role as D.A. John Littleton on drama series, Picket Fences in 1993. The show earned him his first few nominations including the 1995 and 1996 Outstanding Performance by an Ensemble in a Drama Series Screen Actors Guild Award.
Around 2001 he began to focus on movies and starred in Rush Hour, the Ocean's Eleven series, Crash, Talk to Me, Reign Over Me, Hotel Rwanda, for which he received an Oscar nomination, and several Marvel movies.
In between starring in movies, he also portrayed the recurring role of Marty Kaan in Showtime comedy series, House of Lies and appeared in music videos for Jay Z and Beyonce's "Part II: On the Run," Kendrick Lamar's "DNA," and Logic's "1-800-273-8255."
Has Don Cheadle ever won an Emmy Award?
In 1999, the actor received two nominations for Outstanding Lead Actor in a Miniseries or a Movie (A Lesson Before Dying) and Outstanding Supporting Actor in a Miniseries or a Movie (The Rat Pack). However, he lost both awards to Stanley Tucci (Winchell) and Peter O'Toole (Joan of Arc).
Cheadle received another nomination in 2002 for his performance in Things Behind the Sun, but Michael Moriarty (James Dean) took home the win. The Academy nominated the House of Lies actor again the following year for Outstanding Guest Actor in a Drama Series (E.R.). However, the award went to Charles S. Dutton for his performance in Without a Trace.
The actor then received a Primetime Emmy nomination every year from 2012 until 2015 for Outstanding Lead Actor in a Comedy Series (House of Lies). Instead, Jon Cryer (Two and a Half Men), Jim Parsons (Big Bang Theory), and Jeffrey Tambor (Transparent) respectively took home the award.
This year, Cheadle looks to win his first Emmy out of eight nominations for Outstanding Lead Actor in a Comedy Series for his performance as Maurice Monroe on Black Monday.
Will Don Cheadle win a 2019 Emmy Award?
The talented actor faces the same fierce competition this year as he did in the past when he did not win. He's up against Anthony Anderson (Black-ish), Bill Hader (Barry), Eugene Levy (Schitt's Creek), Ted Danson (The Good Place), and Michael Douglas (The Kominsky Method).
Even though Hader currently holds the title, Danson is the favorite to win the category this year because if he wins, he will be one of three actors to take home an Emmy for multiple different shows.
However, Cheadle's performance as "Mo" Monroe on the dark comedy, Black Monday, could be strong enough for him to win. To see if Don Cheadle will win an award this year, watch the Primetime Emmy Award Ceremony at 8 p.m. EST on FOX.