Don Cheadle Reveals Mark Ruffalo Invention From the Filming of 'Avengers: Endgame'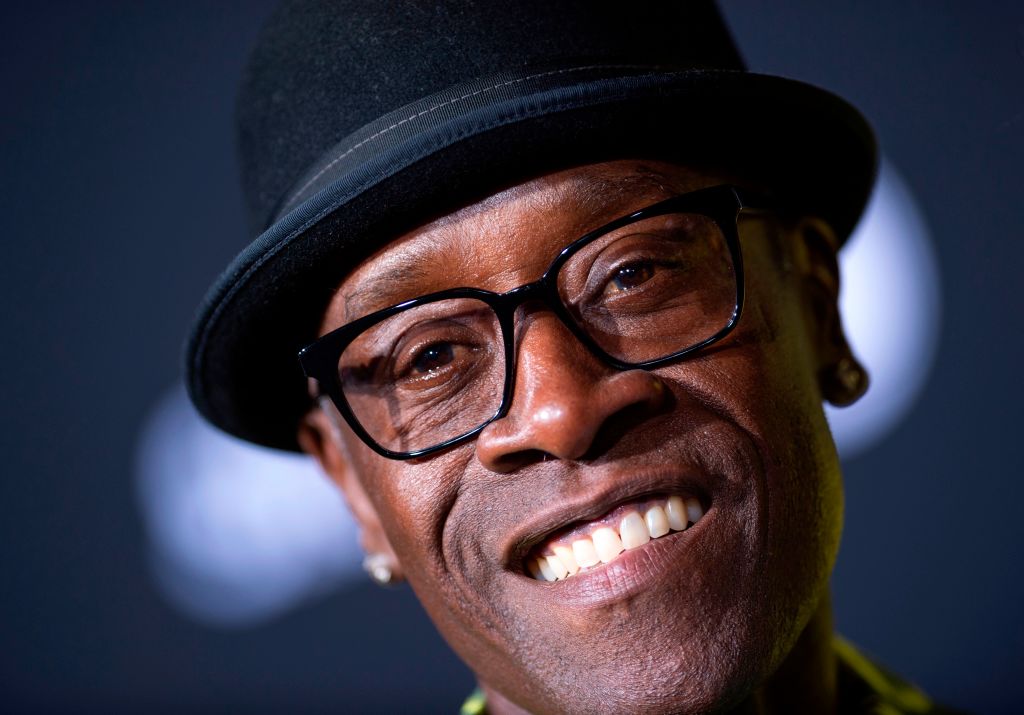 Actor Don Cheadle stars in the upcoming film Avengers: Endgame, reprising his role as James "Rhodey" Rhodes, also known as War Machine. His character has undergone quite a bit of trauma — he took time to recover after the events of Captain America: Civil War, and then fought and lost to Thanos in Avengers: Infinity War. The actor appeared on Jimmy Kimmel Live on April 12, 2019, to talk about the upcoming movie as well as share some behind-the-scenes secrets.

What Marvel movies has Cheadle been in?

Cheadle's character was actually first introduced in Iron Man, but Terrence Howard portrayed him at the time. For Iron Man 2, Cheadle stepped into the role as the character became War Machine. He was absent for the events of The Avengers, but returned for a significant arc in Iron Man 3, in which he briefly became the Iron Patriot.

Cheadle appeared as Rhodey in Avengers: Age of Ultron, but did not participate in most of the fighting. He officially became an Avengers with Captain America: Civil War, in which he fought on Tony Stark's side in agreement with the Sokovia Accords. During the battle against Captain America and the rebelling Avengers, he was injured, becoming temporarily paralyzed in his legs. He recovered in time to fight in Wakanda in Infinity War.

This is what Cheadle said Ruffalo 'invented' on set

When you see him in his War Machine costume, Cheadle is actually wearing what he describes as "a very embarrassing and tight-fitting unitard," which has markers all over it that the computer reads and uses to "track" the character, in a process known as motion capture. "It's very revealing," said Cheadle.

In addition to Cheadle, Mark Ruffalo (Bruce Banner / the Hulk) and Tom Holland (Peter Parker / Spider-Man) also wear the same spandex get up during a lot of filming. According to Cheadle, Ruffalo "invented this cloth that comes down in the front and in the back," which he calls a modesty cloth, in order to cover up the more discreet areas.

"He said, 'You should really look into that.' I said, 'What are you talking about?' He said, 'You should look into that,'" Cheadle laughed. "Did you get a modesty cloth?" asked Kimmel. "I did. Mine's a little longer…" joked Cheadle.

Will Cheadle play War Machine again in the future?

For those who don't follow every piece of news about the MCU, there was once talk of a War Machine solo film. In an interview with EW, he talked a little about what that might have been, such as how it would have included "a lot of tension between his job as a military man and his allegiances to the code that he an oath to uphold, versus the changing world." Though this never happened, with the rumors of the new Disney+ streaming service producing vehicles for the Avengers characters, there's always a possibility that the character will get a limited series in the future.

In a very roundabout conversation, Cheadle neither confirmed nor denied any future within the MCU. He's not allowed to say anything, but not only that, he can't comment on whether or not there's been any talk about that possibility at all. "If you discuss discussing discussions that have been had, they dissuade you from that. And they discuss it with your agents, and they tell you," he told Kimmel.