Donald and Melania Trump: Surprising Secrets Their Body Language Reveals About Their Marriage
If you can't help but notice Melania Trump's constant look of misery when she's next to her husband, Donald Trump — you aren't wrong. However, it hasn't always been this way. Back in the day, the couple used to have a  genuine connection in public, but now, they look like they can barely stand each other.
Are tensions actually high between Donald and Melania? Body language experts have analyzed how the Trumps used to interact in the past, and just how much it's actually changed since moving into the White House.
From a seriously awkward kiss (page 5) to Donald leaving Melania in the dust (page 7), these small moments speak volumes in terms of their relationship.
1. Happiness behind her intense glare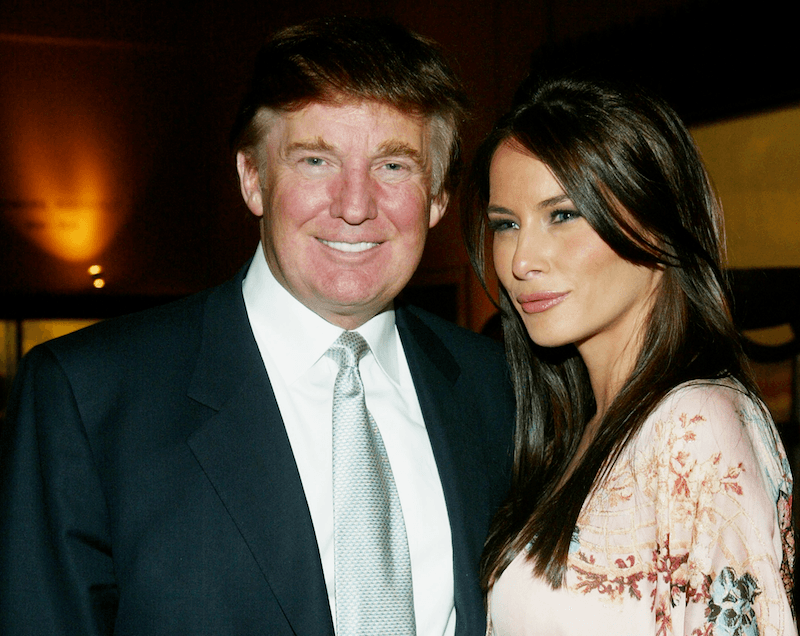 When Melania poses for a picture, her go-to facial expression is a sultry glare. Though she gives off intense vibes in this photo from 2003, body language expert Patti Wood explains that Melania still has a look of happiness in her eyes.
As far as Donald goes? He's looking happy as can be. "He's showing his front teeth, for men that's a joyful smile," Wood told Elle.
Next: Can you imagine seeing them look so playful now?
2. Proof of playfulness between the two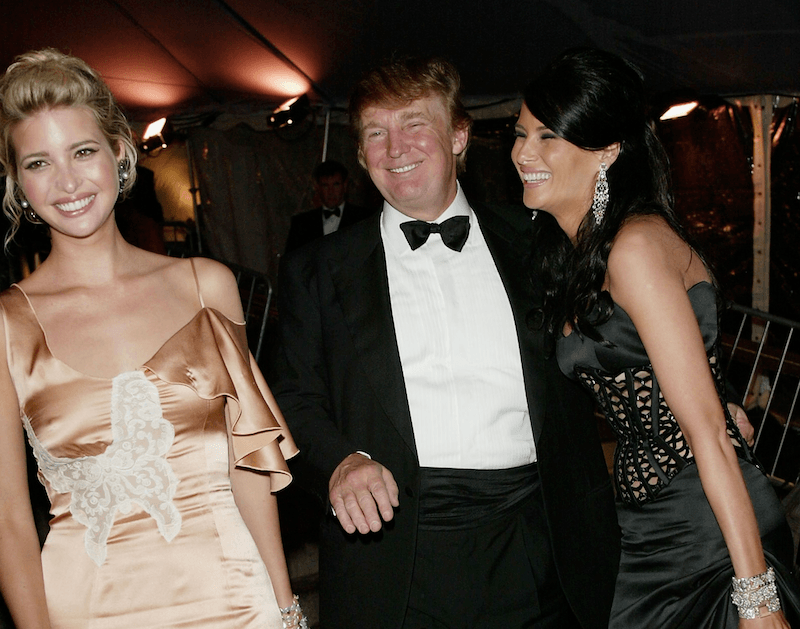 Nowadays, we can't picture seeing a photo as lighthearted and playful as this 2004 shot of Melania, Donald, and his oldest daughter, Ivanka. "This is the happiest I've seen them," Wood explained to Cosmopolitan. "It's a playful moment. [Melania] is just exuberantly happy."
With Melania's body facing toward Donald, Wood attests, "She wants to be closer to him in this." She added, "[Melania] just feels that intimate connection with him. This is a photo of them actually having a moment together — there's a playfulness and a happiness between the two of them."
Next: They look like a normal, happy couple.
3. Genuinely happy together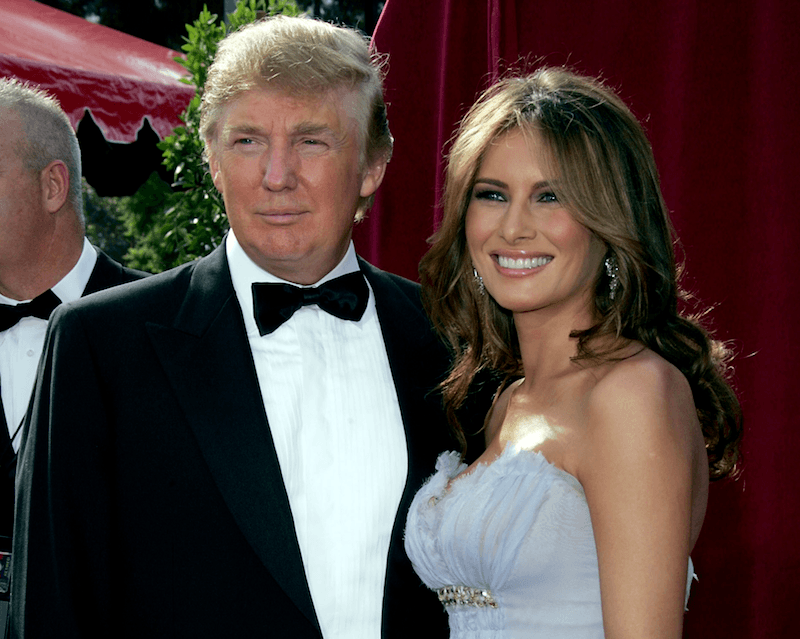 Donald and Melania both seem genuinely happy to be with each other in this photo from 2005. Wood told Cosmopolitan, "She's in what I call the V position with him; there's a slight overlap of her body with his." Plus, her face is very "open" — including eyes and cheekbones being raised upward with a full smile.
According to Wood, "[Donald's] got this look a man has that's like, 'Hey, I'm with her, I've got a babe, and she's mine.'"
Next: Signs of unhappiness have begun.
4. Stiffly dancing at the Inaugural Ball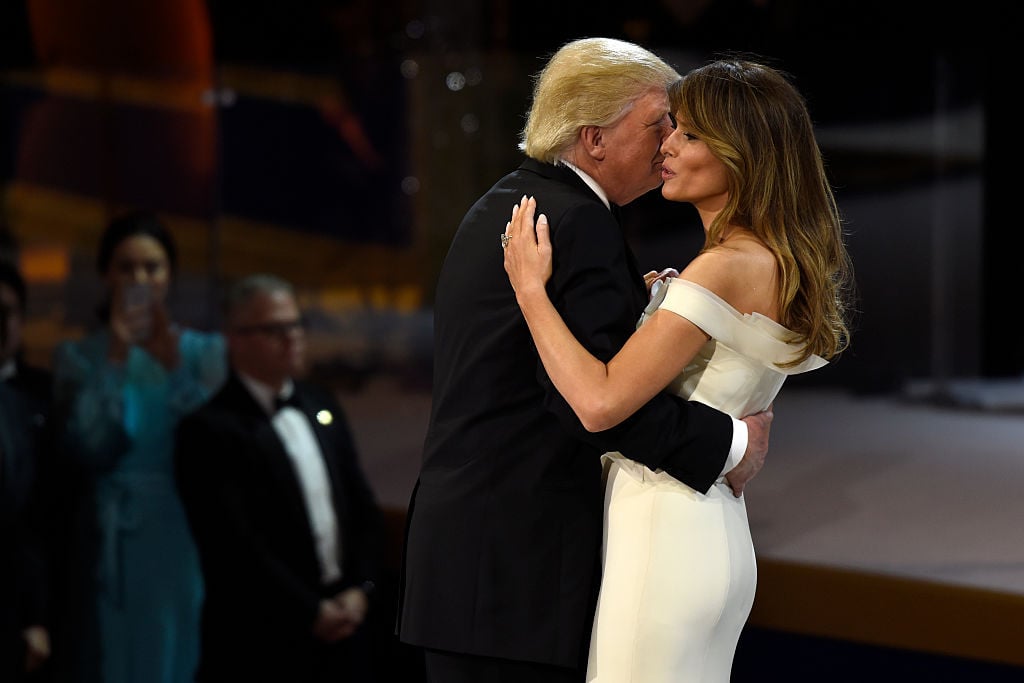 Fast forward to Jan. 20, 2017, and we see a dramatic change in the way Donald and Melania interact in public. Their dance at the Inaugural Ball felt awkward to watch, which can be attributed to their overall stiffness.
While Wood does acknowledge their stiff demeanor, she isn't taking this dance as lone proof of their unhappiness.  She noted, "There was one moment where she kissed him but it was very, very formal. They didn't seem to have intimate moments during the dance; it didn't seem to be about them as a couple."

"The fact that he broke into song toward the audience makes it less about them," Wood added. "He was happy in the moment but it didn't seem to be a shared, intimate moment." 
Plus, Melania could have been attempting to be "seen more formally," Wood explained, by "taking measures not to be seen as a sexual being."
Next: This doesn't look like a kiss between husband and wife.
5. An awkward kiss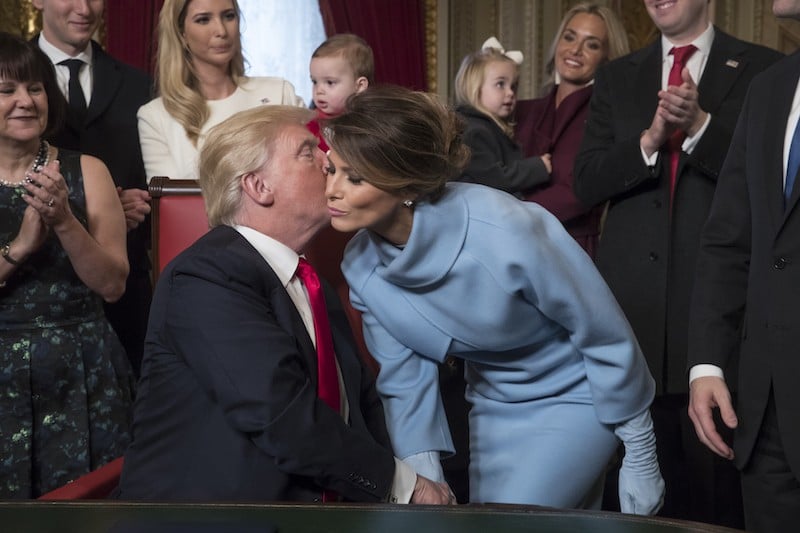 The Trumps had more than one awkwardly formal moment together on Inauguration Day. Wood spoke to Closer Weekly, where she expressed the discomfort she felt from analyzing this kiss. 
"This is just so unusual, because if you look at him, it doesn't look like he's getting any pleasure from the kiss — [it's] like a kiss on the cheek from Aunt Betty." Wood added, "What's also interesting is typically if you really like someone and they bend down to kiss you, his outer arm should be going up over her."
As far as Melania goes, "If you look at her, she's doing what I call the 'french kiss' where the cheeks kind of suck in," Wood noted. "There's a facial expression that goes with that, and this is slightly sour-pursed lips as well. You've got those cheeks in, and she doesn't actually kiss him. She just offers her cheek and purses her lips."
Overall, "There's no nonverbal cues that would show this is an intimate couple kissing," Wood described. "Now, we might be able to see more if we saw all the hands, but with what we see, there's no pleasure, there's no tenderness shown."
Next: They just can't get the hand-holding thing down anymore.
6. Lack of public connection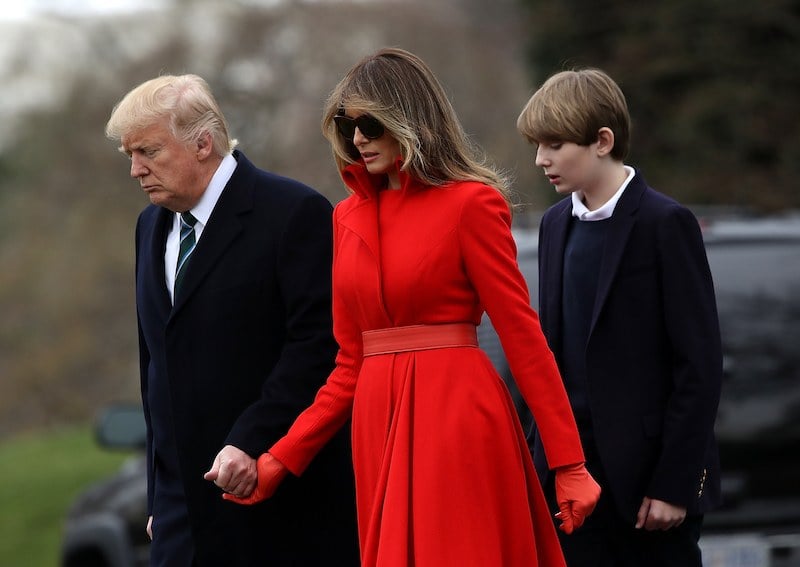 Melania may have infamously swatted Donald's hand away, but sometimes, she makes attempts to connect with him in public. Unfortunately, it seems to backfire more times than not when either one tries to show any form of PDA.
Take this "bizarre hand hold" for example, as Wood describes it. "She's going in to interlace her hands with his, but he's giving her a fist," which Wood calls "a symbolic weapon."
He's basically denying her touch, which differs drastically from photos of their earlier years together. Wood pointed out, "He's not even [holding her hand]. To be that way in front of his son, to me that's significant."
Next: It's like he totally forgets she exists.
7. Totally disregarding his wife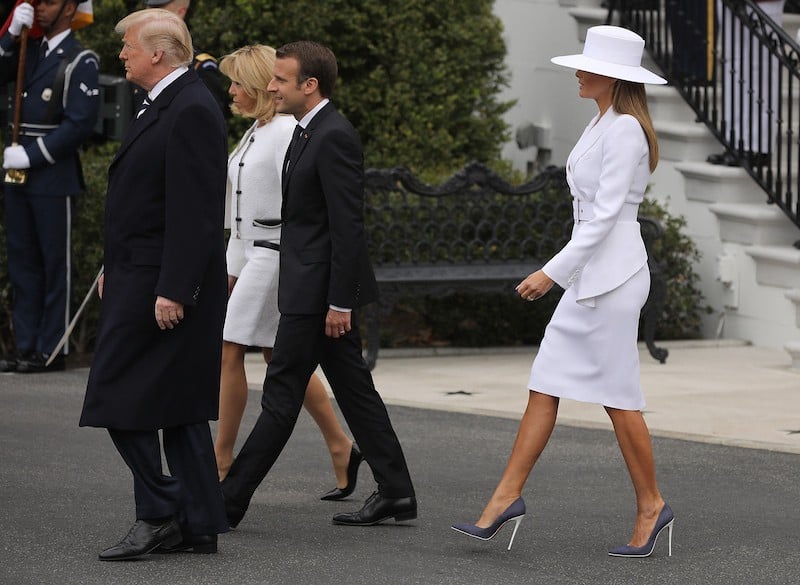 Wood isn't the only body language expert who sees the strain that's formed between Donald and Melania since becoming president and first lady. Tonya Reiman, a New York-based public image consultant for professionals and author on body language, pointed out their lack of physical connection with one another.
According to Bustle, "Reiman is willing to guess that Trump and Melania do not have a warm relationship on or off-camera compared to their pre-politics era. The Trumps barely touch each other now compared to early videos." Reiman also observes, "He will walk ahead of her, or push ahead to be first. When he sees another couple holding hands, then he'll turn around to self correct." 
From Melania's constant scowls to their distant body language, Wood and Reiman both agree that their lack of happiness is clear. However, their interactions from the past prove there was a day when they genuinely enjoyed each other's company.
Check out The Cheat Sheet on Facebook!