Donald Glover's Net Worth (And All the Different Ways He Makes His Money)
Donald Glover is taking the world by storm — and he doesn't seem to be stopping anytime soon. He always knew he had what it would take to make it in Hollywood, and finally, his hard work is paying off in big ways. Glover put it perfectly on his 2010 mixtape Culdesac (under his stage name, Childish Gambino): "To all my fans who's saying Donald Glover about to blow / Just give me six months so you can say I told you so."
While it may have taken more than six months for Glover to come out on top, he and his fans always knew he would make it. And now, he seems to be everywhere we look. Here's what Glover is worth now, along with everything he's done in his career to get him to this point.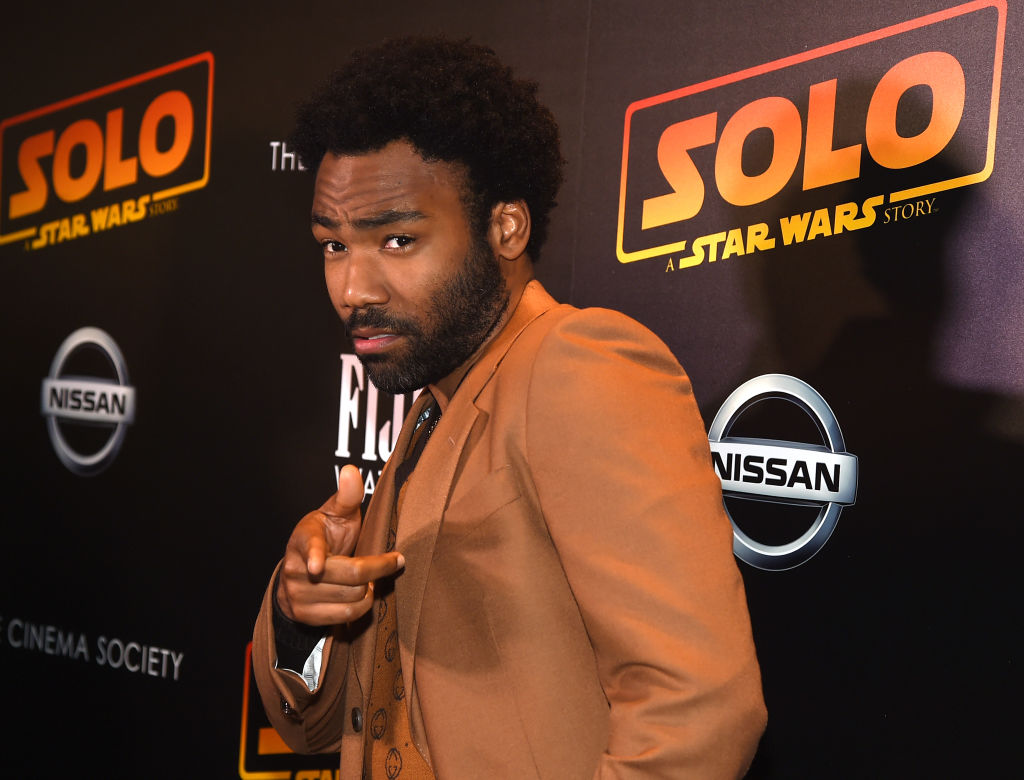 His net worth is $12 million
According to Celebrity Net Worth, Glover is worth $12 million as of 2018. While this number is impressive, we truthfully aren't all that surprised. As an actor, writer, rapper, comedian, producer, and director, his talents seem to know no ends.
Long before Glover was a household name, he graduated from New York University in 2006 with a degree in dramatic writing. It didn't take long for his talent to get noticed, as he spent three years just out of college writing for 30 Rock (and even making a few cameos).
He's landed some huge roles
Glover quickly established himself as an actor after being cast in a few smaller roles. He made his name by playing Troy Barnes on Community from 2009 to 2014. He left the show early to pursue other projects — and in hindsight, it seems to have been the right call.
He's since appeared in huge titles, such as Magic Mike XXL (2015), The Martian (2015), and Spider-Man: Homecoming (2017). He even made his way into the Star Wars realm, landing the role of Lando Calrissian in Solo: A Star Wars Story (2018). And in 2019, he'll be the voice of Simba in the all-new Lion King movie.
His award-winning show, Atlanta
Glover may have some impressive titles under his belt, but we're sure nothing gives him a sense of pride more than the success of his award-winning show, Atlanta. The FX series has been critically acclaimed and deemed obsession-worthy by fans. Glover not only stars as the main character, Earn, but he wrote, produced, and directed the show.
Since Atlanta debuted in 2016, Glover and the show have won Golden Globe Awards, Primetime Emmy Awards, and Writers Guild of America Awards.
He hosted and performed on Saturday Night Live
By May 2018, Glover not only landed a hosting gig on Saturday Night Live, but he performed under his musical alter ego, Childish Gambino. To tell the truth, we knew Glover would be the perfect choice to host before he was ever announced. He'd already proven to be hilarious on-stage with his 2010 Comedy Central Presents stand-up special, as well as his 2012 comedy special, Weirdo. Glover's SNL episode was bound to be a memorable one, and unsurprisingly, it was.
If you didn't see Glover's episode of SNL, some of his must-see skits include "A Kanye Place," "Courtroom," and "Barbie Instagram."
His explosive music career
During his appearance on SNL, Glover debuted his first 2018 single, "This Is America." And once he released the music video along with the song, it seemed the whole world was in awe of its message. Sure, Glover was already an established celebrity at this point, but his musical career literally reached new levels overnight.
In the week ending on May 10, 2018, Glover's overall album sales rose a whopping 419 percent across the U.S. after releasing "This Is America." If those astounding numbers weren't impressive enough, Glover scored his first ever No. 1 spot on the Billboard Hot 100 chart.
He's come a long way since his first mixtape in 2008, Sick Boi. Over the next two years, he released one mixtape after another, including Poindexter, I Am Just a Rapper, I Am Just a Rapper 2, and Culdesac.
By 2011, he released his debut studio album, Camp. He finally started earning recognition for his musical talents after his 2013 album, Because the Internet, which climbed to No. 7 on the Billboard 200 chart. His 2016 album, Awaken, My Love! (which features the song, "Redbone"), ended up scoring Glover a number of Grammy Award nominations — including the Album Of the Year category.