Donald Trump Jr. Has Actually Known His New Girlfriend For Years
Though he's not officially divorced from his wife, Vanessa Trump, who is also the mother of his five children, Donald Trump Jr. is already in a brand new relationship. The president's son is reportedly dating Fox News personality Kimberly Guilfoyle. Guilfoyle is a former prosecutor and was once the first lady of San Francisco. In fact, the University of California, Davis alum has known Trump Jr. and his family for years.
You'll never guess why the relationship between the businessman and the news host reportedly turned romantic.
A decade-long friendship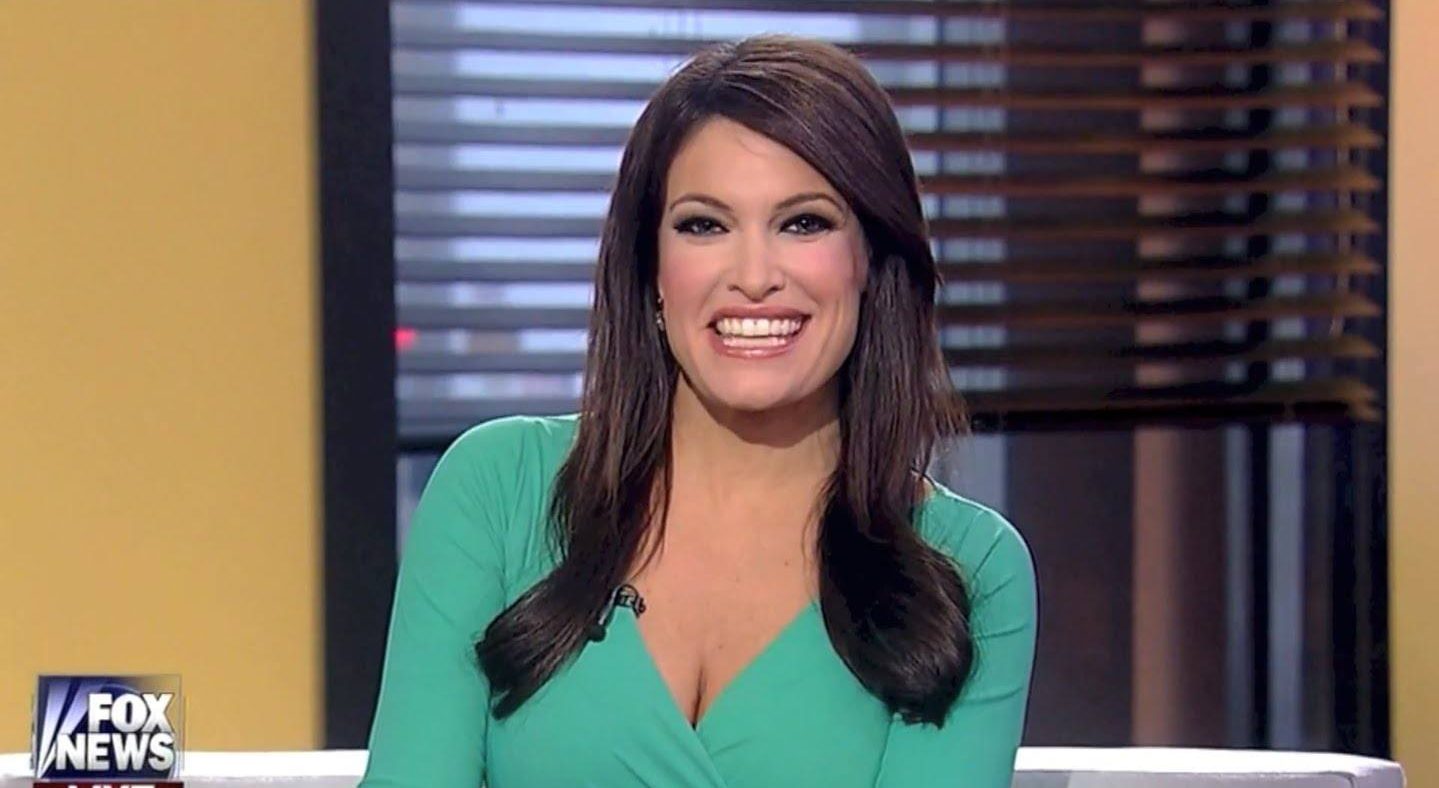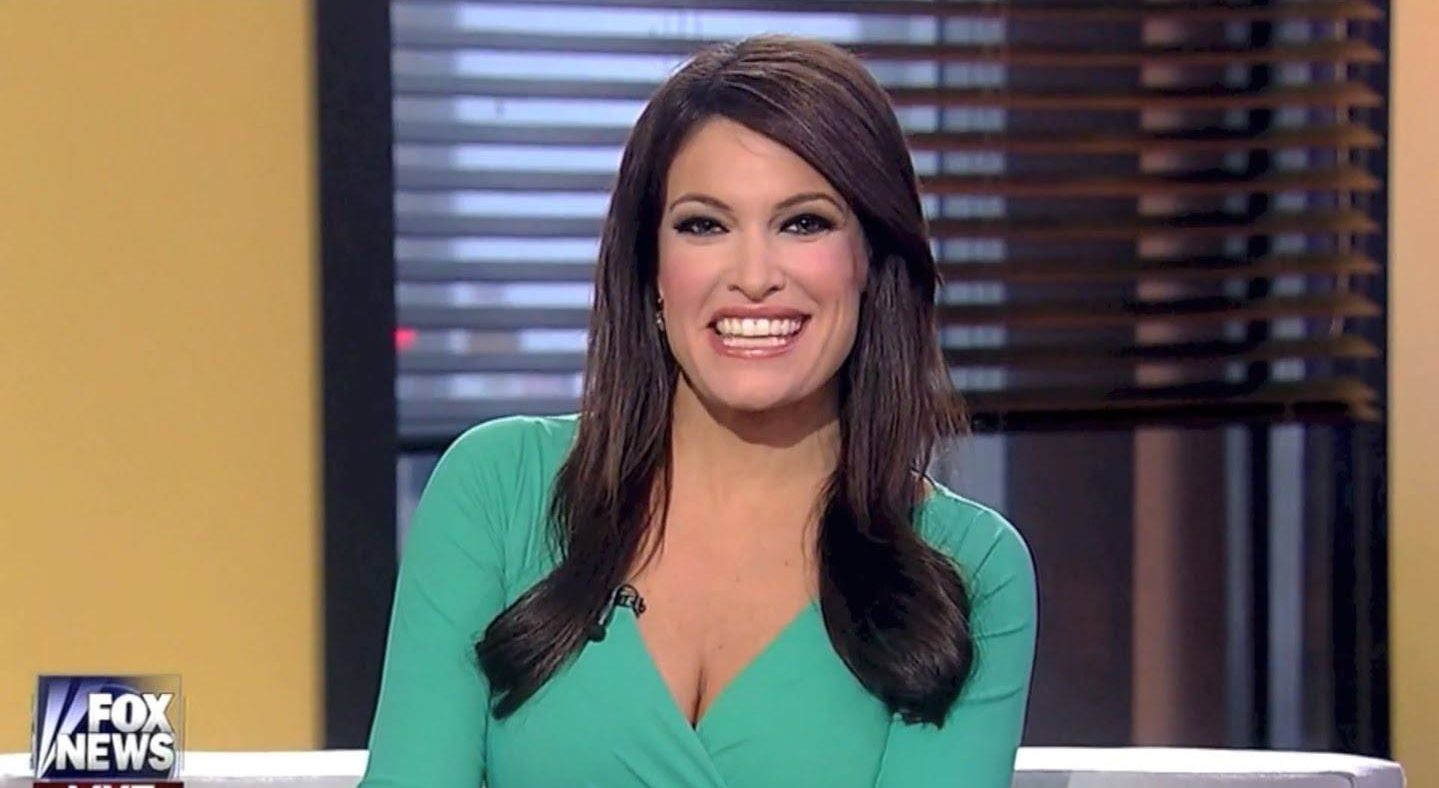 Kimberly is known for dating politicians 
Since we know that Trumps live for Fox News, it's no surprise that they've known Guilfoyle for many years. In fact, the Making the Case: How to Be your Own Best Advocate author was considered for White House Press Secretary when President Donald Trump took office. Perhaps she's now aiming for the role of daughter-in-law.
Next: A romance with the Mooch
White House romances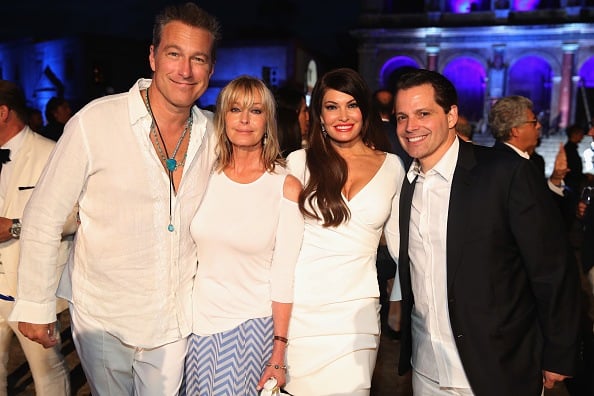 Kimberly had an alleged affair with disgraced White House aide Anthony Scaramucci 
Though her romance with Trump Jr. is reportedly new, this isn't the first time Guilfoyle has been tied to a White House official. In fact, she was allegedly being courted by short-term White House Communications Director Anthony Scaramucci after his wife filed for divorce in July 2017.  Though the duo was photographed together, they continually denied their relationship.
The Post reported, "[They] repeatedly denied they [were] a couple, even amid reports of them house-hunting together in Manhattan and of a romantic trip to Rome last month, where they were photographed cuddling up at a charity gala."
Scaramucci and his wife, Deidre Ball, reconciled in Jan. 2018.
Next: Having a great time 
Enjoying each other's company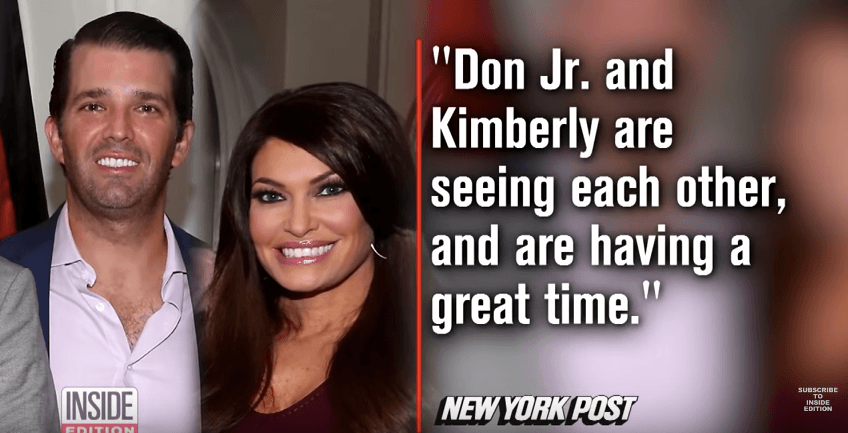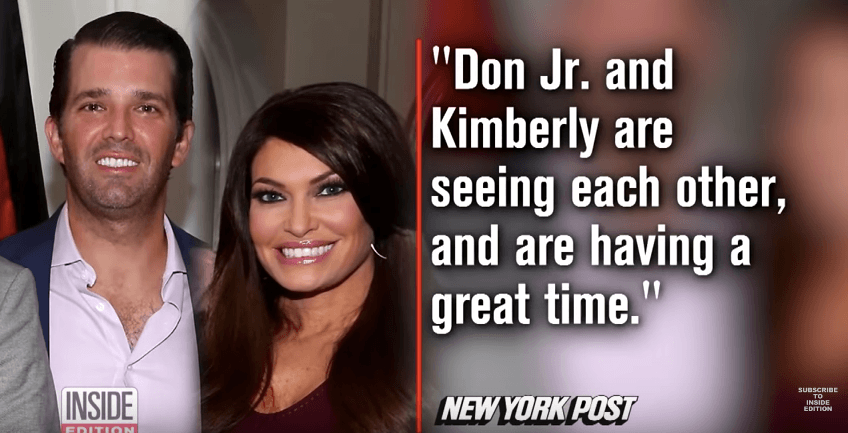 Don and Kimberly are having a great time 
Though they've only been romantically entangled for a few weeks, it seems that Trump Jr. and Guilfoyle have been enjoying each other's company. A source revealed to Page Six, "Don Jr. and Kimberly are seeing each other, and are having a great time. While he wants to respect the privacy of his family, he is getting divorced, and he enjoys Kimberly's company."
Next: Out and about 
Going public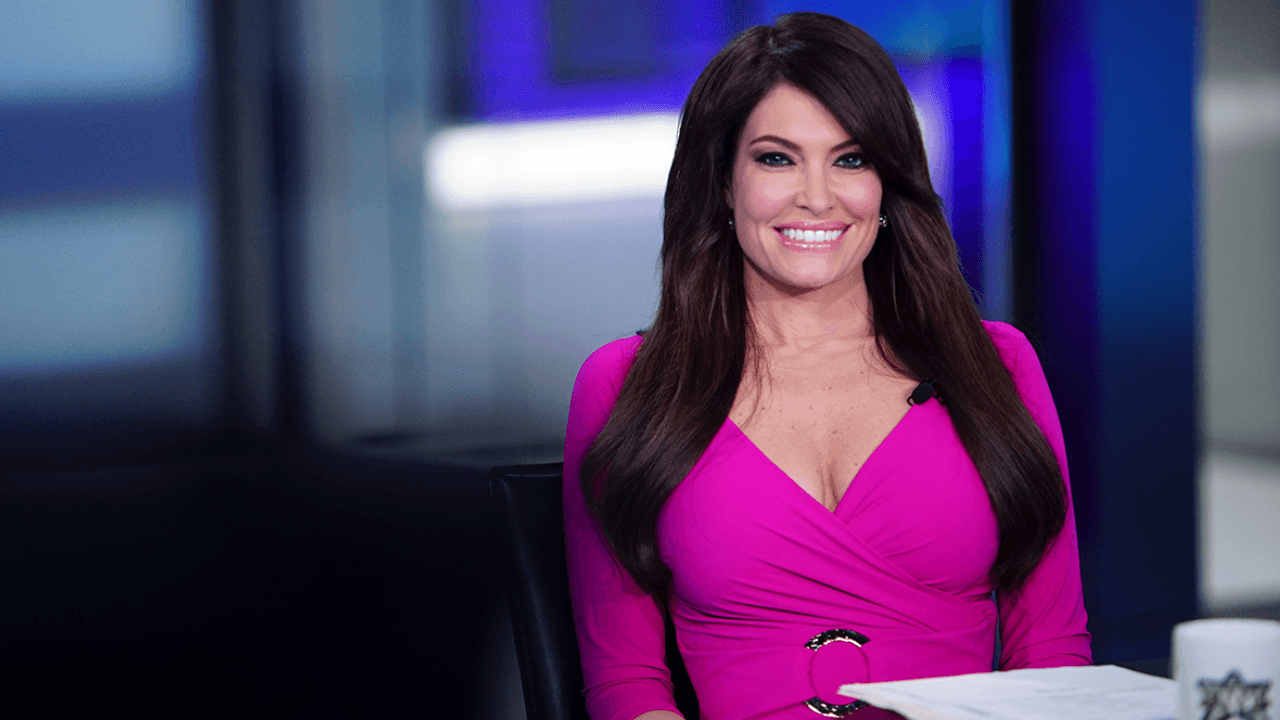 Vanessa and Don Jr. get hot and heavy with the PDA
We're not sure how much Trump Jr. actually wants to respect the privacy of his family as he goes through his divorce since he and Guilfoyle have already gone public. The first time the couple was seen in public, they were arriving together at a party for President Trump's new ambassador to Germany, Richard Grenell.
According to Page Six, "Don Jr. and Guilfoyle mingled with guests but stuck close to each other, and later left together, heading for a late dinner at Harry Cipriani on Fifth Avenue."
They have also been spotted out and about in NYC engaging in heavy PDA. A source told People, "You couldn't put a knife between them. He was touching her, and they were holding hands all night. They didn't care who saw them."
We guess the new couple doesn't know much about remaining lowkey.
Next: Fighting for the spotlight 
A petty vendetta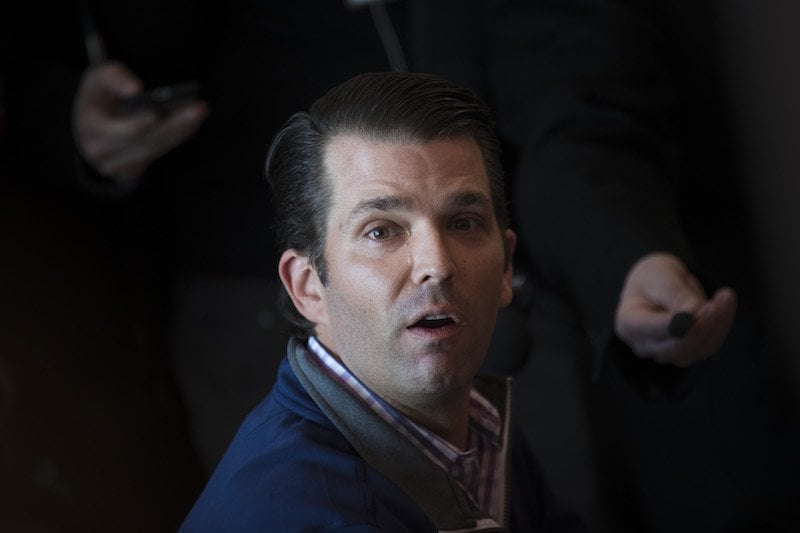 Trump Jr. is obsessed with attention
There may be more to this story than Trump Jr. wanting the world to see him as a virile single father of five. Some people are theorizing that Trump Jr. himself leaked the story of his romance with the glamorous Fox News host and long-time friend of the Trump family so that he could push his ex-wife out of the headlines.
Vanity Fair reported, "Crank up the Trump Tower Page Six siren: looks like we've got an old-fashioned gossip war on our hands."
Next: Pushing out Vanessa 
All eyes on Vanessa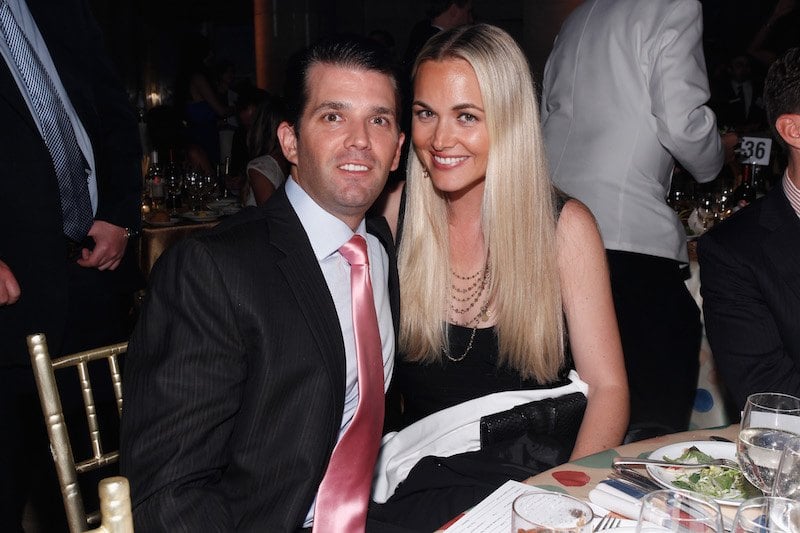 The media adores Vanessa Trump
As soon as Vanessa Trump filed for divorce in March 2018, she became the most interesting person in the Trump family. The media can't seem to get enough of the former New York socialite.
Vanity Fair reports, "Estranged wife Vanessa's been absolutely dominating …  coverage ever since the divorce announcement, with revelations of her secret "marinara millions" and wallpaper coverage of her long-ago relationship with a gang member, and you know a Trump, with tabloid newsprint running inky in his veins, cannot let that aggression stand. They have turf to protect. So what's an embattled scion with a genetic imperative to win the back pages to do?"
Next: Typical Trump
Right on brand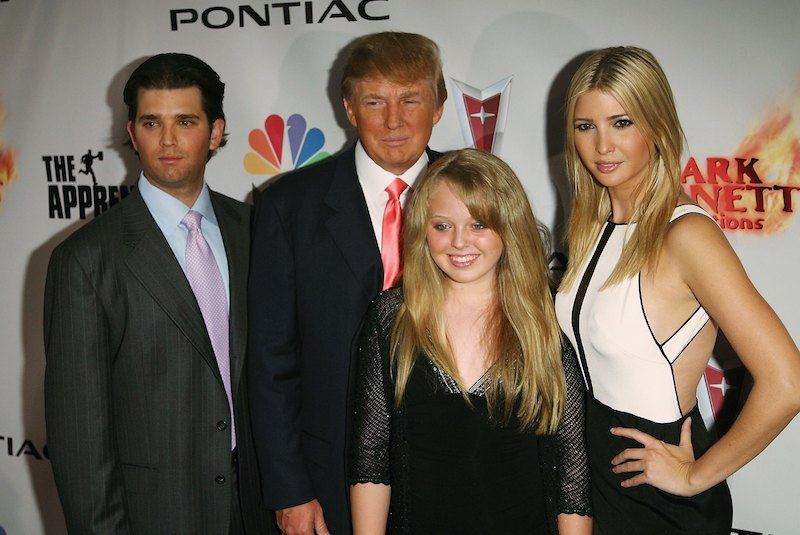 For the Trumps, all publicity is good publicity
If Trump Jr.'s new "relationship" with Guilfoyle is in fact orchestrated for the media, it would be right on brand for the Trumps. After all, they love to have the media on their side. The president is even known to pose as his own spokesman.
Vanity Fair explained, "Dad's gotta love this drama. Forget shredding the Iran deal, this is his true moment of pride: his little boy, all grown up, maybe even phoning in retaliatory tips as "Johnnie Barron Jr.," putting on the funny voice and everything. Their brand is strong."
Follow Aramide on Twitter @midnightrami.
Check out The Cheat Sheet on Facebook!