Does Donald Trump Listen to Kanye West's Music? Here's What We Know
Kanye West has struck up an unlikely friendship with Donald Trump, wearing a red "Make America Great Again" cap and visiting the president at the White House to discuss clemency, crime in Chicago, and economic investment in urban areas. The two have several things in common, including a stream-of-consciousness speaking style and a tendency to exaggerate their net worth.
But while they've traded compliments, does Donald Trump support Kanye West as much as the rapper supports him by actually listening to Kanye's music? Here's what we know about Donald Trump's taste in music, his habit of listening to tracks that mention him, and his choice to make his own playlists for rallies.
1. Donald Trump likes 'classic' singers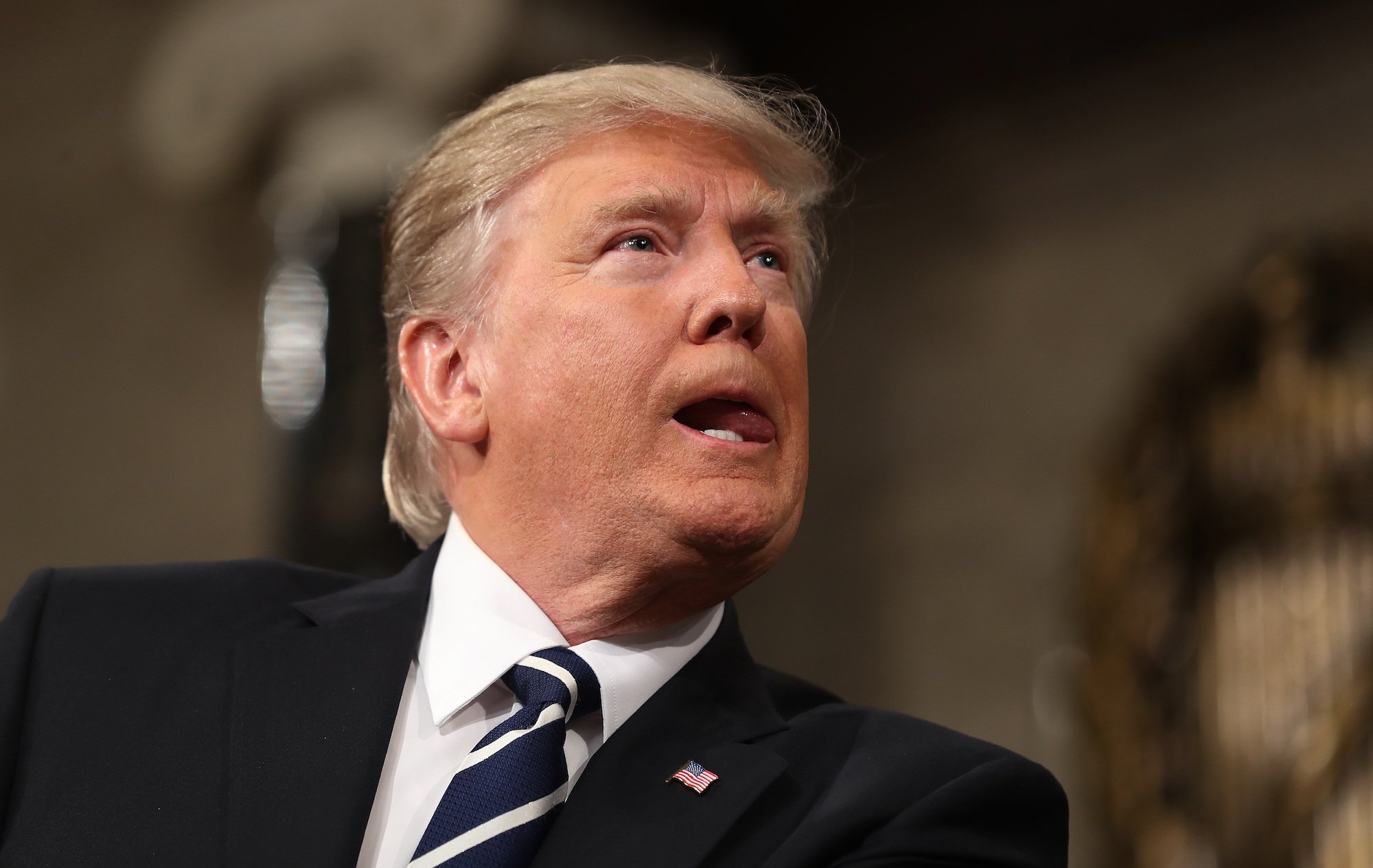 As the BBC reports, Donald Trump seems to be a fan of "classic" singers. He wrote in his 2004 book Think Like a Billionaire, "There's so much great music. For me, I'd have to say it's a toss-up between Frank Sinatra, Tony Bennett, and Elton John. I never get tired of listening to them and probably never will." Trump also said that Bennett lived in one of his buildings, a fact that The New York Times corroborated, reporting in 2016, "For years, he has lived with his third wife in a Trump building on Central Park South."
2. But he also likes (or liked) Eminem
The BBC reports that Donald Trump also mentioned a more unexpected musical preference in Think Like a Billionaire. "And by the way, I also love Eminem," Trump wrote at the time. But Eminem doesn't love the president back. As Genius reports, "Kanye West embraced Trump while Eminem dissed him," but both alienated fans by bringing politics into the picture. Eminem may have known that his fan base overlaps with Trump's supporters, or he may have caught on to the fact that his music "is more popular in parts of the US that are disproportionately white. Either way, Em was willing to shed Trump supporting fans whose personal politics he genuinely disagreed with," Genius reports.
3. Rappers often name-dropped Donald Trump
Donald Trump may have been aware of rappers such as Eminem and Kanye West because some chose to name-drop him in their lyrics. As Genius reports, "Long before his candidacy, Trump's name was synonymous with wealth and extravagance, and he was frequently name-dropped by rappers." Kanye mentioned Trump on "So Appalled," but "Eminem's relationship with Trump went even further: Shady had Trump 'endorse' him at the 2004 Shady National Convention."
4. Trump liked listening to tracks that mentioned him
NME reports that Trump supposedly liked listening to rap songs that mentioned him, though he's threatened some rappers, including Mac Miller, with legal action for using his name. But if Trump continues to make a habit of songs that mention or name-drop him, it's possible that he's listened to some of Kanye West's music. The rapper recently made headlines for "trading lyrics with fellow-rapper T.I., who takes him to task over his support of Donald Trump," the BBC reports. In one track, Kanye alluded to the "Make America Great Again" baseball cap when he rapped, "Wearing the hat will show people that we are equal."
5. We don't know for sure if Donald Trump listens to Kanye's music
Does Donald Trump listen to Kanye West's music? We don't know for sure. But if he has the same musical tastes as many of his supporters, he's probably not listening to West's albums on repeat in the Oval Office. As Genius reports, "the MAGA crowd has taken to supporting Kanye, though it seems likely they're here for the spectacle Kanye has created more than his music. Kanye has had his struggles in America's 'heartland' — in 2013 he played a half-empty arena in Kansas City, Missouri. In 2016, Trump won Missouri by nearly 20 points."
6. Trump made his own playlists for rallies
Rolling Stone reports that Donald Trump's tastes "run right down the middle of classic rock; according to aides, Trump programs his own campaign rally playlists, which include songs such as the Stone's 'Brown Sugar.' His go-to campaign song, though, has been Twisted Sister's 'We're Not Gonna Take It.'" Trump's music choices have gotten him into trouble in the past, with Prince's estate demanding that Trump stop using "Purple Rain" at his rallies. Aerosmith's Steven Tyler and The Rolling Stones also took issue with Trump using their music. Could future rallies feature Kanye West's music? You never know.
7. Barack Obama loves hip-hop but doesn't love Kanye
Newsweek notes that Donald Trump's predecessor, Barack Obama, "made no secret of his love for hip-hop while in the White House. But so far, Americans don't know much about which tunes Trump likes." And as Pitchfork explains, Obama "has had a contentious public relationship with Kanye West over the years — like the time he denied calling West on the phone, shutting down the rapper's boasts." And in off-the-record remarks, Obama called Kanye a "jackass" after he crashed Taylor Swift's speech at the MTV Video Music Awards in 2009.
Read more: Kanye West's Net Worth: Is the Rapper a Billionaire? 
Check out The Cheat Sheet on Facebook!