"Don't Be Tardy" Stars Kim Zolciak-Biermann and Brielle Biermann Open Up About Their Experiences With Plastic Surgery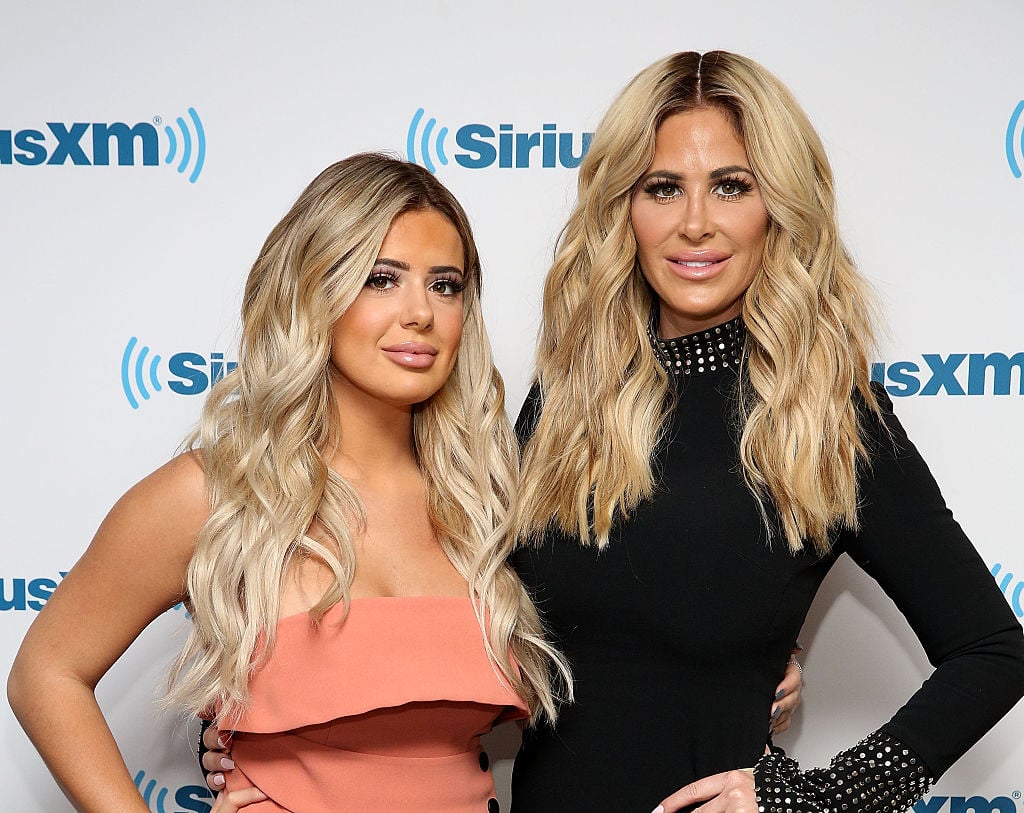 Kim Zolciak-Biermann has never been one to hold back details surrounding her life, especially ones that have to do with plastic surgery.
Now, Zolciak-Biermann's daughter, Brielle, is opening up about her experiences with plastic surgery and sharing why she made the decision to have work done.
As the saying goes, "Like mother, like daughter."
Brielle Beirmann has always wanted her lips done
Since appearing on The Real Housewives of Atlanta, Kim Zolciak-Biermann has been open about her plastic surgery procedures over the years.
The reality star never saw a problem in getting work done to your body but had a problem with her young daughters wanting to get plastic surgery.
Brielle Biermann has shared her desire to get plastic surgery on her lips since she was a teenager.
Zolciak-Biermann's oldest daughter revealed that she had gotten lip injections at the age of 18 and also shared what prompted her to do so.
The now 21-year-old revealed how she's always felt insecure about her lips and wanted to enhance them since she believed they were non-existent.
"All my friends had beautiful, full lips," Biermann said. "Like my best friend Elizabeth. I was like, you b****, I want lips that look like yours."
Brielle Biermann also shared how much she had to persuade her mother in order to get permission to have the procedure done.
"Since I was 14 I was like, I have to have my lips done right when I turn 18. If I could've done it sooner I would've and I don't regret it," she said. "I don't think I've gone overboard like people claim."
Kim Zolciak-Biermann was a little hesitant letting Brielle get plastic sugery
Like any mother, Kim Zolciak-Biermann believed her daughter, Brielle, didn't need to have any plastic surgery.
The reality star revealed that not allowing Brielle to get her lips done until she was 18 was a problem for her oldest daughter.
"Brielle was very insecure about her lips, I heard about it FOREVER," Zolciak-Biermann revealed. "And when she turned 18, she was like, 'I'm doing it.' And I was like, 'well, I'm going to take you to the best, I'm not going to let you go to somebody who's not good.' So I did take her and I got a lot of heat for that, but it's like, she's going to do it anyway."
Kim Zolciak-Biermann has faced a lot of criticism for allowing Brielle to get lip injections.
Many called out Zolciak-Biermann and her daughter for going overboard with the plastic surgery, but Kim has learned to not let others get the best of her.
"People always have something to say," Zolciak-Biermann says. "You're never going to win."
She continues, "I knew that it was coming. Everybody has an opinion, and some people say I've gone overboard. I will say, in some pictures, they do look a little crazy, but I feel like in person they're actually not."
Kim Zolciak-Biermann doesn't have a problem calling out the haters
Any fans of Kim Zolciak-Biermann knows that she is no stranger to plastic surgery.
The Don't Be Tardy reality star has revealed her many experiences when it came to procedures and is happy with everything she has had done over the years.
Zolciak-Biermann has found that out of all of her procedures, people are quick to judge her mostly for her lips.
Being in the spotlight for so many years, Kim Zolciak-Biermann knows that there are always going to be people who only have negative things to say.
With all of the backlash Zolciak-Biermann is always receiving, she is not afraid to call out the haters.
"I definitely have my moments where I'll write back to somebody. [But] I really don't care," she revealed to PEOPLE.
When it comes to Brielle Biermann receiving backlash over her lips, Kim Zolciak-Biermann sees a lot of herself in her oldest daughter.
"Somebody wrote to Brielle yesterday, "Those lips girl are awful" and Brielle's like "I'm writing back, 'Your forehead's awful.'" I couldn't even tell her not to because I was like you know what Brielle, fine, I have my moments too," Kim revealed.
Kim Zolciak-Biermann and Brielle Biermann are happy with their appearances and do not regret anything they've had done.
There will always be those who continue trolling this mother-daughter duo, but they will keep on living their lives to the fullest.