Why All Horror Movie Fans Need to See 'Don't Breathe'
Because every moviegoer has his or her own sense of what's funny or terrifying, comedy and horror films often inspire the most divisive reactions from audiences. In particular, the latter is hard to pull off, especially given the wide range of filmmaking styles that can be applied to a story looking to inspire fear in its viewers. Luckily, 2016 has been a solid year for horror both financially and critically, as a number of films have connected with audiences and pleased critics.
One such film is Director Fede Alvarez's Don't Breathe, which could very well be the crowning achievement of the genre so far this year.
Alvarez's first burst onto the mainstream horror scene with his grisly remake of classic horror property Evil Dead back in 2013. His film put a decidedly modern spin on the material, infusing some rich allegorical subtext to the original's tale of a group of friends staying in a deserted cabin and unwittingly awakening dark forces. While Don't Breathe features little of the gore of its predecessor, the two films share a concerted effort to ground their vastly different stories and are each anchored by a stellar leading performance from Jane Levy.
In Don't Breathe, Levy stars as a young woman who — along with her boyfriend and a friend — sets out to rob a blind man (Stephen Lang) in the hopes of starting a new life with her little sister. From the outset, the film does an excellent job establishing the personal emotional stakes of its characters and proceeds into a narratively simple but aesthetically complex exercise in suspense. It keeps audiences on the edge of their seats, while frequently taking Don't Breathe's title as an instruction into how to watch the film itself. In that respect, it sails far above many other releases that purport themselves to be just as thrilling.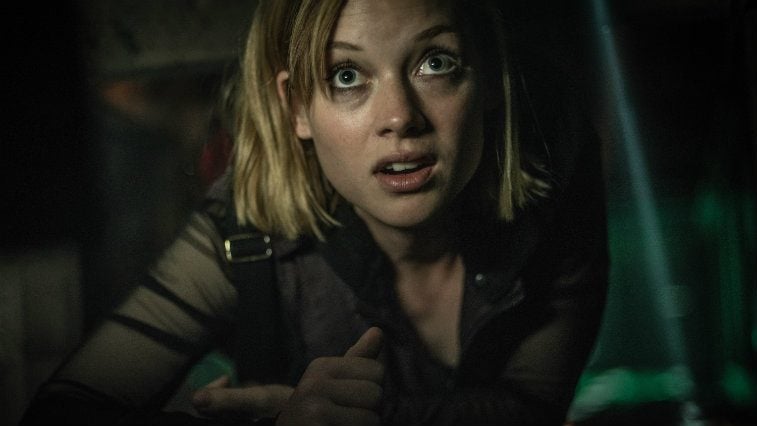 Although Alvarez's Evil Dead had tension to spare, his follow-up film doubles down on that, neatly balancing horror elements with quieter, more nuanced performances that soar without the added benefit of supernatural mayhem behind them. The terror in Don't Breathe is more grounded and visceral than that in many other recent horror films, and because of that, it is all the more impactful as a result. Moreover, Alvarez's deft camera work and clear understanding of how to communicate the story — which he co-wrote with longtime writing partner Rodo Sayagues — visually comes into play in increasingly innovative ways.
Of course, without the right cast in place to bring Alvarez and Sayagues's story to life, Don't Breathe would be limited solely to the strength of its script. Luckily, Levy commits to the conflicted character in Don't Breathe just as much as the one she played in Evil Dead.
As a woman desperate to escape her current life, she is everything one would want in a horror heroine: strong, determined, smart, and (best of all) human. Her character Rocky, is deeply flawed, and despite her willingness to break the law in order to liberate herself and her sister, we can't help but root for her. Likewise, Lang is one of the most memorable horror movie villains in recent memory, using his physicality and inscrutable face to great effect.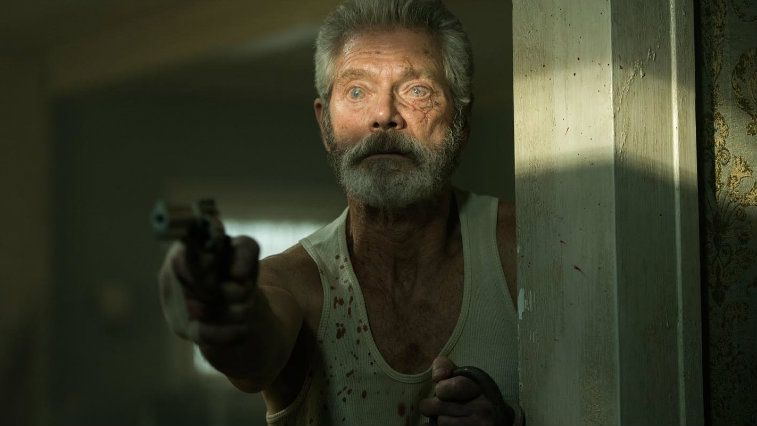 Ostensibly a home invasion film, Don't Breathe even serves as a fresh spin on this tired horror sub-genre, complicating the morality of the traditional situation by placing its focus on the home invaders themselves. Though we should be sympathizing with Lang's character, we empathize with the young criminals for much of the movie's runtime, at least until the story unravels a bit more. It's an intriguing inversion that re-energizes the emotional investment of the viewer and strings along the question of who is actually the true villain of the story.
In short, Don't Breathe cements Alvarez's place as one the best young horror filmmakers working today. Much has been said about the genre's current state as a kind of Renaissance. If that's true, then Alvarez is certainly a significant part of it. With just two features under his belt, there's a world of possibilities ahead for the director, and if his work to date is any indication of what he may have in store for moviegoers, we should be in for lots of sleepless nights in the coming years.
Follow Robert Yaniz Jr. on Twitter @CrookedTable
Check out Entertainment Cheat Sheet on Facebook!
More from Entertainment Cheat Sheet: