'Double Shot at Love:' The Love Story of Vinny Guadagnino and Alysse Joyner
Fans loved Vinny Guadagnino and Alysse Joyner's calm but passionate relationship and wanted him to choose her over Elle Wilson. Vinny claimed he had an unexplainable feeling in his gut about Alysse, a reason why he picked her, but always had reservations about her shyness. However, Vinny not texting Alysse when they weren't allowed to see each other, among some other crazy accusations, has caused this budding relationship to fizzle out. Let's take a trip down memory lane and relive Vinny and Alysse's love story, as well as see where things went wrong.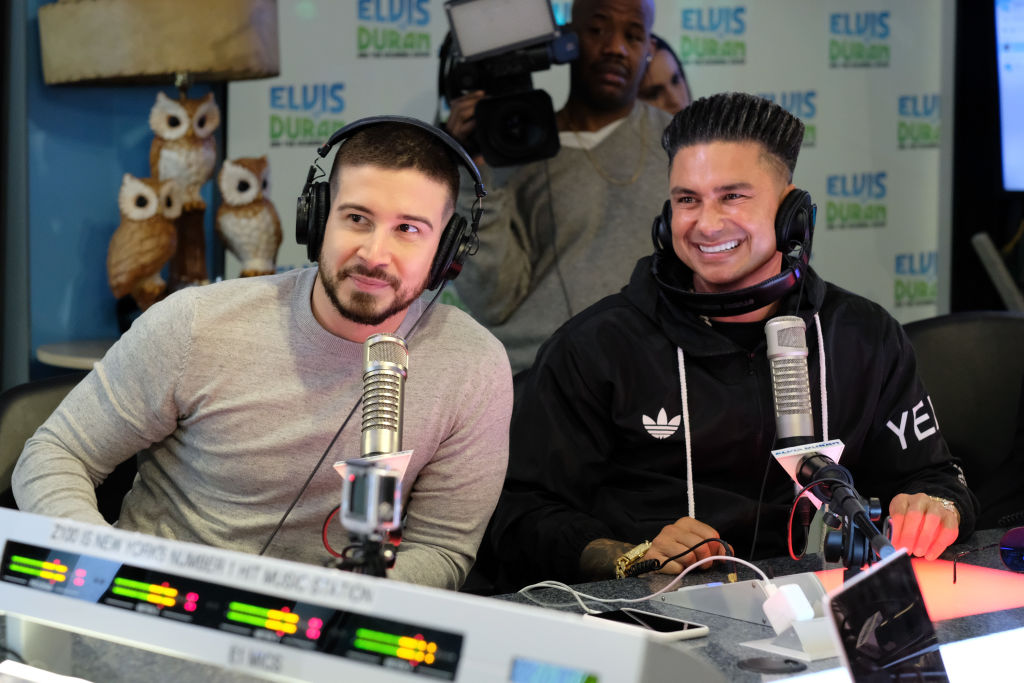 Vinny Guadagnino and Alysse Joyner's love story in the mansion
Alysse was a fan-favorite ever since she walked in the doors, because of her signature freckles and shy nature. Vinny and Alysse shared their first kiss during the debut episode at the club after Vinny joked about Alysse's long legs. Even though she didn't get much screen time, she and Vinny had a genuine connection that everyone felt since then. Alysse landed in the bottom two on Episode 8, when the boys took the ladies rolling skating, because of her shyness.
Although Alysse convinced herself Vinny would send her home, he decided to keep her in the house to develop their relationship more. On the very next episode, the girls competed in a challenge where they had to get a key out of a suitcase. On the luggage, the boys gave the girls a relationship issue, and Alysse's read "too shy." Again, she fell in the bottom two because Vinny wanted her to open up, but once again he kept Alysse around.
The love story of Vinny and Alysse began to take off on Episode 10. Vinny invited the girls over to his house for a sleepover, and he loved the way Alysse bonded with his dog. When Vinny asked Elle to go to the store with him, Alysse admitted she felt a little jealous. He liked her jealousy because it was enough but not too much, and they ended up cuddling in his basement. Vinny also admitted being with Alysse is extremely comfortable for him.
For Episode 11, Pauly D and Vinny flew the girls' family and friends in for an Italian dinner. Alysse's parents, Hewitt and Lisa, showed up, and they had a great conversation. Alysse said she felt more connected to Vinny after he met her parents.
Then, Alysse had to meet Pauly D and Vinny's Jersey Shore roommates, Ronnie Ortiz-Magro and Jenni "JWoww" Farley. They gave her a lie detector test and joked with her. Later that day, Vinny took Alysse to a dog adoption place because he loves how she acts with dogs. They had a fantastic date, and he chose her along with Elle for his final two ladies.
Vinny Guadagnino gives Alysse Joyner a single shot at love
Vinny went into the ceremony knowing he would pick Alysse. She told him she's very comfortable with him and has always found him attractive. She admitted she did pull away when Vinny began connecting with other girls. However, Alysse said she thinks he's everything she needs and wants in life.
Vinny said he has come to understand her shyness better. He also loves seeing the playful loving side of her. Even though Vinny and Elle have so much in common, he has an unexplainable connection with Alysse.
Are Vinny Guadagnino and Alysse Joyner still dating?
Vinny and Alysse reunited for the first time since seeing each other months ago, live at the reunion. Their initial hug was very awkward, and Alysse sat with her arms crossed. She admitted it was hard to look at him because he stopped trying after a few weeks.
The Jersey Shore star claimed they couldn't hang out with each other after the show wrapped. He also admitted he failed at continuing a "texting relationship" with Alysse until they could see each other. Alysse began crying, and Vinny did not console her. She then told Justina that she is not interested in pursuing a relationship with Vinny.
Even though Vinny said several beautiful things about Alysse during the reunion, she tweeted he never tried to talk to her backstage. A Double Shot at Love spoiler page on Instagram revealed Vinny direct messaged former contestant Maria Elizondo. This happened after the show wrapped and before the reunion, and allegedly he tried to hook up with her. However, Maria apparently curved him. Mish Gao's tweets seem to back this up. She claimed Vinny hung out with another girl in Vegas and "slid into another one of our cast's DMs."
Alysse posted a picture on Instagram of her posing in her outfit from the reunion. She captioned it a version of rapper Future's infamous words, "I'm actually all set luv, enjoy" and tagged Vinny. Unfortunately, it looks like the Vinny and Alysse love story is officially over.