Dr. Jane Goodall Has Cuddled Prince Harry and Meghan Markle's Baby Archie: 'He's Very Cute and Very Gentle'
Dr. Jane Goodall is one of the honored few who have met Prince Harry and Meghan Markle's baby, Archie. She shared a bit about the Sussexes' baby's personality and the reaction Markle had when meeting Goodall for the first time.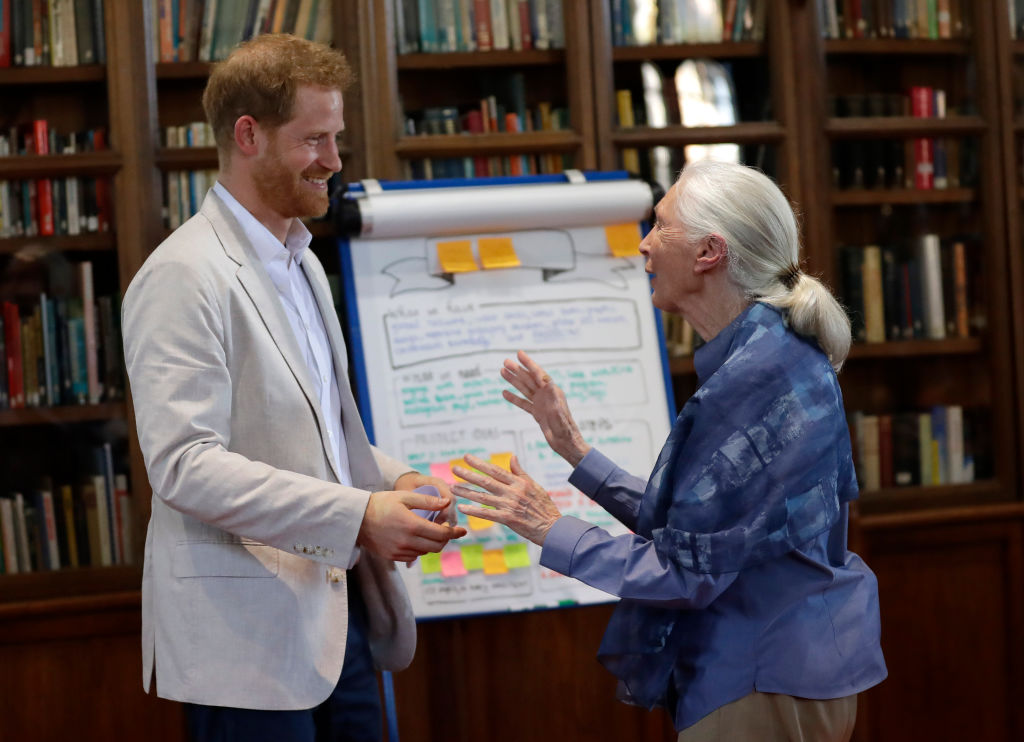 Dr. Goodall had a 'cuddle' with baby Archie
Last month, Dr. Goodall visited the Sussexes at Frogmore Cottage where she met Markle and Archie and she dished a bit on the special meeting during her Roots & Shoots Global Leadership Meeting today.
She stopped at the couple's home to see Prince Harry ahead of the meeting and had the opportunity to "cuddle" the baby, according to a tweet from royal correspondent Emily Andrews.
Goodall remarked to reporters today that baby Archie is "very cute and very gentle."
Meghan Markle was thrilled to meet her 'idol'
When Goodall met Markle, the duchess couldn't contain her excitement, with the conservationist explaining: "She told me she's followed me all her life. She told me, 'You've been my idol since I was a child. I've hero worshipped you all my life.'"
Prince Harry is taking more of an interest in conservation now
Dr. Goodall further shared how she got Prince Harry interested in her organization, believing that becoming a new dad has influenced his outlook.
She noted: "We talked about Roots and Shoots and I said, 'Of course you're interested now, you have a baby,' and he said, 'Of course!' When you bring a child into the world, you have to worry about the future. If we don't make change, we don't have a future. It's as simple as that."
Prince Harry and Goodall shared a 'chimp greeting'
At the meeting, Goodall asked Harry if he remembered the "chimp greeting" from when they had met before. It was sweet to see the reenactment, as he approached her and she appeared to be a nervous female chimp. Giving her a pat on the head, she then gave him a big hug.
At the meeting, Prince Harry spoke of the legendary Goodall, sharing, "She is a woman of kindness, warmth, immense knowledge and a softness that's needed by mankind just as much as it is chimpkind."
He added, "I've been admiring her work since I was a kid, and it was so wonderful to find that she was even more amazing in person."
Prince Harry discussed environmental issues
Prince Harry is President of The Queen's Commonwealth Trust and Commonwealth Youth Ambassador and the matter of conservation is important to him.
Roots & Shoots was founded by Dr. Goodall in 1991 and now involves students from over 50 countries. She has convened a meeting of some of these students annually over the last six years in Windsor to discuss local and global problems.
Goodall remarked that she wanted to "collaborate and work together" with Prince Harry "to raise awareness about conservation and the need to conserve the natural world."
Prince Harry spoke with some of the students about the issue of using plastics, noting: "It doesn't make sense to find everything in plastic, plastic within plastic. Gone are the days when you grabbed 10 carrots, took them home and gave them a shave, now you're buying shaved carrots in a plastic bag, why?"
He continued, "Again we've slipped into this dirty habit, that's what it is right, it's a dirty habit where it's become normalized. Now the younger generation are coming along and saying — this is crazy, this doesn't make any sense at all."