Drama at Archie's Christening Proves the Royal Feud Between the Cambridges and Sussexes Is Far From Over
Just when you thought the royal feud was over!
It's a little curious that so many royal fans are still talking about Archie Harrison's baptism from last weekend. There's only one explanation for the endless supply of rumors being generated by the seemingly innocent event. While we'll never know exactly what happened at Windsor Castle that day, the photos and stories serve as proof that the royal family is still experiencing tension.
And as for baby Archie, who was supposed to help repair the relationship between the brothers? That may not be the case after all. Here's what we know.
The christening was a private ceremony
Archie's baptism took place on Saturday, July 6th in the private chapel at Windsor Castle where Prince Harry and Meghan Markle got married. Queen Elizabeth couldn't attend, but several other prominent royal family members were there, including Prince William, Kate Middleton, Prince Charles, and Camilla Parker Bowles.
The formal photo from the event shows that Princess Diana's sisters Lady Jane Fellowes and Lady Sarah McCorquodale also attended. We can assume the godparents were also there, but their identities are not being released to the public.
As promised, the Duke and Duchess of Sussex kept the event private. They released two photos captured by their favorite photographer Chris Allerton via their Instagram account.
Photos might prove that there's tension in the royal family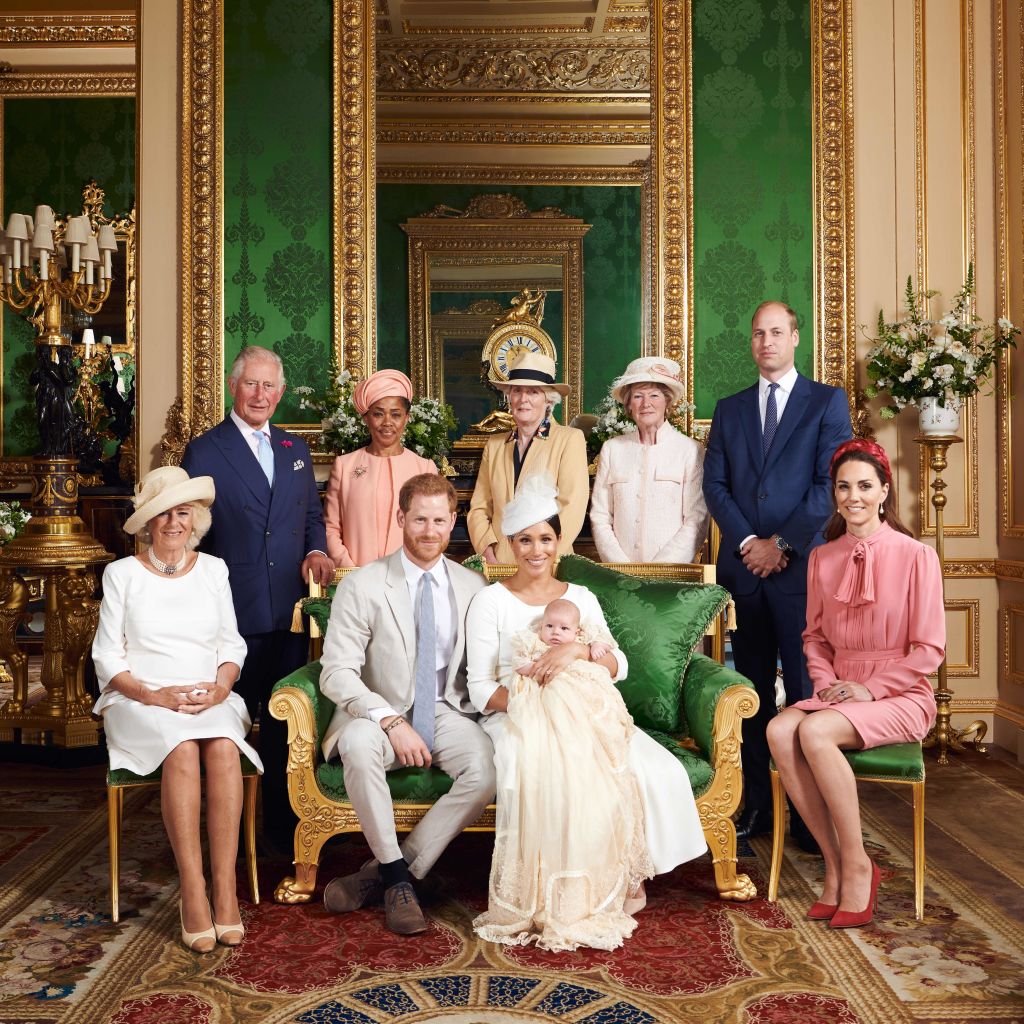 At first glance, the portrait from the event appears normal enough. The Duke and Duchess of Sussex plus baby Archie in his replica christening gown are flanked by the rest of the family. But body language experts and eagle-eyed royal experts see more beneath the surface.
For one, Prince William's facial expression and posture are anything but relaxed. With hands clasped in front of him and an unhappy look on his face, the future monarch is being compared to a bouncer at a nightclub. Meanwhile, his wife Kate Middleton appears to a have a 'forced' smile.
The photo isn't telling the whole story
It was a stroke of brilliance making the baptism private because it's forcing fans to get all their information based on a single photograph. But that's not the only source of information — there's a rumor circulating that Meghan Markle made Kate Middleton cry at the baptism rehearsal. That's still unconfirmed, but if it's true it would explain the stiff, uncomfortable body language in the photo.
What's the fight about now? Apparently, Markle had asked Middleton not to do anything that would 'steal her thunder' at the event, which Middleton clearly had no intention of doing.
Emotions are running high
Whether there was an epic, tearful fight at the baptism rehearsal or not, it's becoming obvious that something is amiss between the so-called 'fab four,' who used to have such a blast hanging out together. Now there are endless rumors of fighting, tension, and drama.
The two brothers split households and then split charity partnerships to distance themselves from one another. At the time, the move was explained as a natural byproduct of growing up. But with all these rumors of fighting amongst them, it's clear there might be more to this story.
We'll keep a close watch on what happens the next time these four former friends get close to one another!