'Drunk History': Where and When You Can Watch the New Season in 2019
Nothing seems capable of stopping Drunk History, one of the all-time great offerings from Gary Sanchez Productions. After Derek Waters and Jeremy Konner started the show on the Funny or Die website in 2007, it enjoyed a brief run on HBO. Then Comedy Central picked it up, and Drunk has made the basic cable channel its home since 2013.
For most shows, those five seasons would be more than anyone can ask for, but Drunk History has yet to show much of any weakness to the TV gods. As Deadline reported when Comedy Central announce its renewal for Season 6, Drunk History has struck a chord with the male 18-34 demographic. (Ratings improved 44% with that group in the Season Five premiere.)
That was quite enough for the network to greenlight another 16 episodes that will air beginning in January 2019. Here's when Season Six will launch and where you can find it on cable and streaming packages.
Season 6 premieres on Tuesday, January 15 at 10 p.m.
The return of Drunk History is not far off. Comedy Central will show the first episode of Season Six on January 15, 2019 at 10 p.m. Anyone with a basic cable package can take it on the usual channel. However, given the demographic, we imagine a large number of viewers will be watching in another format.
For that group. streaming services Philo, DirecTV Now, and Sling TV represent your best options. YouTube TV, for whatever reason, does not carry Comedy Central and thus represents a black hole for fans of Drunk History.
Getting back episodes also remains a challenge. A Hulu subscription give you access to all five seasons of Drunk History. (An extended free trial is your best friend here.) Otherwise, you'd have to buy episodes on Amazon Prime or another service.
Season 6 actors and comedians lined up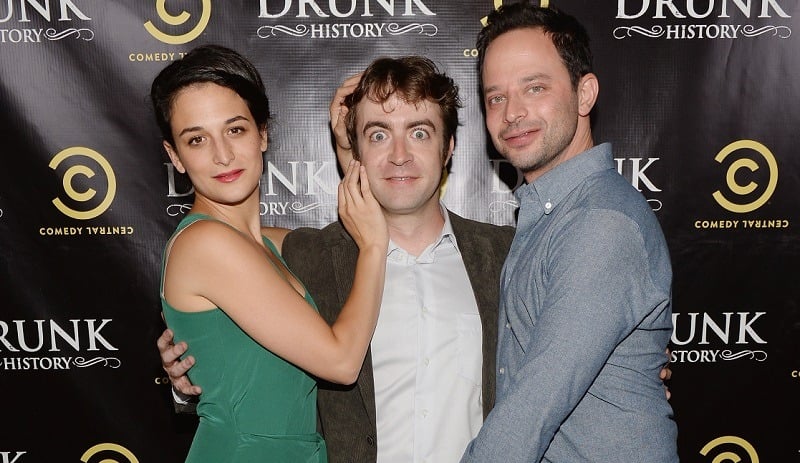 When it comes to star power, Drunk History is light-years ahead of the average network or basic-cable show. Past seasons have featured Don Cheadle, Tony Hale, Zooey Deschanel, Lin-Manuel Miranda, and Jordan Peele in various roles. Season Six will also not disappoint on this front.
From the trailer, we can see Dermot Mulroney, Peele, Will Ferrell, and Jack McBrayer in the mix. According to a Comedy Central statement, we'll also get Vanessa Hudgens, Josh Hartnett, Alsion Brie, and Amber Ruffin this time around.
The Season Six premiere appears to be a special treat in the form of a Frankenstein scary-story setup. Evan Rachel Wood will play Mary Shelley; Elijah Wood plays her husband, the poet Percy Shelley; Seth Rogen plays Dr. Frankenstein; and Ferrell plays Frankenstein's monster.
Meanwhile, the trailer offers comfort to fans hoping for more Rich Fulcher, who narrates the Season Six opener. Over the years, Fulcher has been one of the show's secret weapons, and he'll narrate at least one episode in the upcoming season. (Fulcher's performance on "Chicago" in Season One might be Drunk History's high point so far.)
Whether the show will once again feature narrators who vomit from drinking too much remains to be seen. But we at least know they'll be verifiably drunk,
Check out The Cheat Sheet on Facebook!