Drunken Master Returns: Wong Fei-hung Lives Again in New Film
Wong Fei-hung, the legendary 19th century martial artist and revolutionary-turned-folk hero, has been the inspiration for many movies and TV shows. More commonly known to westerners as the Drunken Master after the Jackie Chan films, Fei-hung has risen into the mythic stratosphere, and it's hard to tell where the man ends and the legend begins. He famously named the martial arts techniques he pioneered (the "shadowless kick" being perhaps the most famous), and legend has it he used a wooden staff to defeat an army of thirty Japanese soldiers.
Now the Drunken Master prepares to grace the big screen again, as the studio behind Jet Li's 2006 box office hit Fearless is finishing up a new action-epic depicting Fei-hung's ascendancy into immortality. According to The Hollywood Reporter, Director Chow Hin Yeung Roy, who won an award for Best New Director at the 29th Hong Kong Film Awards for his grim, squalid thriller Murderer in 2009, is at the helm of the project. It stars Peng Yuyan, with a screenplay written by Roy's usual partner Christine To.
Roy's last effort, 2012′s Nightfall, was an Oldboy-derived, but visually-assured thriller that further hinted at Roy's potential. He began his career as an assistant director on Ang Lee's controversial Lust, Caution in 2007. The film features unsimulated sex, which earned the film an NC-17 rating in America. The film earned Lee his second Golden Lion at the Venice Film Festival, but received polarized reviews from American critics.
Gordon Liu was the first actor to play Fei-hung in a popular film. Liu, best known to western audiences as the eccentric, beard-whipping master in Quentin Tarantino's Kill Bill Vol. II, played the role of the Drunken Master in 1976′s Challenge of the Masters. Two years later, Jackie Chan added a concentrated dose of pure fun to the Fei-hung myth with his breakout hit Drunken Master, a comedic amalgam of martial arts action and slapstick tomfoolery.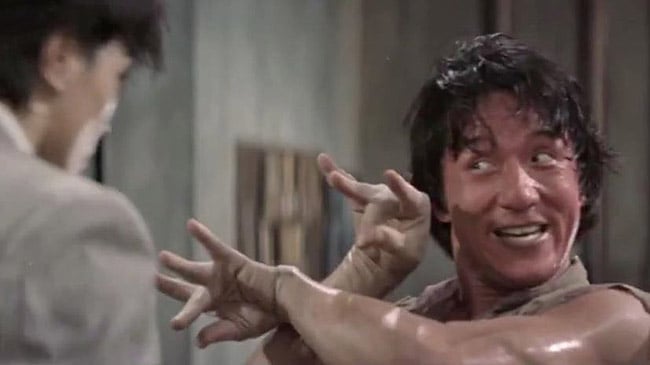 Jet Li played the role in the first three films of Once Upon a Time in China, Tsui Hark's six-film series chronicling the legend of Wong Fei-hung. The first two films were among the most acclaim and most popular of the Golden Age of Hong Kong cinema ('86-'93, or thereabouts), and remains the most grounded and earnest depiction of Hung.
But the most popular Wong Fei-hung film, to eastern and western audiences both, is Jackie Chan's 1994 opus, The Legend of Drunken Master, also known as Drunken Master II. Chan, directing and starring, delivers two straight hours of blistering stunt work and physical comedy that stand beside the best of Buster Keaton. The stunts become gradually grander and more complex, with more and more baddies and more inventive means of dispatching them.
Chan's version of the Drunken Master is a slightly dopey but big-hearted young man who practices a style of fighting called drunken boxing, against his power father's wishes. (It involves getting really drunk and employing outlandish moves with outlandish names, i.e. "Fat woman sitting on the toilet.") The film climaxes with a bruising fight in a 19th century industrial factory; Chan's Fei-hung drinks industrial-strength alcohol and defeats his enemies, but ends up going blind from the alcohol. American distributors snipped this bit out, and the movie ends with a weird little celebratory scene, and Fei-hung's absence is brushed off–"He's just resting."
Roy's film promises to be less comedic than Chan's, and it's unlikely Roy's Fei-hung will be drinking industrial-strength alcohol to gain an edge. Also starring in the film are Sammo Fei-hung, Wang Luodan, Jing Boran, Wong Cho Lam, and Zhang Jin, with special appearances by Tony Leung Ka-fai and Angelababy. Sammo Hung co-starred in Jackie Chan's classic Project A, in which he displayed his comedic chops and formidable stunt capabilities, as well as a fantastic chemistry with Chan. The movie comes out this fall, distributed by Universal Pictures.
More from Wall St. Cheat Sheet: