Dwayne 'The Rock' Johnson Producing Biopic on UFC Star
There's more than one reason Dwayne "The Rock" Johnson is the highest paid actor in Hollywood. He's personable, chill, and is always working on new projects—whether in front of the camera or behind it. As you probably know, his popularity was aces long before he became a movie star due to his career as a wrestler. That's where many fans first were introduced to him, and it makes sense that he would eventually step into the sports biopic ring.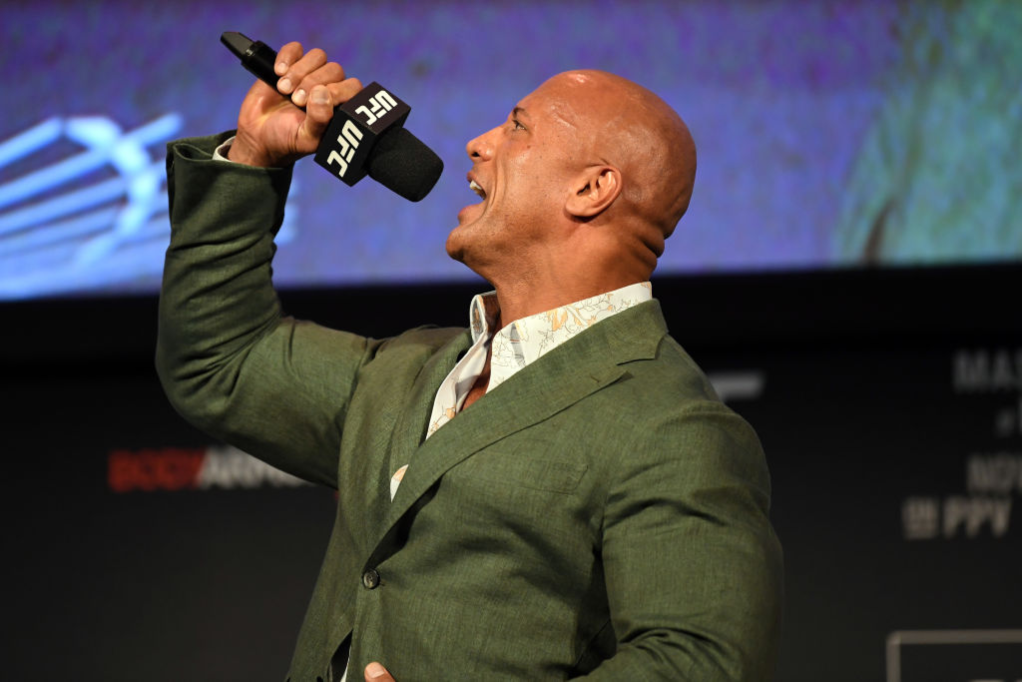 The Rock is developing a film about Mark Kerr
Johnson was a guest presenter during the UFC 244 event in New York this past weekend and made the announcement about the movie during weigh-in. He'll be acting in and producing the project about the life of Mark Kerr, a.k.a. The Smashing Machine. Though it's still in early development, it's attached to Johnson and ex-wife Dany Garcia's company, Seven Bucks Productions.
Per Variety, he is excited for the opportunity to be playing Kerr in the movie:
"Mark Kerr's story is such an incredible story. Like all of us, and like a lot of these fighters, he battled these demons — these demons of addiction, these demons of mental health, these demons of getting out and the pressure of fighting in front of 50,000 people and what that does to somebody. Here's a guy who has gone through it all, hit rock bottom, but the best part about Mark Kerr is that, like all of us in this room and all these fighters, these warriors, is that every day, we get up and we want to do a little bit better tomorrow than we did today."
Kerr's story has previously been told in the 2002 documentary, The Smashing Machine, which chronicled his personal and professional life.
Who is Mark Kerr?
Kerr is considered a top MMA fighter who's been on the scene since the late '90s. He has 15 wins on record, including two UFC heavyweight tournaments. But behind the scenes, Kerr struggled with addiction and personal relationships, something that was explored in the documentary.
He's suffered a number of damaging injuries during his matches, but at times, would power through them in order to beat an opponent. Late in his career, he experienced a string of setbacks and losses, but is still endeared to fans. Now 50, Kerr has retired from the sport and has reportedly signed over life rights to The Rock's company, per Deadline.
Why Johnson wants to do the film
Johnson told Variety that he views Mark as one of many warriors who's faced battles inside and outside the ring, and believes his story deserves to be told.
"It's an opportunity to shine a light on one of our warriors, who not only deserves it, but who has such universal appeal and a universal story. The guy was a beast and he was dominant and there was only one like him at that time.

When you think about these fighters, there is no other sport like MMA — the multiple disciplines and the pressure and the fact that you put your life on the line, literally, every time you step in the cage — and if you dig a little deeper than the physicality that they have, there's a real character of depth to a lot of these warriors, and Mark is one of them."
During the press conference at the UFC event, Johnson also shared that Kerr was gracious about him making the announcement for the film, and he feels honored that someone wants to make a movie about his life.