'DWTS': Alan Bersten Is Trying To Help Hannah Brown Get Over Her Insecurities
Hannah Brown received some tough criticism on Dancing With The Stars this week. After she and her partner Alan Bersten performed their jazz routine to "Bad Girls" by Donna Summer, Carrie Ann Inaba told the reality star that she felt "something was lacking."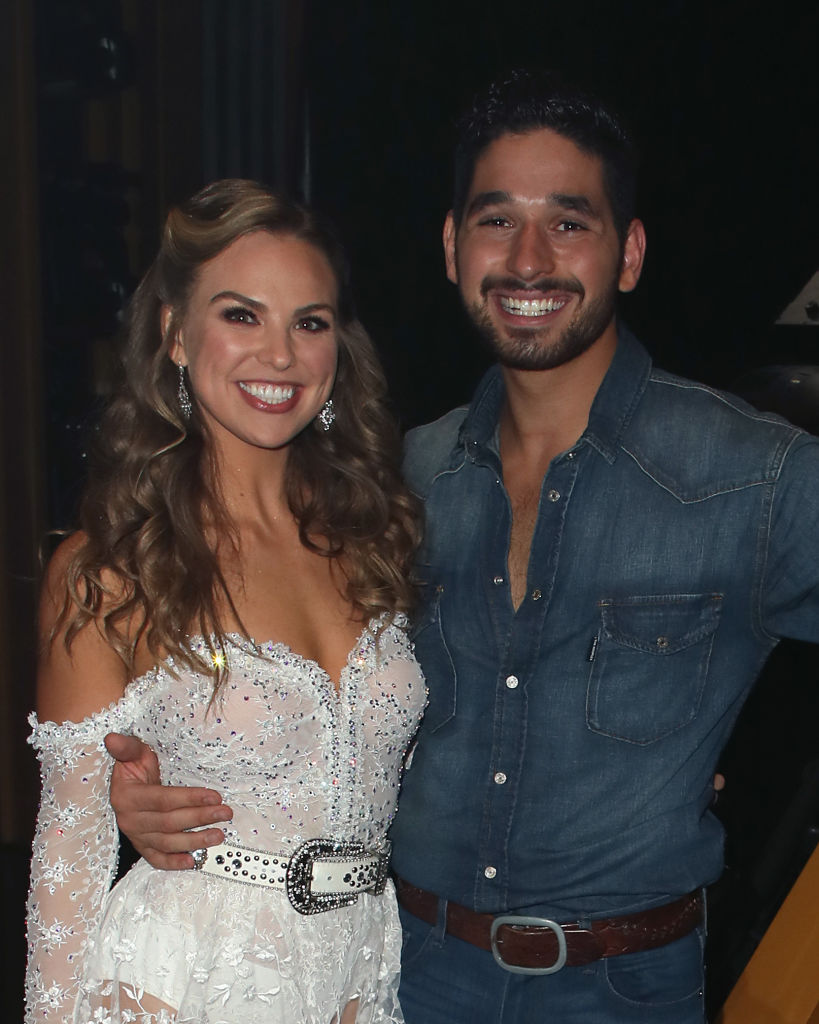 "You are disconnected from the movements. I need you to give your heart. You look and then you look away. You're not really staying in it," Inaba told Brown. "It's almost like there's a bit of shyness in you; you almost close off to the dance. I want you to stay open. We want to get to know you through the dance. We want to see layers that nobody has seen before and I know it's hard to do but, I swear, if you open up and let it go raw out here, we will be here for you."
Brown took the criticism hard.
Hannah Brown's partner Alan Bersten agrees with Carrie Ann Inaba's criticism
But her partner, Bersten, couldn't help but agree with Inaba's critiques.
"I think, honestly, it's so accurate. Hannah is incredible but she's a bit insecure and I've been working so hard to get it. She has no reason to be insecure," he said. "She is such a beautiful, hardworking person."
At the end of the episode, Brown participated in a group dance along with James Van Der Beek, Ally Brooke, and Lauren Alaina. Inaba thought Brown did a lot better in the group number. Brown responded by saying that she's just a reality star who's trying her best.
Over the past few weeks, Brown and Bersten have been working on communicating better in rehearsals and performances. The reality star's been open about how she needs to feel fully supported by her partner. Lately, she says they've been doing better.
Hannah Brown's Instagram post after another tough 'DWTS' week
A couple of days after the episode aired, Brown took to Instagram to elaborate on how she's been feeling while competing on DWTS.
"This experience has been harder than I could have ever imagined. When I decided to do DWTS I thought it would be a fun way to channel all my energy after a whirlwind experience as the Bachelorette. I was hopeful that the confidence I gained this year to take pride in the woman I have become would have the opportunity to shine, and I'd feel that reboot in my spirit after it took a bit of a beating after my bachelorette season," she began her post.
Brown goes on to write about how, when she first began competing, she was hurting more than she let on, mentally and emotionally.
"I came into this experience a little broken and confused—more than I've shared. Everyday has brought its challenges with my past, my fears, and the uncomfortableness of opening myself up again to be judged on something VERY scary like learning a new skill to perform each week. Last night was really defeating for me and a lot of suppressed emotions started to surface from this amazing, but grueling experience," she wrote.
Brown says she's struggling with showing her full self when dancing.
"It's true there is a disconnect. I am busting my a**. I am giving this my all. It's my focus and passion right now. But each week I fall flat. I've gotten to the point of being so anxious before I perform that I can't completely enjoy it like I wish and know I could," she wrote.
She feels grateful for the opportunity to be on the show, she's also struggling. She reminds her following that it's possible to feel both.
"It's okay to be grateful and positive, while also acknowledging the hard days we all have. It's so important to think positively, but it's also important to acknowledge and feel all the feels. This pressure to pretend is not good for anyone," she writes.
Read more: 'DWTS' Pros and Newlyweds Jenna Johnson and Val Chmerkovskiy Have This One Rule About Working Together