'BIP': Dylan Barbour & Hannah Godwin Laugh off This Weird Criticism
Following their tenure on Bachelor in Paradise, Dylan Barbour and Hannah Godwin are growing accustomed to the enormous criticism that surrounds them at all times. Of course, fans of the franchise choose to weigh in on every little detail of their relationship. Their living situations, body language, and the status of their engagement are the most obvious targets of criticism. However, smaller things like mispronouncing words and typos are also subject to intense scrutiny. In fact, the criticism seems to be even more intense lately, since Barbour and Godwin are one of two surviving couples from this season of Bachelor in Paradise.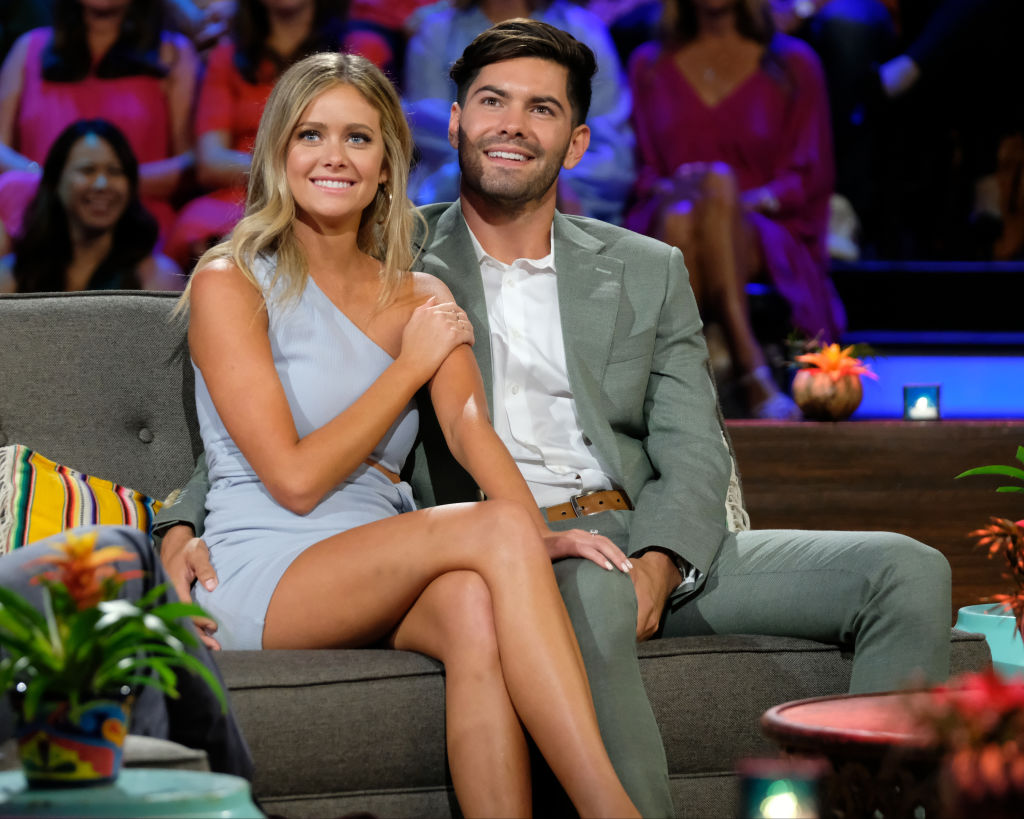 Dylan Barbour and Hannah Godwin attend a Guess event together
But, new criticism about Barbour is so strange, it has the couple cracking up On Friday, November 8, 2019, the happy couple attended an event for Guess together. Both Barbour and Godwin posted a carousel of pictures to their Instagram page donning complimentary Guess jackets. "Ate all ze french fries they had at the @guess event last night," Godwin captioned her photos. "@guess being clingy has its benefits," Barbour playfully captioned his, possibly making reference to the fact that Bachelor in Paradise fans categorized his exclusive attraction to Godwin on the beach this Summer as clingy.
Instagram users comment on Barbour's teeth
Two seemingly innocuous posts somehow managed to offend some people on Instagram. Barbour specifically received criticism about the way he smiles in photos. In the pictures he posted from the Guess event, as well as some others, Barbour is sporting a huge grin. While most people read the smile as happy, others were offended that he dared to show off two rows of teeth rather than just one, and they made it their mission to tell him to stop.
"You're really handsome but you have to stop smiling showing both rows of teeth. Please smile only showing your top teeth. It looks so much better. Just harmless advice," one Bachelor in Paradise fan wrote. King of trolling and clap backs, Barbour quickly responded to the ridiculous feedback. "Sorry won't try to hide my happiness," he wrote back. Godwin took it one step further when she continued to troll the Instagram user for their strange comment. "You should smile w just ur bottom teeth," she commented on her fiancè's comment. Barbour quickly wrote back to Godwin with a crying laughing emoji.
A critic calls the couple the blandest couple in Bachelor in Paradise history
But the criticism about Barbour's smile didn't stop there. Another person felt the need to spew negativity about it as well, calling it disingenuous. "Are you able to actually smile genuinely? Because all you do is form your mouth into the shape you think a smile looks like. There's no life in your face or your eyes. It's all posing. Given that you will probably have a life financially fueled by having done nothing of significance except drape yourself over the barbiest looking female in BIP, how can there be no authenticity to a smile that should reflect that kind of dumb stupid luck. And by that I mean financial luck, not relationship luck for there were never two more bland contestants on that show. Or anywhere," the person commented to Instagram.
Barbour laughs off the hate
For his part, Barbour was able to laugh off the ridiculous rant. Responding with another crying laughing emoji he wrote, "You're a clown I love it." It's great that Barbour and Godwin are about to laugh off such ridiculous criticism. We wish them luck as they continue to navigate their very public engagement.