Dylan Barbour Has A Bone To Pick With The 'Bachelor In Paradise' Editors
Hannah Godwin and Dylan Barbour were one of the strongest couples to come out of this past season of Bachelor In Paradise. After meeting, getting to know each other, and falling in love during their few weeks on the show, they, unsurprisingly to Bachelor Nation, got engaged. A few months have passed since their filmed engagement, and they still have that newly-in-love/newly engaged glow according to their interviewer at Glamour who, during their interview, "clock[ed] no less than 15 snuggles."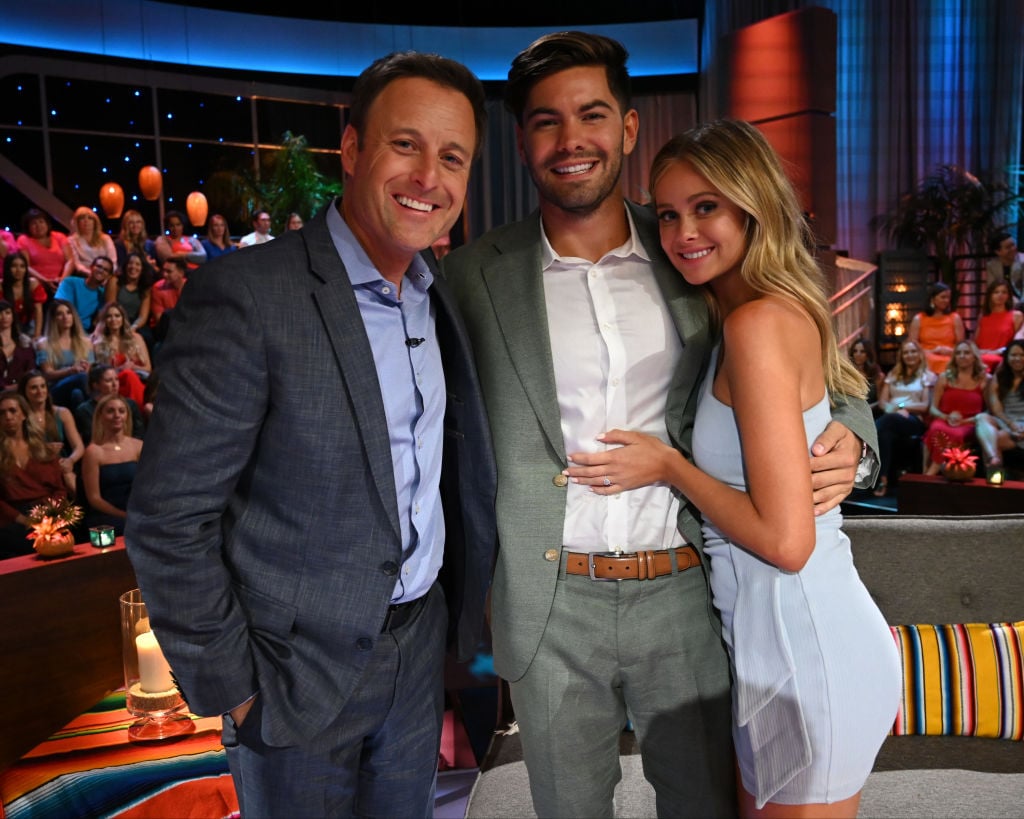 One thing the couple spoke to the publication about was "diving in" during their time on Paradise. 
"If you're not truly being yourself [on the show], then how can somebody fall in love with you?" said Hannah. "How can you open up enough and be vulnerable enough to let somebody in if they don't actually know you? If I was like, 'Oh, yeah, that was all fake, by the way,' it can't work like that."
Dylan agrees.
"You just commit to it," he says. "I always call it committing to the process. The producers have a good saying: 'If you're going to be here, then be here.' Just be completely accepting of 'Yeah, you're going to be filmed. Just go for it.'"
Dylan didn't love the 'Bachelor In Paradise' editing of Hannah G.
Both Hannah and Dylan feel they successfully "dove in" to Paradise this season. But, according to Dylan, you wouldn't know Hannah did because her "entire personality" was, essentially, "cut out." 
Watching this season, it might have appeared that Dylan's feelings for Hannah were much stronger than hers for him. Apparently, that wasn't the case. 
"I've said it before, but I feel like a lot of people think Hannah is one person, but she's the complete opposite," he said. "She's hilarious, sassy, really smart, really driven. I didn't know what to expect, and when I got there, she just blew me away."
He's echoed a similar sentiment in another recent interview with Extra.
"I think it was our first conversation. I thought she was gonna be someone else and I was hesitant. I talked to other people when I got to the beach. I talked to everyone for like five minutes and I was like 'I'm not gonna be laser-focused.' And then I talked to her and it was over for me from that point. She just completely caught me off guard. I think a lot of people don't know just how funny she is and how sweet and caring she is about everybody around her. Yeah, I was just all-in from the second I met her," he said.

Dylan surprised Hannah, too
Hannah was also surprised at the big impression Dylan left upon their meeting.

"You can't plan a connection. Dylan's just very friendly, very sweet, very… just the best," she told Glamour, embracing Dylan.
Parts of Hannah's personality might have been kept from the BIP audience, but it's safe to say both reality stars left the beach happier than when they arrived. And now with all of her new Instagram followers thanks to her time on BIP and fresh engagement to Dylan, she can show off who she really is on the social outlet. 
Read more: 'BIP': How Hannah G.'s Family Really Feels About Dylan Barbour