Dylan Barbour Jokes That Peter Weber Told Him And Tyler Cameron How His 'Bachelor' Season Ends
Dylan Barbour posted a picture to Instagram of himself, bachelor Peter Weber, Bachelorette runner-up Tyler Cameron, and his mother supporting the Rams in Los Angeles on Monday. And there's a lot going on in the photo and in the comments.
"Rams lost but at least Peter told us how the season ends (kidding @abcnetwork )," Barbour captioned the post.
Everyone knows Weber is sworn to secrecy until his season of The Bachelor airs, but we can't help but wonder if Weber really did tell his Bachelorette pals how his love journey ended up.
"was it the most dramatic finale in bachelor history," asked one fan.
"it definitely wasn't the most dramatic fourth quarter I can tell you that," replied Barbour.
Barbour's PR company didn't love the reality star's joke. "Just murder me now," they commented.
 "no more promos for Dylan," he responded.
"Here comes a lawsuit," wrote another fan.
"I said I was kidding," responded Barbour.
Another fan weighed in on the possibly strategic posing of the pic.
"u can't see peters left hand bc he's engaged💍" they wrote.
Another Instagram follower hit Barbour with this conspiracy theory: "Peter picked your mom and now he's your stepdad."
"in a perfect world yes," the reality star responded.
The bachelor himself responded to Barbour's joke: "Season ends with the Hawks going to the Super Bowl baby 🙌🏼🙌🏼😄"
'Bachelor' fans agree Peter Weber, Dylan Barbour, and Tyler Cameron are the 'Holy Trinity'
Bachelor Nation got very excited at the sight of Weber, Barbour, and Cameron all in the same place.
"The 3 most unproblematic men in America,' wrote one fan.
"idk I'm pretty messy," replied Barbour, always modest.
The photo's comments are filled with remarks like "Triple threat in action," "this picture is so attractive," "ALL MY FAVORITE BOYS WHAT," "y'all wanna adopt me or something?," and "My Holy Trinity."
"wait do y'all know each other? lmaooo" commented another fan.
"no they just came up and asked for a pic," responded Barbour.
Did Peter Weber dye his hair?
Another hot topic of conversation in the comments section of Barbour's photo is Weber's very light hair. Several Instagram users asked Barbour if the bachelor's trying out a new hair color.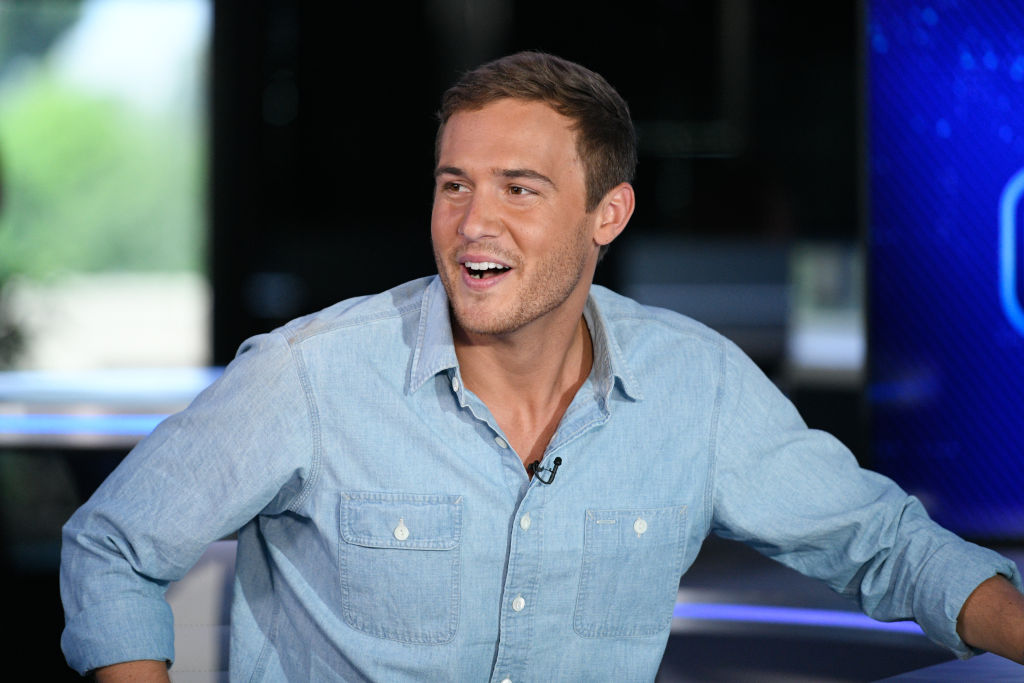 "did peter's new lady make him dye his hair?? Dylan help him," wrote one fan.
"Has Peter always been that blonde," asked another.
"yeah he usually dyes it," responded Barbour.
"Digging the highlights Pete," wrote another.
Tyler Cameron hits on Dylan Barbour's mom
Cameron hit the comment button to flatter Mrs. Barbour.
"Why didn't you tag your very fine mother??" he asked Dylan.
"because I don't want you sliding into her DMs," he replied.
"a little late on that one. We having dinner this week," Cameron wrote back.
Dylan's mom responded to Cameron's comment: "thank you! Looking forward to dinner 🥂 bring it @tmz_tv At least I can count on you!! My 268 approved followers need support. Ha! ❤️ you and @pilot_pete"
And, for good measure, Cameron left a thirsty comment on the photo for Weber, too.
"Peter's scar gives him an edgy vibe and it's making me hot," he wrote.
Read more: Former Bachelor Nick Viall Begins His Acting Career, Knows Expectations Are Low