E3 2015: 16 Exciting Reveals From Sony for PS4 Gamers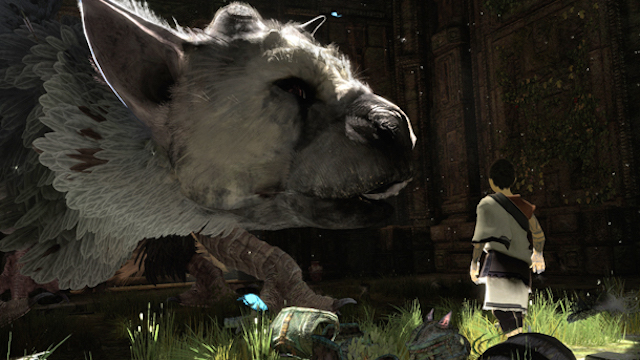 The wait for E3 is over. All the news we've been waiting for since last summer is coming to us, finally. We can find out about all the games that have only been teased prior, and see games that haven't even been shown before. Sony, being one of the biggest players in the gaming field with PS4, has already made its fair share of major announcements. So, without further ado, here's Sony's biggest announcements and reveals during the PlayStation press conference at E3 2015.
The Last Guardian (coming 2016)
Sony has made people wait and wait and wait for this one, but it finally chose to show The Last Guardian off in all its splendor. And I mean splendor. The game looks and sounds beautiful from what was shown off. It also looks super adorable, as you play a little boy leading his giant create around a mysterious world — think Ico combined with Shadow of the Colussus, except you're friends with a colossus. Together, you'll explore, and your creature can help you out in a pinch by catching you with its mouth or tail when you're falling. With no hud and no English seen in the trailer, it looked like a truly immersive and visual experience.
Horizon Zero Dawn
This new IP from Guerilla Games looks like it could truly be a hit if it's done right. The story centers around a post-earth, following a human society that emerges long after ours. All the cities of earth are over-run by nature. But, instead of there being animals everywhere, there a robot creatures, and humans hunt them. The visuals looks great, and that sneaking and combat looked engaging, as the female protagonist hunted a couple robots and fought off another giant robot that came in defense of the ones she was hunting. If the gameplay proves fun and dynamic and the story is compelling, this could stand to be another great franchise in the making.
Hitman
Agent 47 returns.  It's been a few years since Hitman Absolution, so fans of the stealth action game have undoubtedly been eager to see their favorite bald assassin back in action. The trailer was entirely cinematic, but it appears 47 is no longer out killing on his own agenda, but rather is back in the fold as an assassin for hire. So we'll see him traveling around the world to take out targets. A Beta and exclusive contracts will be available to those that pre-order the PS4 version.
Street Fighter V
We already know Xbox gamers aren't going to get much beloved fighting game — only PS4 and PC gamers — though we don't know why. It certainly looks well polished, but Sony's press conference wasn't really the first glimpse of it. The big takeaway was that there will be a Beta on PlayStation starting July 23.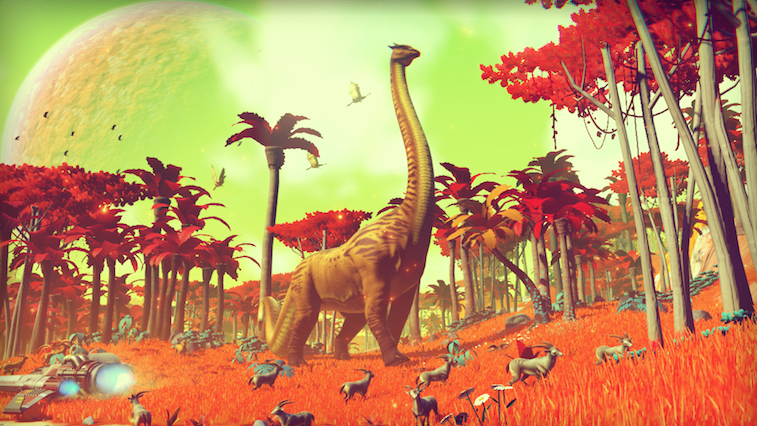 No Man's Sky
We saw No Man's Sky at E3 last year, and then we waited. Anyone who likes open world games should have been excited about this game, because it boasts to be a universe-sized sandbox, as the universe is randomly generated and players can go anywhere they want. The developer spends most of his time showing off how big the game is by rushing through thousands of stars, noting that every single one is a sun that gamers can go to, and each sun has its own solar system with planets with animals and ecology. Some new things shown off were the destructibility of planets, as a laser blaster was used to destroy a rock, and the sentinels that came out to guard the planet.
Dreams
Media Molecule brought us LittleBigPlanet and Tearaway, and now the studio is trying to give us an opportunity to dive into the dreams of others, create your own, and play them all. The art style is beautiful, looking truly like you'd expect a dream. Media Molecule shows off that it indeed knows how to bring gamers creative sides into the video games they play. While it indeed looks cool, it is such a unique idea, that it'll take a lot of demos to give a true understanding of how the game works and plays.
Firewatch
The studio Campo Santo showed off its chops with the trailer for Firewatch, which seemed to include gameplay footage, and it looked beautiful. The art style isn't photorealistic, but appears more like a smooth watercolor painting brought to life. You play as a wilderness fireman guided by a woman over walkie-talkie in the Wyoming wilderness. Mystery ensures, and it looks like a good one.
Destiny: The Taken King (coming September 15)
This was a bit of surprise, even though Destiny is a major part of the PlayStation 4 experience. It seems like only yesterday that the House of Wolves expansion for Destiny came out, so for another to come out so hot on its heels is a bit of a surprise. In it, a big baddie is enraged by the death of his son at your hands, and is going to do whatever it takes — including raising an army — to get revenge. Sick loot, new supers, and challenging new baddies guaranteed.
World of Final Fantasy (coming 2016)
If the Final Fantasy world was getting too realistic and dramatic for you, then World of Fantasy may be what you need. In this game, characters switch between being larger and somewhat more realistically proportioned down to be what in Japan is known as "chibi," or a cutesy small form. It looks pretty weird, but could turn out well. It will be available for PS4 and PS Vita next year.
Final Fantasy VII remade
What is widely regarded as one of the best games ever, and even more widely held as the best Final Fantasy game ever made, Final Fantasy VII holds a special place in many peoples' hearts. But there are still plenty of people who haven't played it and won't because of it's now very outdated graphics. But that's not a problem anymore, and fans of the game will surely enjoy the overhaul. After all of the remakes of recent gen games for the newest gen, this is, without a doubt, one of the most needed HD remakes yet. And even if it was only a teaser, it's a big deal, and it will come to PS4 first.
Shenmue 3 Kickstarter
It's been a long time since we've seen Shenmue and the franchise seemed all but doomed, with the last installment coming out way back in 2001. But creator Yu Suzuki didn't want it to die, so he create a Kickstarter campaign for a third game in the series that will continue where the earlier open-world RPG left off. It took no time at all for the campaign to soar past it's $2 million funding goal.
Project Morpheus
Surprisingly, Sony didn't really show very much of Project Morpheus during the press event — probably because it requires more time than the event allows for, and because the best way to impress people with VR is to hand them the device and have them put it on. Sony did mention that it was introducing a game called RIGS, which would be a sport-like mech combat arena with multiplayer that's played on Morpheus.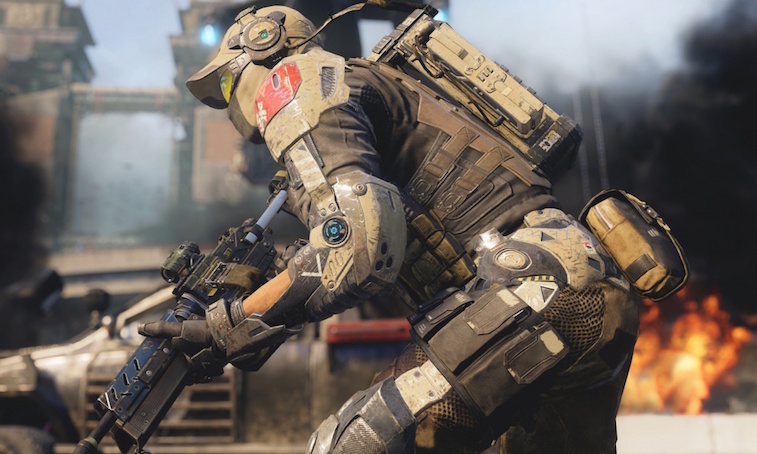 Call of Duty: Black Ops III
Sony had the pleasure of showing off a lengthy glimpse of the largely anticipated Call of Duty: Black Ops III. The bit shown was a bit of cooperative campaign. A key element highlighted was just how advanced the soldiers will be, as the have bionic perks that allow them to augment their physical abilities (such as with faster movement or better jumping) or give them special attack abilities (such as setting off enemy grenades, or nauseating enemies and making them vomit). Also new in Black Ops III will be the ability to choose your load-out before a mission so you can play the way you want, and then the mission will adjust itself to you. With the wall-runs and ground-slides, Black Ops III will offer a truly fast-paced multiplayer experience.
Disney Infinity 3.0 with Star Wars
Disney Infinity has been pulling in characters and stories from many of people's favorite media franchises. And now it's pulling in Star Wars characters for a new adventure, Twilight of the Republic, that takes place during the prequel trilogy's timeline. Then later Rise Against the Empire will let gamers play during the timeline of the original trilogy. While many of us will surely be looking more forward to Star Wars Battlefront, those of us with kids will be able to give them an introductory course on Star Wars through these games.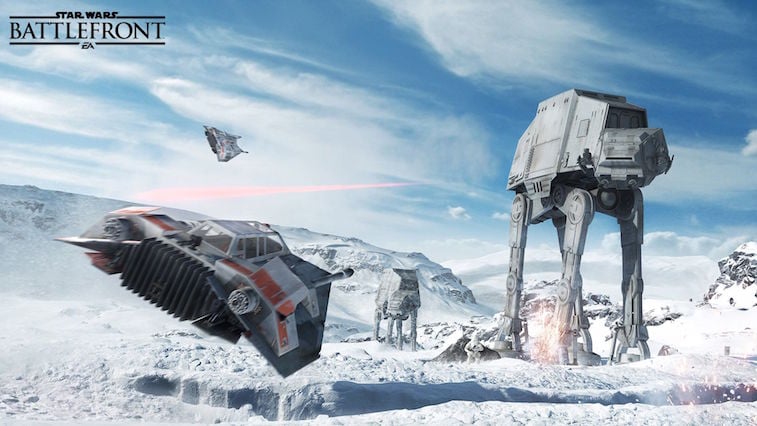 Star Wars Battlefront (coming November 17)
We've already been given us peeks into the Star Wars Battlefront universe, and EA finally gave us actual gameplay footage so they could know what their own experience would be like. Sony showed off a survival game mode that let's gamers play against wave after wave of AI enemies, and they can play it cooperatively. The visual detail in the gameplay demo looked stunning. The level was beautiful. The explosion effects and lasers were impressive. Players can get excited for blasters, grenades, controlling their favorite iconic Star Wars vehicles and characters, using the force, leaping around with jetpacks, and engaging in up to 40-player online battles. This is definitely one of the games to be most excited for this fall.
Uncharted 4: A Thief's End
We've already seen a bit of Uncharted 4: A Thief's End, but Sony did everyone a favor and showed off a bit of new gameplay. The new footage followed Nate and Sullivan through a lively city only to quickly be attack and enter the gun-fight style we've come to know and love from Uncharted games. Amid running, jumping, climbing, and taking cover, Nate overcomes overwhelming odds. Then a long car chase ends by showing what appears to be one of the new tools on Nate's belt: a grapnel hook that allows him to attach to distant objects and will surely offer some new gameplay dynamics.
Check here for Microsoft's E3 announcements, look here for EA's game announcements. and catch Ubisoft's announcements here. Here for Nintendo.
Follow @WallStMarkSheet on Twitter. 
More from Tech Cheat Sheet:
Want more great content like this? Sign up here to receive the best of Cheat Sheet delivered daily. No spam; just tailored content straight to your inbox.