EL James Wants Total Control Over 'Fifty Shades' Franchise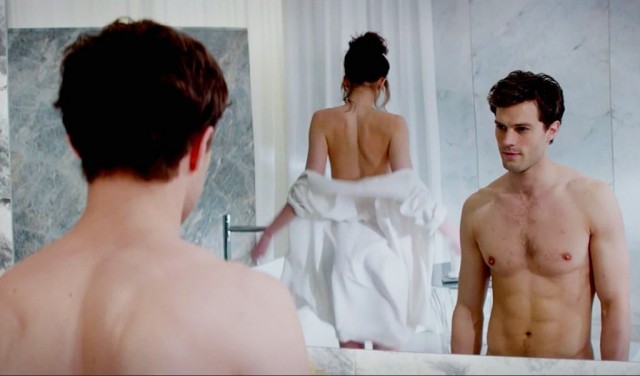 The Fifty Shades of Grey movie franchise hasn't exactly been smooth sailing, even though the first installment broke box office records. In purchasing the film rights to the wildly popular book trilogy, Universal agreed to give author EL James unprecedented creative control over the movie adaptations. This has resulted in tons of problems for the films, as James has clashed with the filmmakers over creative decisions. And she's about to have even more creative control over the sequels. It was recently announced that James's husband, novelist and screenwriter Niall Leonard, is going to be penning the script for the sequel Fifty Shades Darker.
The Hollywood Reporter got the inside scoop on that news. "Niall is an outstanding writer in his own right, with multiple established credits, and we are lucky to have him join Team Fifty," producer Michael de Luca told the publication. Leonard has written the Crusher book series in addition to his work on film and television, which includes the British TV shows Air Force One Is Down and Wire in the Blood. He did uncredited work on the first Fifty Shades screenplay.
Many are saying that having Leonard do the script is a concession as James (real name Erika Leonard) wanted to adapt her own books but lacks the necessary screenwriting experience. This arrangement will allow her an ironclad grip on the creative process while conceding to the studio someone with experience writing for film.
The first movie made $568 million worldwide after its release to coincide with Valentine's Day, according to figures from Box Office Mojo. Despite all that financial success, director Sam Taylor-Johnson dropped out of making the sequels due to squabbles with James over creative decisions on set. Screenwriter Kelly Marcel followed.
Other authors that have seen their book series turned into film franchises, including Hunger Games author Suzanne Collins and Twilight author Stephenie Meyer, welcomed creative input from the filmmakers involved. Those authors played nice in their creative participation on the movies, as they sought to make sure the films properly represented the books while recognizing that they were not themselves filmmakers. James was given control over even the most minute details of the movie, down to wardrobe, casting, and dialogue. Taylor-Johnson and James clashed on many creative decisions in the film, particularly over the ending, and Taylor-Johnson spoke openly about their arguments in the press leading up to her decision to ditch the franchise.
"We'd often clash and have to find a way to work through that to get to some sort of resolution," the director told The Hollywood Reporter. "She would be the first to say as well that it was not easy. It was not easy. But we got there. I think both of us felt it was an incredibly painful process."
The movie's strong box office performance doesn't reflect how critics felt about it. Fifty Shades was one of the worst-reviewed movies of the year, with a 25% rating on Rotten Tomatoes. It's hard to determine exactly what made the movie so bad. The source material is notoriously awful writing; bad fan fiction that makes for a very guilty pleasure. When you add to that the spats between director and author, as well as the terrible chemistry between stars Dakota Johnson and Jamie Dornan, you do not get a good movie.
Giving James more control over the sequels could make them even worse. Fans of the book might appreciate if the movies are more similar to the series, but fans of movies are likely to cringe deeper. Leonard isn't the most experienced screenwriter, and Taylor-Johnson's movie was praised somewhat for at least being better than the book, with Rotten Tomatoes saying it was "creatively better endowed than its print counterpart." If James wants to make the sequels truer to her fan fiction, then they're likely to be worse movies.
Universal announced at CinemaCon that the sequels Fifty Shades Darker and Fifty Shades Freed will come out on February 10, 2017, and February 9, 2018, respectively, per Deadline. It's been rumored that model-turned-actress Cara Delevingne will be appearing in the sequels, though that has not yet been confirmed. Realistically, Universal isn't very worried about pleasing critics and film lovers with this franchise. As long as the movies can pack the fans who purchased millions of copies of the sexy romance novels into theaters, then the studio will be happy.
Follow Jacqueline on Twitter @Jacqui_WSCS
More from Entertainment Cheat Sheet: