Fans Can't Stop Joking About Ellie Goulding's Outfit for Her Halftime Performance
The halftime show of the Dallas Cowboys and Buffalo Bills Thanksgiving game is getting a lot of attention. That's because Ellie Goulding performed and she wore an outfit that is leading a few funny comparisons. Find out why fans can't stop joking about her outfit and more.
Ellie Goulding performed during the halftime show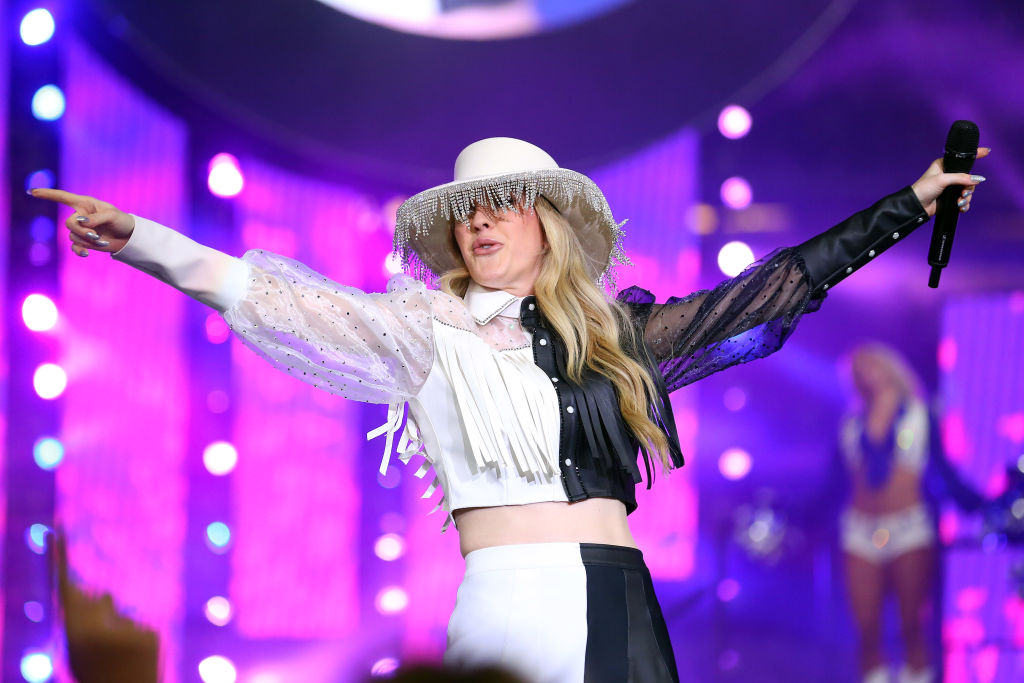 The Cowboys game has the tradition of working with the Salvation Army's Red Kettle Campaign. The campaign collects donations for helping poor and homeless people during the holidays.
She shared a post about the organization on Instagram before her performance. It had a picture of her wearing a hair net and a Salvation Army apron.
The songwriter captioned it with, "Ok so maybe hairnet not my strongest look but thank you @salvationarmyus for having us in New York. As you know, I have spent a lot of time in shelters in London, and this was my first time in NYC… The Salvation Army annually helps more than 23 million Americans overcome poverty, addiction and economic hardships through a range of social services."
The organization has been accused of being anti-LGBT. Goulding said she moved forward with performance after asking them to address this.
"Upon researching this, I have reached out to The Salvation Army and said that I would have no choice but to pull out unless they very quickly make a solid, committed pledge or donation to the LGBTQ community," she wrote according to Pop Culture. "I am a committed philanthropist as you probably know, and my heart has always been in helping the homeless, but supporting an anti-LGBTQ charity is clearly not something I would ever intentionally do. Thank you for drawing my attention to this."
She released a video teasing her performance
She also teased her performance with a fun video on Instagram. Goulding is from England so the video plays on the difference between the countries and their use of "football."
The singer is seen telling a man that she's going to perform at the Dallas Thanksgiving football. He's confused because she mentions it's American football, but by the end he's wearing a jersey with her name on it.
She captioned the post with, "Ok this is going to be LIT (can I say that when I'm 32) I'm excited to announce I'll be kicking off the @salvationarmyus Red Kettle Campaign at the @dallascowboys halftime show this Thanksgiving! I can also confirm that @the_kearnal_86 will hereby be launching his acting career. Tune in to CBS for the game and join us this holiday season in the #FightForGood."
Fans can't stop joking about her outfit
The singer took the stage with what looked like a lampshade on her head. She also wore an outfit that was white on its left side and black on its right.
Many people weren't loving the look and couldn't help but compare it to other things. One of them was the famous lamp from A Christmas Story.
The singer has yet to address any of the reactions to her look. She did post a picture of the outfit on her Instagram with the caption, "Dallas, baby."