Elon Musk's Net Worth: How Much of It Comes From Tesla? What If Tesla Went Private?
It's 2018, and everybody checks Twitter through gritted teeth. But one update that people weren't expecting? A tweet from Elon Musk that said he was considering taking Tesla private and had secured the funding to make it happen. "Am considering taking Tesla private at $420. Funding secured," Musk tweeted.
People immediately had questions. Can Elon Musk really take Tesla private? And if he can, is that the right move for the company? And how would that move help — or hurt — Elon Musk's net worth? Read on for all the answers, and discover the reason why the move could cost Elon Musk his outrageous pay package.
Elon Musk owns 20% of Tesla, but can he really buy the rest of it?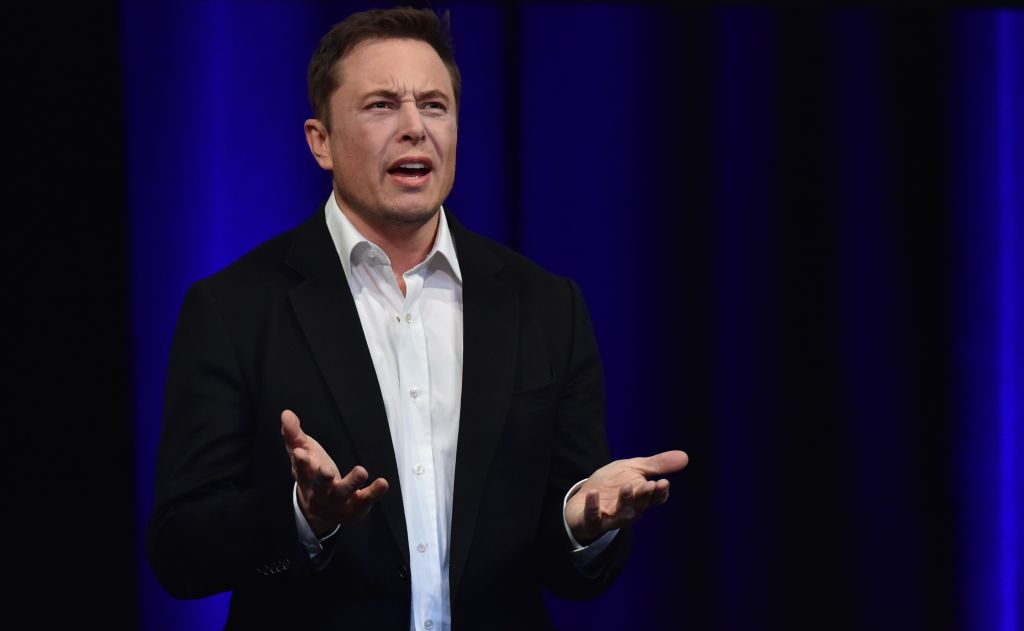 Wired reports that Elon Musk owns about 20% of Tesla shares. Taking Tesla private would require him to buy the company back from public shareholders. According to Wired, Musk "would need to line up considerable financing to acquire the rest of the company. That would not be simple." The publication reports that the banks that issue loans to finance this sort of deal "typically want a steady cash flow. Tesla is unprofitable, and its cash flow has been erratic."
TechCrunch reports that under the plan Elon Musk is considering, he would buy Tesla back for $82 billion (at a share price of $420 plus debt). That's a lot of money. And The Washington Post points out that Tesla has offered "no details on where Musk would get the tens of billions of dollars needed to buy out shareholders and take the company private."
Half of Elon Musk's net worth comes from Tesla
Elon Musk is wealthy, but not wealthy enough to buy the rest of Tesla all on his own. Elon Musk's net worth exceeds $20 billion, according to CNBC. That's largely thanks to Tesla and SpaceX. Tesla has a $57 million market cap, and SpaceX is now valued at $25 billion. Forbes reports that about half of Musk's net worth comes from his majority stake in SpaceX. And "virtually all of the rest" comes from his 20% stake in Tesla.
Musk joined Tesla as a key investor in 2004. He then became chief executive in 2008. The company went public in 2010 at a price of $17 per share. And its value has climbed more than 20-fold since then, according to Forbes, taking Elon Musk's net worth with it. The New York Times notes that Musk wrote that Tesla wouldn't merge with SpaceX. "This has nothing to do with accumulating control for myself," he wrote. "I own about 20 percent of the company now and don't envision that being substantially different after any deal is complete."
Taking Tesla private would take some pressure off Musk
If Elon Musk gets the financing, the deal could really happen. CNBC notes that if Musk took Tesla private, current investors could keep their stakes through a special fund or sell their shares at $420. Tesla went public in 2010, and its current market value is $61 billion. At a share price of $420, the company would be worth $71.3 billion. Musk said that he expects Tesla to begin being profitable in the third quarter of 2018.
Taking Tesla private would take some of the pressure off the company — and off Musk, whom Wired reports "has long expressed impatience with the rules and exposure that come with being a publicly traded company." In a letter posted on Tesla's blog, Musk characterized stock price swings as a "major distraction for everyone working at Tesla." He also said that quarterly targets force the company to prioritize short-term plans over long-term strategy. And he has long expressed disdain for Tesla short sellers, who bet against the company.
Elon Musk's net worth has risen and fallen with Tesla
CNBC reports that in the past year, Tesla shares have traded as low as $244.59 in April and as high as $389.61 in September. That volatility can take a toll on the company, and on its chief executive. Money noted early in 2018 that Elon Musk's net worth "is tied directly to Tesla's stock price, which has taken a pounding lately amid concerns that the company is running out of cash, and that production of the much-hyped affordable Model 3 has stalled."
Musk's net worth dropped by billions of dollars as shares of Tesla plummeted. But Money also pointed out, "Even with the recent decline, Musk has dramatically increased his fortune over the past year — nearly doubling his net worth in 2017. At the end of March 2017, Musk's net worth was about $12 billion. A year later, his net worth is up 50%, even after the recent hit."
But taking Tesla private could derail Elon Musk's huge pay package
Elon Musk said that if Tesla goes private, he has no intention of selling his stake in the company. He also said that he would remain CEO. The New York Times reports that according to Efraim Levy, an analyst at CFRA Research, going private "would definitely benefit Elon Musk and the way he'd like to run the company." But would taking Tesla private benefit Elon Musk's net worth?
Forbes points out that a Tesla buyout would likely sink the "moonshot pay deal" that could have made Elon Musk the richest person in the world. Under that deal, Musk gets $100 billion in stock options, but they only begin vesting when Tesla hits a market cap of $100 billion. Tesla has 12 benchmarks that it needs to hit for Musk to receive all of his stock options, which would total a $100 billion payout for Musk if the company reaches a value of $650 billion.  However, the $420-a-share takeover that Tesla is currently considering would fall short of the start line.
The pay deal was a risky move for Musk — especially now
Elon Musk's payout deal stipulates that Tesla won't pay him anything until the company reaches a $100 billion market cap (and that Musk would receive a $100 billion payout if the electric carmaker grew to $650 billion in size within a decade). But the move was risky — if Tesla didn't hit its earning goals, Musk wouldn't be paid anything. And Forbes reports that now, taking the company private at $420 a share would "also likely mean he's fallen short on the first leg of his moonshot pay package."
Here's how Tesla says Musk's pay deal works:
Elon's only compensation will be a 100% at-risk performance award, which ensures that he will be compensated only if Tesla and all of its shareholders do extraordinarily well. . . For each of the 12 tranches that is achieved, Elon will vest in stock options that correspond to 1% of Tesla's current total outstanding shares (1% of that amount is approximately 1.69 million shares). If none of the 12 tranches is achieved, Elon will not receive any compensation.
Read more: The Surprising Reasons Why These CEOs and Celebrities Never Take Vacations
Check out The Cheat Sheet on Facebook!