Does Elsa Sing 'Let It Go?' Here's Our Look into the Soundtrack for Disney's 'Frozen 2'
The cold never bothered her anyway. Elsa, voiced by Idina Menzel, is one of the main characters of Frozen and Disney's sequel, entitled Frozen 2. Does she have any solos in this recently released animated movie? Will Elsa perform "Let It Go" again? Who else is featured on the Frozen 2 soundtrack? Here's what we know about Disney's latest blockbuster.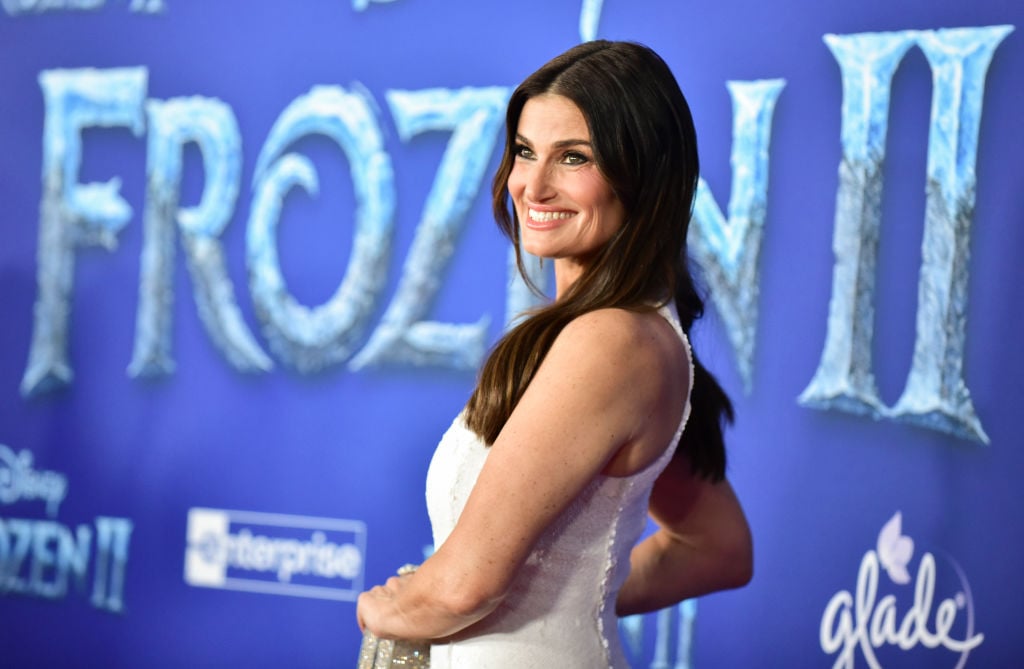 'Let It Go' from 'Frozen' is sung by Idina Menzel
She's not just a Disney princess. Elsa from Frozen, voiced by Idina Menzel, is the Queen of Arendelle. With songs like "Let It Go," fans saw the character's transformation and unconditional love for her sister, Anna. In fact, Elsa's power ballad became an anthem for children (and adults) everywhere.
"We had known for months that Elsa was not going to sing like other princesses – that was her sister's territory," songwriter Kristen Anderson-Lopez said during an interview with Billboard. "And prior to writing 'Let It Go,' we had written a song for Elsa called 'Cool With Me' that had a Sara Bareilles, anti-love-song vibe… That was when Elsa was the villain of the movie, with spiky blue hair and a team of angry snow monsters."
Since the original movie's premiere, Menzel went on to perform the song at multiple award shows and a New Years' Eve celebration. "Let It Go" even earned a few nominations, including the Academy Award for Best Original Song and Grammy Award for Best Song Written for Visual Media.
Fans can stream the soundtrack for 'Frozen 2,' featuring Idina Menzel
The recently released soundtrack for Frozen 2 features Idina Menzel as one of the artists behind songs like "Into the Unknown." In addition to the song "Into the Unknown," this character performs "Show Yourself," according to the tracklist. Some speculate this could be the "Let It Go" of the Frozen sequel.
Idina Menzel is not the only actress performing on the Frozen 2 soundtrack. In fact, there are over a dozen songs available for streaming on this soundtrack. Kristen Bell, the voice of Anna, performs songs entitled "The Next Right Thing" and "Some Things Never Change." Other songs are performed by Josh Gad, the voice of Olaf and Jonathan Groff, the voice of Kristoff.
"I'm not even sure if I'm allowed to say this, but can I just say I think the songs are even better in this movie. Now I've set the bar so high, but they are so good. Bobby Lopez and Kristin Lopez, who wrote the original, they came back and did songs that are just [phenomenal]. That's the big concern. How do you top those [Frozen] songs? They're even catchier, I'm sorry to say," Josh Gad said, according to Cinema Blend.
Will 'Let It Go' be in 'Frozen 2'?
Based on the soundtrack for Disney's Frozen 2, which released on most music platforms Nov. 15, 2019, "Let It Go" will not appear in Disney's latest sequel. The soundtrack does, however, hold songs performed by award-winning artists like Kacey Musgraves, Weezer, and Panic! at the Disco.
Panic! At the Disco performed their adaptation of Elsa's song, "Into the Unknown." Kacey Musgraves has her version of the song, "All Is Found," available on the Frozen 2 soundtrack. Unfortunately, these songs are excluded from Disney's animated film. Fans can stream these songs on music platforms like Spotify and Apple Music.
Frozen 2 premieres in theaters on Nov. 22, 2019. Additionally, the original award-winning Disney film, Frozen, is available for streaming on the company's subscription service, Disney Plus.