Emilia Clarke Reunites With Jason Momoa: See the Sweet Picture
Emilia Clarke, known for her role as the Mother of Dragons in Game of Thrones, has finally reunited with her long-lost husband from the show, Jason Momoa. The pair haven't actually filmed together since the first season of Game of Thrones. They are however, still great friends that keep in contact and want the best for each other. The pair finally got together on July 27, ahead of Momoa's 40th birthday.
Emilia shared a sweet photo of the pair on Instagram
The two are obviously very good friends still after so many years. Emilia shared a snap of the two via her Instagram page. She also sent Momoa well wishes and a sweet message before his birthday on August 1.
"With you I feel 2 feet small," said Clarke on her Instagram. "HAPPY FREAKING BIRTHDAY BABY! An oversized bath tub of happiness for another year of you." She also shared some hilarious hashtags to go along with the message, including, "Finally a bath big enough to bath a dragon in" and "Then broke cos I spent all my money on bubble bath." Fans would love to know more information on this bath tub scenario and how we can see Momoa lounging about.
Momoa supported the Mother of Dragons until the very end
The last time the pair was actually seen together was at the Oscars this year. Momoa watched the finale of Game of Thrones just like millions of other fans all over the world. He was very invested in Clarke's fate and wanted her to win the Iron Throne. He was devastated at his former co-star's fate at the hands of Jon Snow. He shared his reaction of his on-screen wife's fate.
After seeing the epic finale of Game of Thrones, Momoa left an Instagram comment for Clarke explaining his feelings at the end of an era and for her character's fate. "Baby that episode killed me," wrote Momoa. He completely had her back and wanted her to win the Seven Kingdoms. She was killed by her on-screen nephew and love on the show, Jon Snow (Kit Harrington).
Emilia Clarke is up for an Emmy Award for her role as Daenerys Targaryen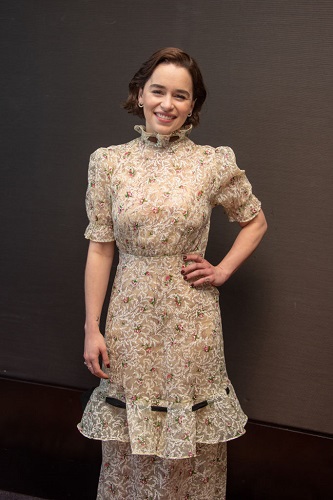 Clarke could win an Emmy Award this year for her role as Daenerys Targaryen. She is up for best lead actress in a drama series. Fans would love to see Clarke finally win an Emmy for her amazing portrayal of a character that didn't get her due. Many fans regard the finale as a sham for treating Daenerys the way they did, after showing her as a virtual savior for many throughout the years on the show. She crosses the ocean to help save the Seven Kingdoms, and is killed for it. Fans felt betrayed and were understandably upset.
This is Clarke's first time up for best lead actress. She has previously been nominated for best supporting actress. Game of Thrones has won 47 Emmys throughout the years, and now has more nominations than any drama in a single season. This year the show is up for 32 awards and beat its previous record from last year.