Emma Roberts 'Couldn't Sleep For a Week' After Watching This Netflix Horror Series
Horror movies have truly gone to dark, troubling places on the big-screen to keep horror buffs entertained. Netflix has had to keep up with this trend by offering their own horror movie shows or movies, and they've often gone the same daring routes.
Some of those shows might be just a little much for a few viewers, something we're hearing from actress and horror scream queen Emma Roberts. When she was recently quoted saying one Netflix horror series made her unable to sleep for a week, we took notice.
Considering Roberts currently stars on one of TV's scariest shows (American Horror Story: 1984), it made us wonder what horror movies really do to the psyches of the actors who act in them often. There is a bit of historical context to go on.
Roberts already has fear about a lot of things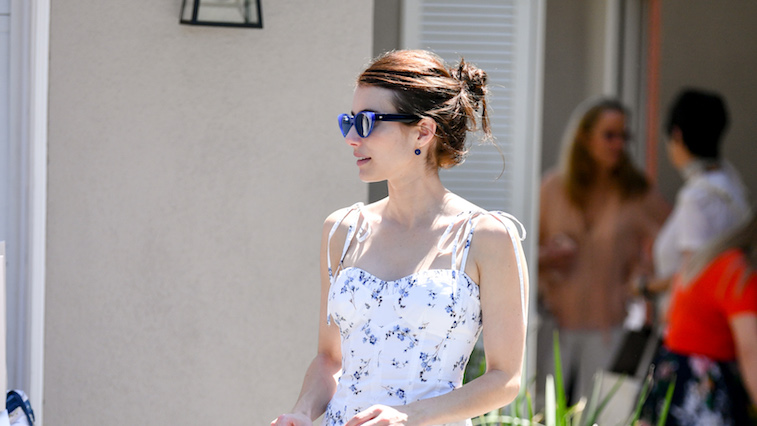 We all know Emma Roberts for being one of the 21st century's supreme horror movie stars. That's quite a difference from her aunt (Julia Roberts) who hasn't appeared in the horror genre very often, other than Flatliners and Mary Reilly. Even those were a far cry from the gory horror landscape we see in theaters and streaming nowadays.
Emma Roberts ended up in the bloodier era where scares were more intense and gore was mainstream. No wonder she might have heightened her fears by acting in so many of them, going back to when she was a little kid.
Over the years, she's been known for her screaming ability in horror flicks, something we see reversed a bit in FX's AHS:1984. According to Roberts in a recent LA Mag interview, her ability to look believably scared in these horror projects is because she says she's literally scared of everything.
It makes us wonder if her anxiety is the result of acting in so many horror movies over the years rather than natural.
Other actresses had nightmares after acting in horror movies
The psychological distress some horror movies have on actors should never be underestimated. More than a few cases are out there on public record, mostly because the horror films they acted in pushed new buttons no one had ever experienced.
First case scenario was Janet Leigh who always said she could only take baths after her infamous shower murder scene in Psycho. Working for Alfred Hitchcock was a already a head-spin anyway when you include some of the psychological terror imposed on actors like Tippi Hedren when filming The Birds.
In later years, you also had stories about Shelley Duvall having psychological issues after being tortured similarly by director Stanley Kubrick on the set of The Shining.
Then you just have the tragically weird, like Heather O'Rourke from the Poltergeist films dying young from an misdiagnosed intestinal issue. After everyone deemed this a curse, it must have made every actor considering working on a horror film a bit leery when an offer came up.
At least Roberts plays a villain this time rather than the victim
Now that Emma Roberts is older, she's playing the villain in the new iteration of American Horror Story. It hasn't stopped her from still being very afraid of certain things, including other horror movies.
During her LA Mag interview, she said she recently watched Netflix's The Haunting of Hill House, arguably the creepiest horror show ever made for any platform.
After watching it and witnessing the Bent-Neck Lady, Roberts said she imagined the character's unsettling silhouette around her own house, bringing fits of sleeplessness.