Emma Stone Reveals Her Self-Care Routine to Treat Her Anxiety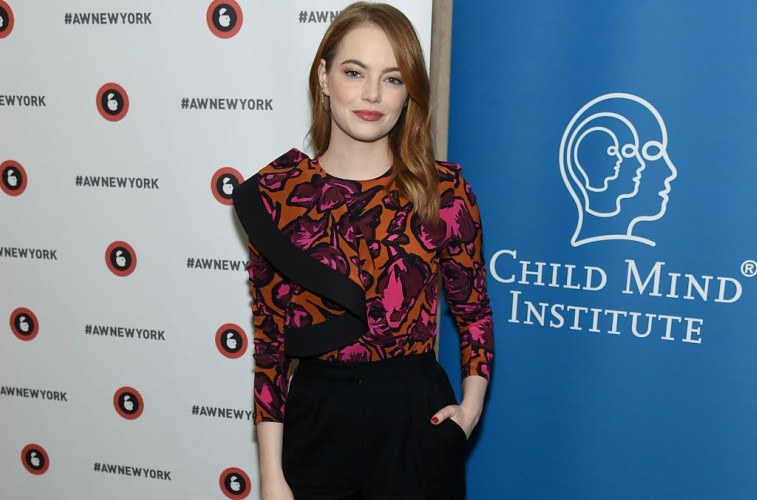 Emma Stone talked with Dr. Harold S. Koplewicz, president of national nonprofit the Child Mind Institute, on Oct.1 for a discussion called Great Minds Think Unalike for Advertising Week New York. She talked about her experience with anxiety from having her first panic attack at 7 years old to still getting treatment today. The actress revealed the types of self-care she does to control her anxiety. Here are three things to know about her self-care routine.
1. Emma Stone reveals therapy, meditation, and talking helps her with her anxiety
The actress revealed that several things help her manage her anxiety. "Yes, I got to a therapist and I meditate," said Stone "and I talk to people very quickly now. I connect with people. Instead of isolating I reach out."
She added that talking openly about anxiety also helps with, "and this! I'm starting to do this which is really scary for me, but very healing."
The actress later clarified that she prefers TM or transcendental meditation. "I've been trying to do it every day," said the La La Land star.
2. Staying busy helps her, but also sleeping
Life of a celebrity can be pretty crazy, but Stone revealed that a packed schedule is good for her. "I think staying busy definitely is helpful," she said, "because my mind has a tendency when I'm not doing much it needs an outlet and so it can turn in on itself."
But a busy schedule isn't enough. The actress clarified that she needs a "creative endeavor" to be involved to be happy.
Of course, there also needs to be a good amount of time left for sleep. "Not sleeping is my kryptonite for sure but that's got to be everybody," admitted Stone.
3. She stays away from social media
You won't see the Zombieland star on Twitter or Instagram any time soon for a reason. "I think that would send me into a spin," said Stone. "I think that influx of opinion and information and the idea of that like I could post something and then in the middle of the night regret what I post or want to delete like everything."
She added, "I already need to be out there a lot for my job and I figured that's enough of me."
Of course, self-care to deal with anxiety can be different for many people. Stone noted that she hoped talking about her disorder will make clear to others that it is "part of me but it is not who I am" to help others.
Read more: Anxiety Symptoms: Signs You Have an Anxiety Disorder
Check out The Cheat Sheet on Facebook!