Emma Thompson Says GOT's Emilia Clarke 'Has The Courage of a Small Lion'
Emilia Clarke may be more universally known by her character than her actual name. She is Daenerys of the House Targaryen, the First of Her Name, The Unburnt, Queen of the Andals, the Rhoynar and the First Men, Queen of Meereen, Khaleesi of the Great Grass Sea, Protector of the Realm, Lady Regent of the Seven Kingdoms, Breaker of Chains and Mother of Dragons. But let the world know: she is also Emilia Clarke, Devoted Actress and Strong as Hell.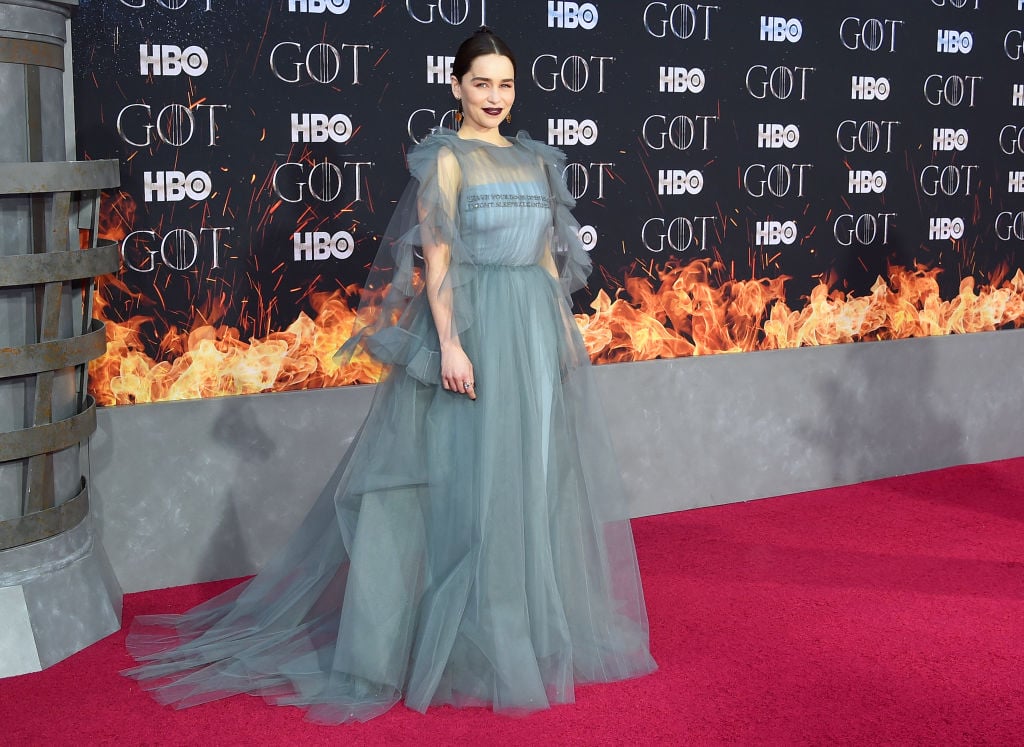 Clarke was recently named one of the world's most influential people by Time. Oscar-winning actress and writer Emma Thompson wrote a tribute in honor of Clarke for the publication, as the two are starring in the upcoming film, Last Christmas.
Thompson begins her tribute with the hesitation she felt prior to meeting Clarke.
"Emilia Clarke, they said. I confess—I worried. Ten years on Game of Thrones is enough to turn anyone funny. Would she still have bone-white hair and eat only raw horse?"
But she moves on to describe their first encounter with a likeness to drinking a glass of "high-quality champagne rather quickly." Clarke has been known to have that effect on people–the sensation of being filled up with warm bubbles.
"Steady on, I thought. First impressions can mislead. The intimacy of a nine-week shoot will reveal all. Especially one that starts—starts, mind you—at 2 a.m," Thompson writes of their shared filming experience.
"What was revealed was a woman of mickle might, whose instincts, whetted by years of hard work in environments that were not always safe or healthy, are as finely honed as any I've encountered.
She has the courage of a small lion, the stamina of a Welsh pit pony and the soul of a clown.
A powerhouse to watch and an ally to die for."
Clarke's charm, quirk, and sweetness are evident in every interview she's ever given. When her colleagues post about her on their social accounts, it's not difficult to believe them when they say "every time I leave you my face hurts from smiling to much."
The courage of a lion, the soul of a clown
But Thompson's praise for Clarke's courage is equally of note. Last month, The New Yorker debuted a piece Clarke had penned about her experience of suffering from two aneurysms. She writes about being struck down by the first shortly after wrapping season one of Game of Thrones. The aneurysm led to Clarke's first brain surgery, aphasia, and the feeling that her life was no longer worth living.
"If I am truly being honest, every minute of every day I thought I was going to die," Clarke recalls of filming season 2.
She kept her struggle a secret while filming. She fought her way through press tours, sipping on morphine between interviews to get by. Today, she has "healed beyond [her] most unreasonable hopes."
Clarke was probably named one of the world's most influential people by Time because little girls, young women, and older women alike dress as Khaleesi for Halloween each year in their platinum blonde wigs. She's a symbol of strength and goodness, which is something her inner circle has always known. Thanks to GOT, the rest of us have been lucky enough to meet and be awed by the little lion, too.    
Check out The Cheat Sheet on Facebook!