Emmy Frontrunner Jason Bateman Reveals 'Ozark's' Secret Formula
If you haven't watched the Netflix thriller Ozark starring Jason Bateman, now is the time. In the first two seasons, Bateman's Marty Byrde has gone from an upper-middle-class financial planner living life in Chicago with his family to a money launderer for a drug cartel in the Missouri Ozarks. The show is not what you would expect, and Bateman says there is a secret formula that has made it successful.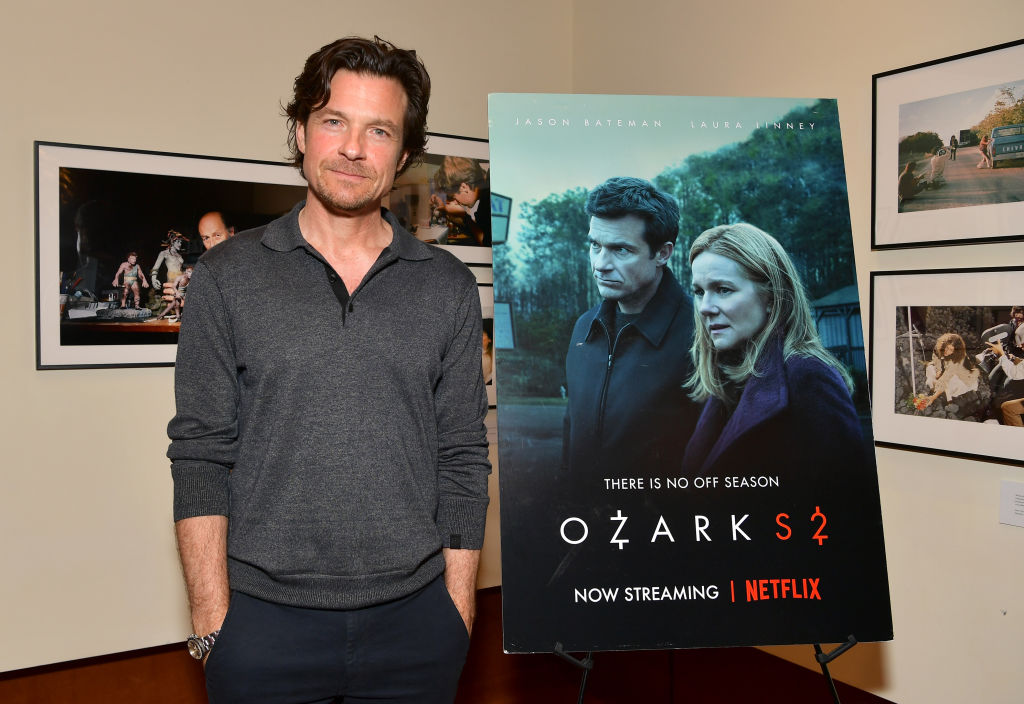 'Ozark' is not black and white
Even though the third season is just around the corner, Ozark fans still have no idea who is the real villain and who is the real hero in the story. It's also not clear who's to blame for the fractured relationship between Marty and his wife Wendy (Laura Linney). Bateman says that this kind of writing is what makes the show so good.
"It's great that it's not black and white," Bateman told The Wrap. "That it's not good vs. evil or villain vs. hero. That's the satisfying takeaway from our show, and that's what gives you the anxiety, that there's a level of tangible and relatable conflict and confusion. You recognize that you might be saddled with the same type of push-pull based on mistakes."
Bateman – who also directs some of the episodes – noted that the series isn't full of explosions, effects, or over violence. But, what is unsettling about Ozark is the fact that it's humanity pushed right to the edge of what people are capable of justifying.
The secret formula, says Bateman, is that Mary and Wendy are smart people, so they aren't going to do things that the audience says, "Oh, that's stupid. People would never do that." From a narrative standpoint, they can't get away with taking a shortcut.
On a slippery slope
Ten new episodes of Ozark will hit Netflix soon, and showrunner Chris Mundy says that Marty Byrd is "on a slippery slope" during Season 3. After he was forced to kill someone to save Wendy, Marty went into a dark depression, but Mundy says "he's not all the way down yet."
Because the murder was self-defense and not pre-meditated, Marty hasn't completely gone to the dark side. But, he's playing with fire, and that's why he had a breakdown. At the same time, Wendy picked up the slack and kept the family going, says Mundy, and Season 2 was the starting point of her "ascension."
The show may be about money laundering, but the writers know how to keep fans in suspense. They always give them something unexpected, and Mundy says the changes are what keeps fans coming back for more – they want to know what will happen next.
Fans aren't the only ones who are impressed with Ozark. The show scored nine Emmy nominations for its second season, and the oddsmakers say that the show is almost guaranteed to win at least one.
Numerous nominations, but no wins
The 71st Primetime Emmy Awards are on Sunday, September 21st. And even though the expectation is that Game of Thrones will dominate just about every category, there is one where the odds are in Ozark's favor.
Jason Bateman received two nominations – one for Lead Actor in a Drama Series, and another for Directing in a Drama Series – and he is the overwhelming favorite in the acting category. He has already won the Screen Actors Guild Award for Outstanding Performance by a Male Actor in a Drama Series this year, and he is the favorite to take home the Emmy, too.
Bateman received a nomination last year but lost to Matthey Rhys of The Americans. And, he has also received nominations in the past for his work on Arrested Development. But, this could be the year that Bateman goes from Emmy nominee to Emmy winner.
The show is up for Outstanding Drama Series, and it is also competing in the casting, editing, sound mixing, and production design categories. Bateman also has his nomination for Outstanding Directing, Laura Linney is up for Outstanding Actress in a Drama Series, and Julia Garner – who plays Ruth Langamore – is up for Outstanding Supporting Actress in a Drama Series.
Ozark received five nominations in 2018 for its first season but didn't win any categories.
Season 3 of Ozark is expected to premiere on Netflix in late 2019 or early 2020.