Emmy Frontrunner 'Pose' Star Billy Porter Praises Meghan Markle As He Steals Her Style
Emmy frontrunner Billy Porter has never been shy about sharing his thoughts on fashion, and with London Fashion Week wrapping up, the Broadway star credited Meghan Markle for his regal appearance. Porter has rocked an average of four outfits a day in London. For most of his ensembles, Porter accessorized with a fascinator, a move he got right out of Markle's playbook.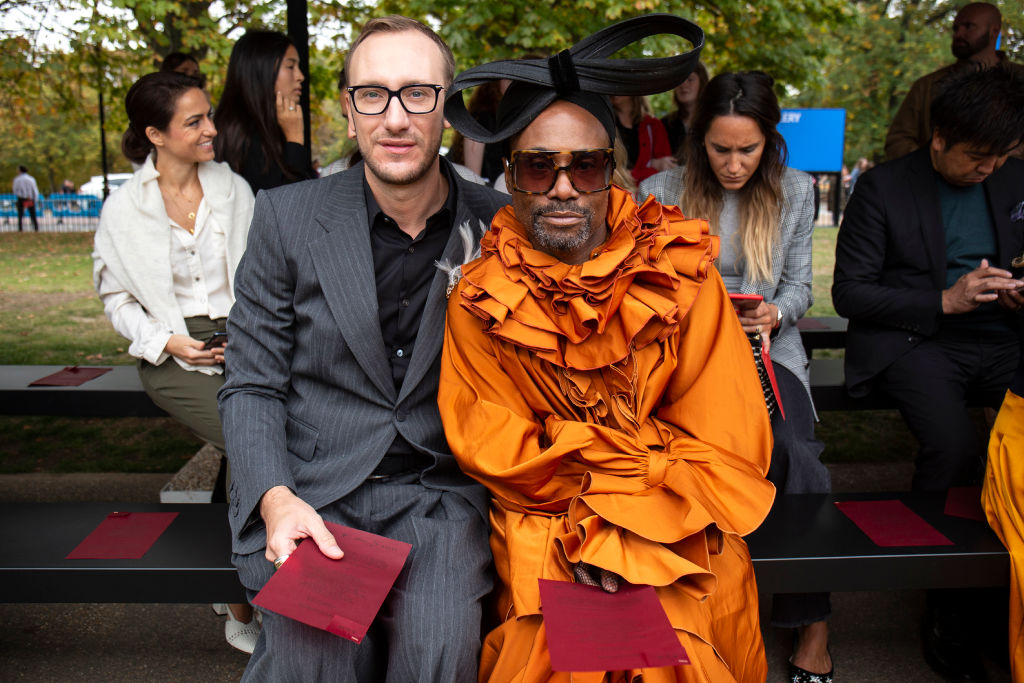 Billy Porter praises Markle at London Fashion Week
Porter gave Markle all the credit for his fashion accessories this week, noting that he might continue to wear a fascinator when he returns home. But what does Porter think about Markle's fashion choices since she joined the ranks of the royal family?
"There's a black woman in the palace, honey, that's all we need!" Porter shared. "We're loving her over in America!"
Porter's fascinator took on many shapes and sizes, from feathers and veils and everything in between. According to People, Porter added that he has absolutely loved London Fashion Week, and we're guessing he'll probably be back next year.
The comments come after Markle launched a new capsule collection with the charity Smart Works. The Duchess of Sussex worked with the organization to create a five-piece line for women looking to start a career. For every piece Markle sells, an item will be donated to the charity.
Markle donned a few items from her collection at the launch event and is expected to wear more pieces during her upcoming trip to South Africa. Markle is touring several countries on the continent and will be joined by her husband, Prince Harry, and their son, Archie.
Porter gets ready for the Emmys
Once he returns home, Billy Porter will probably finish working on whatever he plans to wear for the 71st Emmy Awards, which are airing this weekend. Porter will appear on stage to present an award and is in the running for an Emmy himself.
Porter was nominated in the category of Outstanding Lead Actor in a Drama Series for his role in the hit FX show, Pose. There is no telling what Porter will wear for the Emmys, but it will definitely stand out.
In a recent interview, Porter revealed that he hopes to make a statement with his fashion choice at the Emmys. Porter did not share any hints about his outfit, but he does want it to be political in nature.
Will Billy Porter win an Emmy?
Although Porter is up against some stiff competition, he is currently the frontrunner to win the award for Best Drama Actor. Other nominees include Bob Odenkirk for Better Call Saul, Jason Bateman for Ozark, Sterling K. Brown for This Is Us, Milo Ventimiglia for This Is Us, and Kit Harington for Game of Thrones.
If Porter wins, it will be his first Emmy. The actor has previously taken home a Tony and a Grammy.
Early predictions had Porter tied with Odenkirk for winning the award, but those forecasts have changed. Porter is now leading the predictions and, according to Emmy prognosticators, has the best chance of winning.
That does not mean Billy Porter will win, but we definitely like his chances. Porter plays the part of Pray Tell on Pose, a drama that centers on ballroom culture in the 1980s. The series is currently in its second season.
Porter sits down with James Corden
With the Emmys only a few days away, Porter recently sat down for an interview with James Corden on The Late Late Show. As expected, Porter made a grand appearance wearing one of his most outrageous outfits to date.
Porter continued the fashion show throughout the interview, showing off several outfits for the crowd to enjoy. At one point, Corden acted like he was getting tired of Porter's constant interruptions and asked him to leave.
Porter graciously obeyed the host's wishes, but not before returning with a new ensemble and walking out to the song, "I Will Survive." We don't know what Porter will wear to the Emmys, but if his interview with Corden is any indication, it is going to be spectacular.
Fans can watch Billy Porter walk the red carpet when the 71st Primetime Emmy Awards air Sunday, September 22, on Fox.