Emmy-Worthy Moments from 'RuPaul's Drag Race' Season 11
Even though the RuPaul's Drag Race season 11 finale aired a few months ago, some fans can't get enough of these queens. From Snatch Game performances to Untucked fights, this reality series made a name for itself, earning nine Emmy nominations for this year's award show. Here are a few of our favorite Emmy-worthy moments from season 11 of Drag Race.
Nina West as Sarah Huckabee Sanders for 'Trump: The Rusical"
Unsurprisingly, RuPaul's Drag Race is nominated for multiple Emmy awards at this year's award ceremony. A few of those awards for "Trump: The Rusical," a parody about the women involved in Trump's presidential campaign and in his life. That includes the drag queens dressed as Ivanka Trump, Betsy DeVos, and Kellyanne Conway. It is the wigs for this episode that earned the Emmy nomination for Outstanding Hairstyling For A Multi-Camera Series Or Special.
A fan favorite of the performance was contestant Nina West. She performed as Sarah Huckabee Sanders, the former White House Press Secretary. One fan tweeted, "my brain is broken because my first thought this morning was 'why was Nina West practicing a Sarah Huckabee Sanders vocal impression in a contest that was all lip-syncing?'"
Brooke Lynn Hytes sipping her cocktail during 'RuPaul's Drag Race: Untucked'
The spin-off series following RuPaul's Drag Race entitled RuPaul's Drag Race: Untucked, earned a few Emmy nominations of its own. That includes the nomination for Outstanding Picture Editing For An Unstructured Reality Program. Given a few of the moments last season, including Brooke Lynn Hytes' cocktail-sipping, it's no wonder this series is a favorite amongst Drag Race fans.
"That episode of Untucked had me in stitches throughout. Brooke Lynn burying herself in cushions, the Plastique conspiracy, Evie nearly taking out one of those tall chairs," said one Twitter user. "I'm done."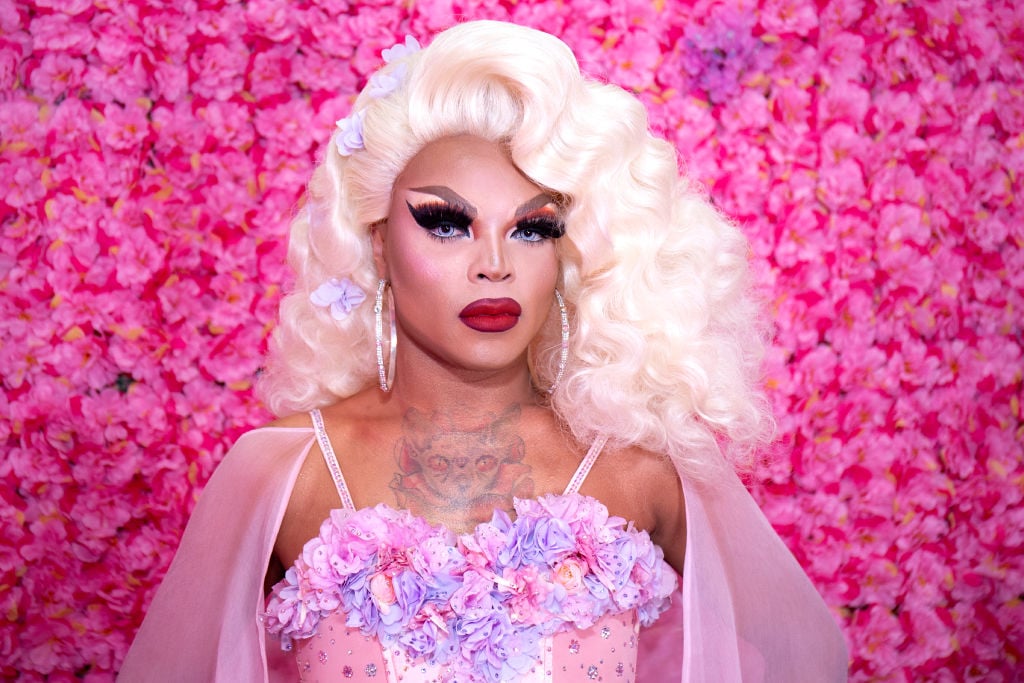 Vanessa 'Miss Vanjie' Matteo during the RuPaul's Drag Race: Reunion'
She wanted The Notebook experience, but she was getting a post-it. Since Miss Vanjie gave her iconic exit during season 10, fans had their eyes (and their ears) glued to this contestant. She lost a lip-sync before the RuPaul's Drag Race finale and was unable to compete for the crown. However, she was sure to leave us with a few more iconic moments to quote.
The drag queen even had a special cameo moment during the season finale. She brought a petition to have her face on the wheel. Of course, RuPaul turned the request down, but fans couldn't stop talking about the lovable character. One fan tweeted, "Vanjie showing up to the finale knowing she didn't make the top 4 but is the still the most influential and legendary queen to ever be on Drag Race."
RuPaul's Drag Race is nominated for nine Emmy television awards. That includes nominations for Outstanding Cinematography For A Reality Program and Outstanding Host For A Reality Or Competition Program. This year's Emmy Awards ceremony airs on Sept. 22, 2019, at 8 pm EDT. Fans can catch more of the season 11 queens at RuPaul's DragCon in New York City this September. More information can be found on their website.