'Episode IX': How 'Star Wars' Could Handle Leia's Story
Mere weeks after Star Wars fans got the chance to see the saga embrace anthology tales with Rogue One: A Star Wars Story, they lost one of the series' most pivotal figures, Carrie Fisher. The actress played Leia Organa in four of the seven previous films, including the 2015 release, Star Wars: The Force Awakens.
Considering just how popular a character Leia is, Fisher was, of course, set to return both for the recently wrapped Episode VIII as well as Episode IX. In fact, speculation is that Leia would have seen her role in the story only intensify throughout the current trilogy. Now that Fisher is no longer with us, the team at Lucasfilm is left to figure out how to resolve Leia's arc in Episode IX. Here are some options, in order from worst to best.
10. Recast the role with another actress
Although it's not hard to imagine a list of actresses who could lend their own spin on the character, recasting Leia is perhaps the worst way Lucasfilm can go. Fisher was Leia, and the late star deserves better.
9. Plug in unused footage (if any exists)
Recently, a brief deleted scene from The Force Awakens featured a particularly headstrong Leia. While we don't know how much footage was cut from either that film or director Rian Johnson's Episode VIII, perhaps some of that footage could be reconfigured for inclusion in Episode IX, allowing Leia to appear, if only briefly.
8. Redirect her story to another character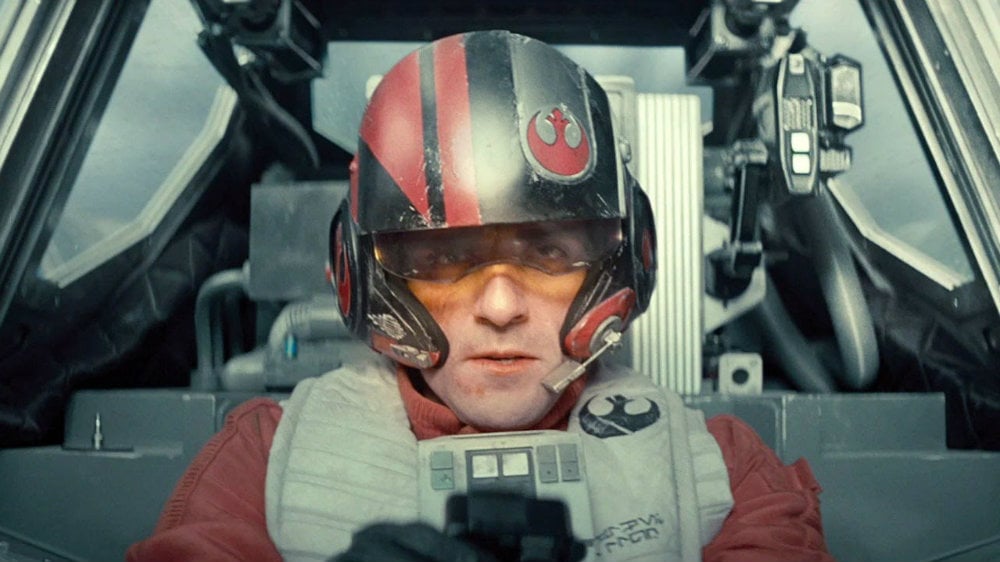 Of course, we have little idea exactly what Leia would have been doing in Episode IX, seeing as its predecessor doesn't hit theaters for months. However, it's possible that her storyline could be directed to another character. For instance, Poe Dameron (Oscar Isaac) could ascend in the ranks of the Resistance, assuming command in Leia's absence.
7. Use a double to keep her off-screen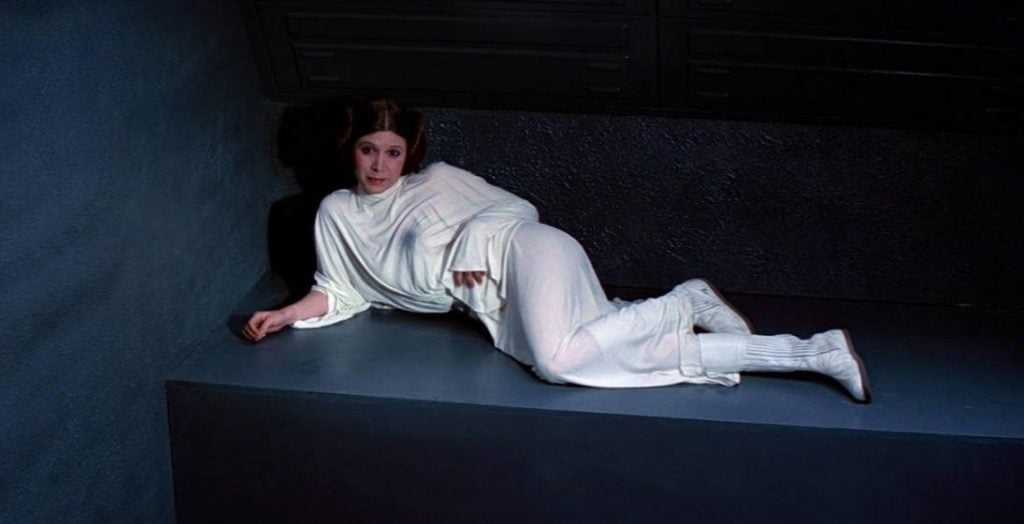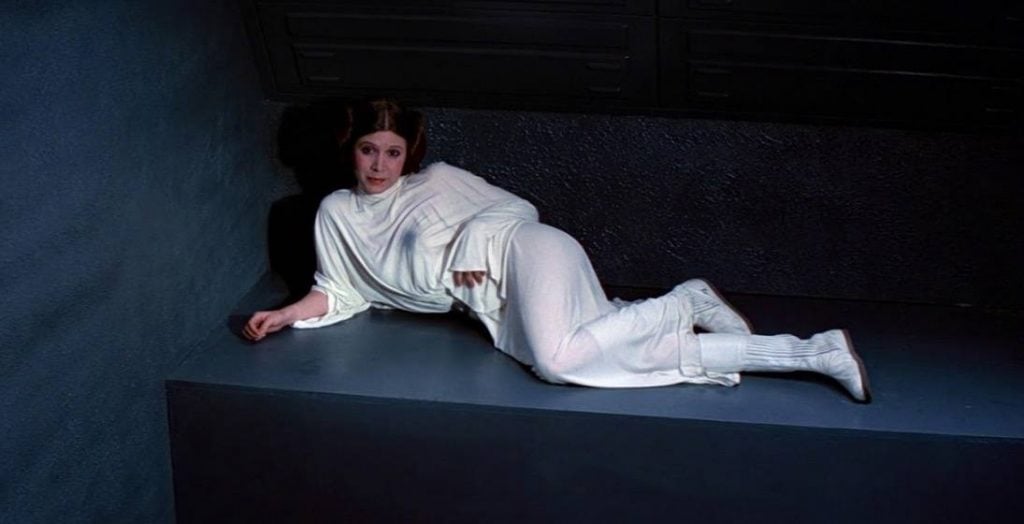 As fans know, a body double was used for Leia's appearance in Rogue One (more on that shortly), which at first shows the character from behind. Perhaps a brief Leia appearance in Episode IX could be executed simply with a body double and some rejiggered bit of dialogue from previous films.
6. Establish her death in between films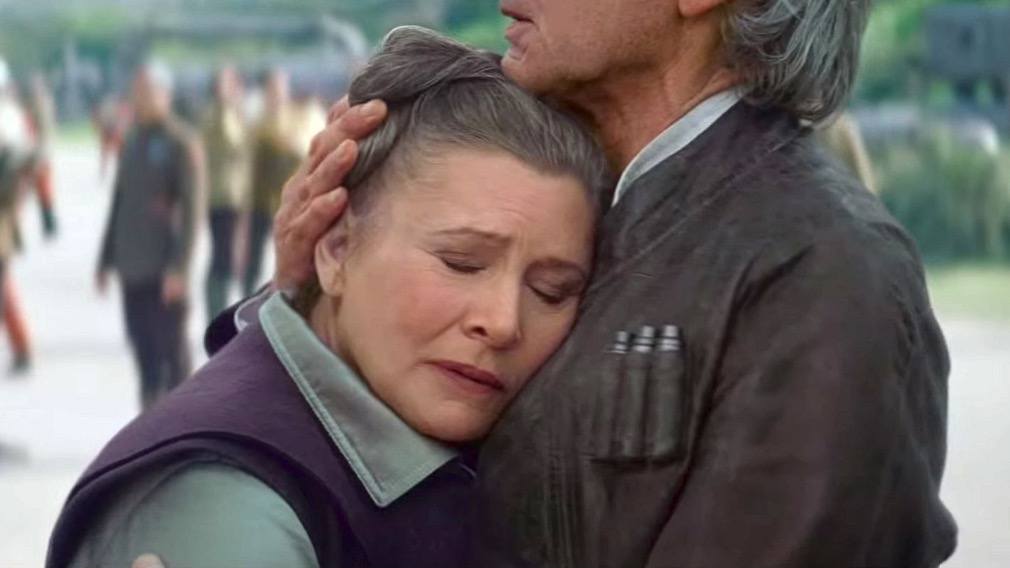 The Star Wars saga is known for its dramatic and heroic deaths — nearly every film has them — but this may be one case in which a beloved character will have to be killed off-screen. If Episode IX goes where fans anticipate it might, and tries to redeem Adam Driver's Kylo Ren, the devastation of losing his mother prior to the film's start could be used to push the character closer to the light.
5. Use a CGI double for the new film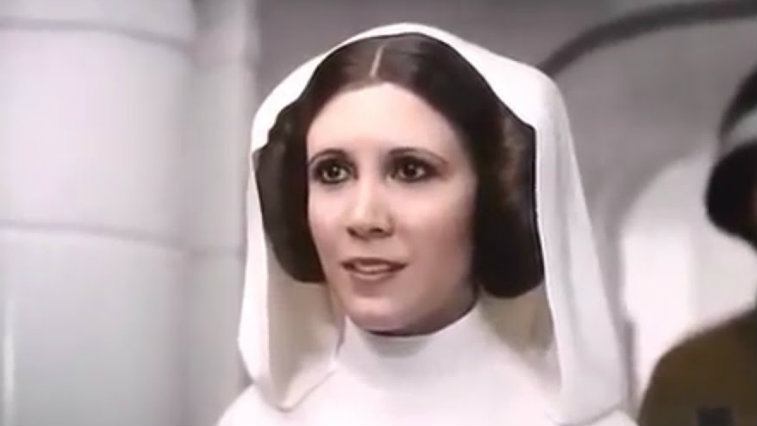 For a minute there, this seemed like a distinct possibility. After all, Lucasfilm already digitally recreated A New Hope-era Leia for the final scene of Rogue One. However, that move had the approval and involvement of Fisher herself. Now that she's gone, Lucasfilm has released a statement that they will not be using a CGI Leia in upcoming films, much to the relief of some fans.
4. Only show her through holograms
If there is some lingering footage of Leia that Lucasfilm can use, maybe it can be employed via a hologram appearance in Episode IX. This would allow her to be engaged elsewhere during the story but, again, keep her presence felt with the main narrative of Rey's journey.
3. Change Episode VIII to end her story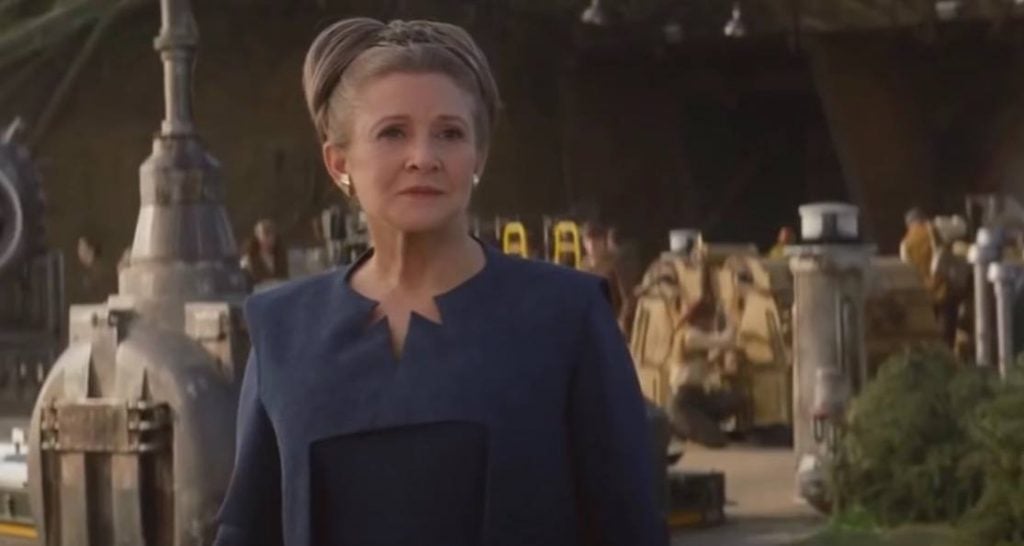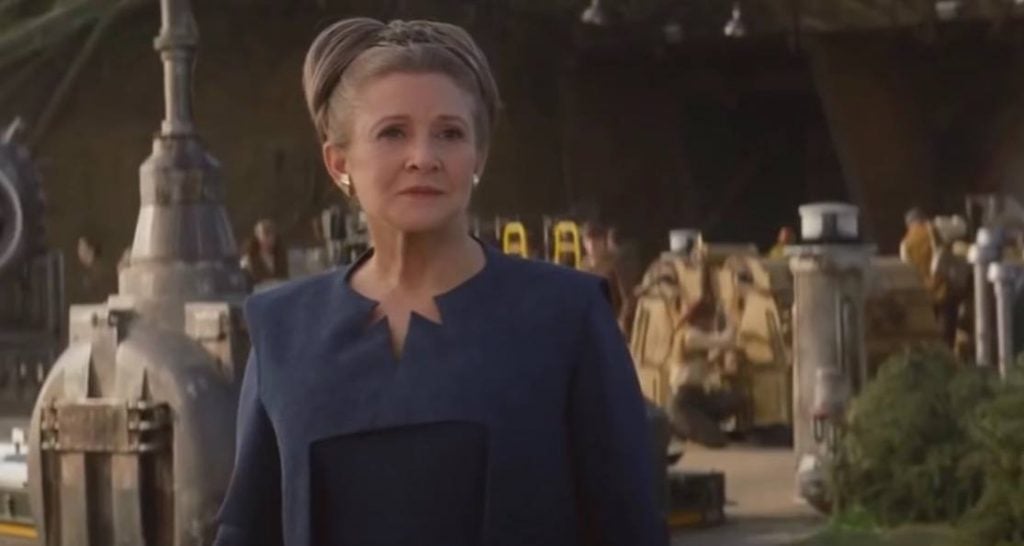 One of the best options may be for Rian Johnson and his team to simply re-edit Episode VIII to serve as a satisfying end to to Leia's story. Granted, this may be impossible, given that we don't know what kind of footage they have to work with. However, if possible, it would be the cleanest way to tie up loose ends.
2. Reference an off-screen subplot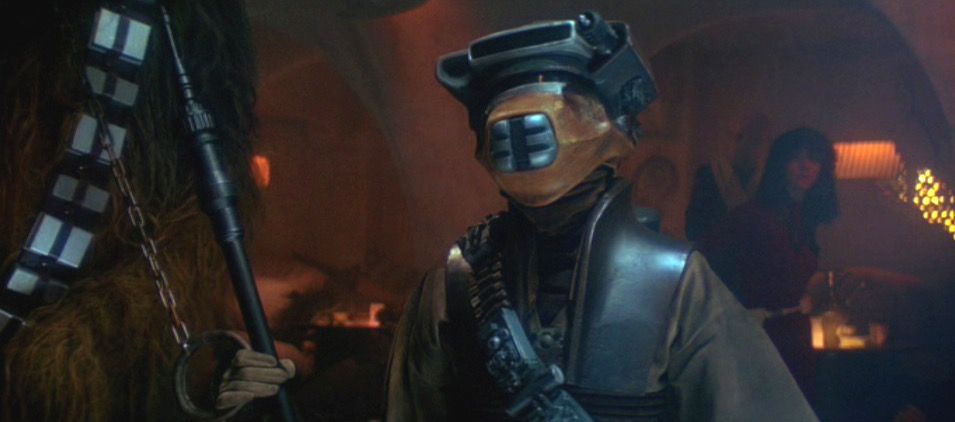 The Star Wars galaxy is a massive one, and there's little reason that Leia couldn't be involved in a side mission for the Resistance, even as the dual journeys of Rey and Kylo Ren continue. Just have some of the other heroes communicating with her throughout and keep General Organa off-screen. Problem solved.
1. Respectfully "retire" her from the series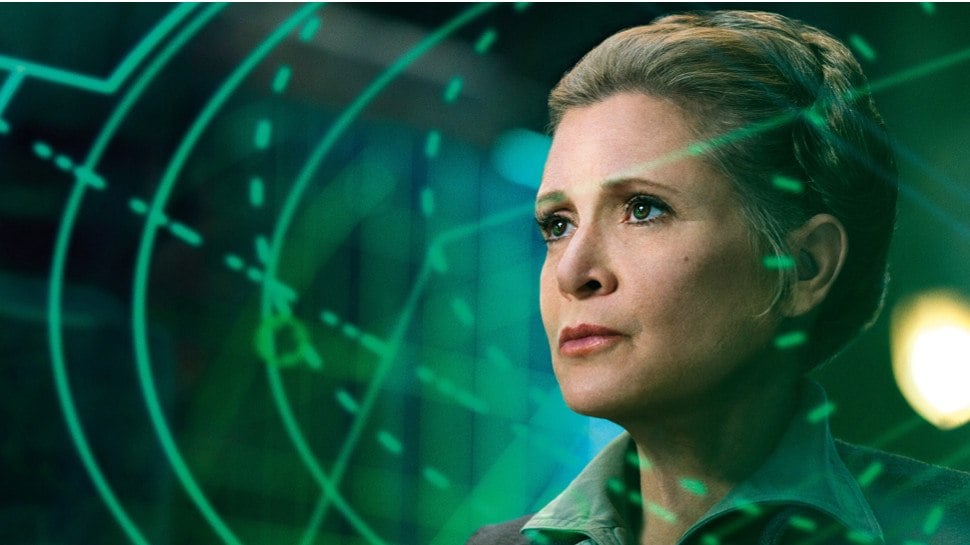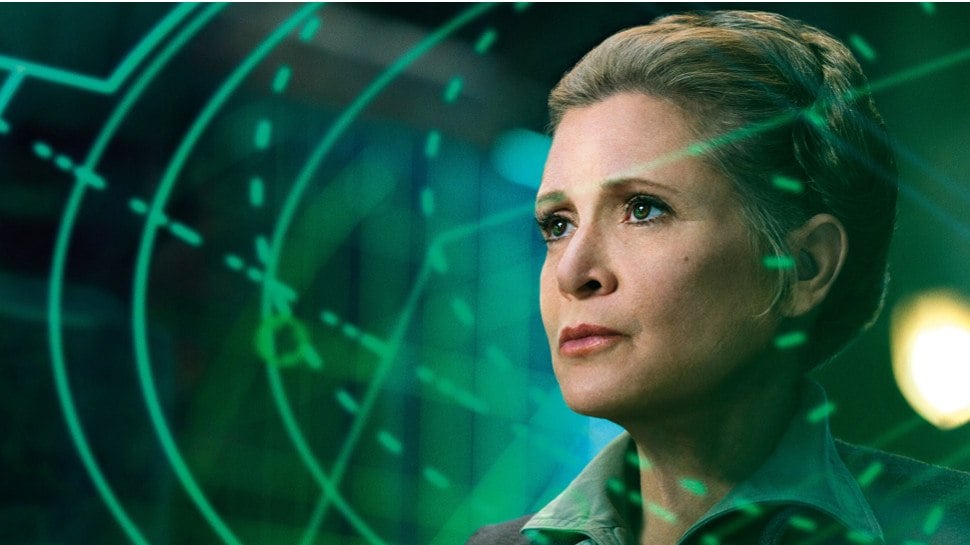 As strange as it may sound, the Fast and Furious franchise may be the perfect model for what the Star Wars saga is facing. Just as Furious 7 found a way to complete its story following the mid-production death of star Paul Walker, either Episode VIII or Episode IX could simply be tweaked to send Leia off into the sunset, either disillusioned with the fight against the First Order or simply heartbroken by the actions of her son. In either case, it might not be the courageous end the character deserves, but it would allow Leia to live on in the canon long after her portrayer left this Earth.
Follow Robert Yaniz Jr. on Twitter @CrookedTable
Check out Entertainment Cheat Sheet on Facebook!