Erika Girardi From 'RHOBH' Gets Sick of Talking Dogs, Switches to Politics on Twitter
The Real Housewives of Beverly Hills is probably in one of the most dramatic seasons in the show's history. Lies, deception, and gossip dominate the show. And that's just about a dog adoption gone awry.
Proof that the season is off the rails couldn't have been more abundant when cast member Erika Girardi had enough of dog talk and thought she'd switch to a smoother topic: politics.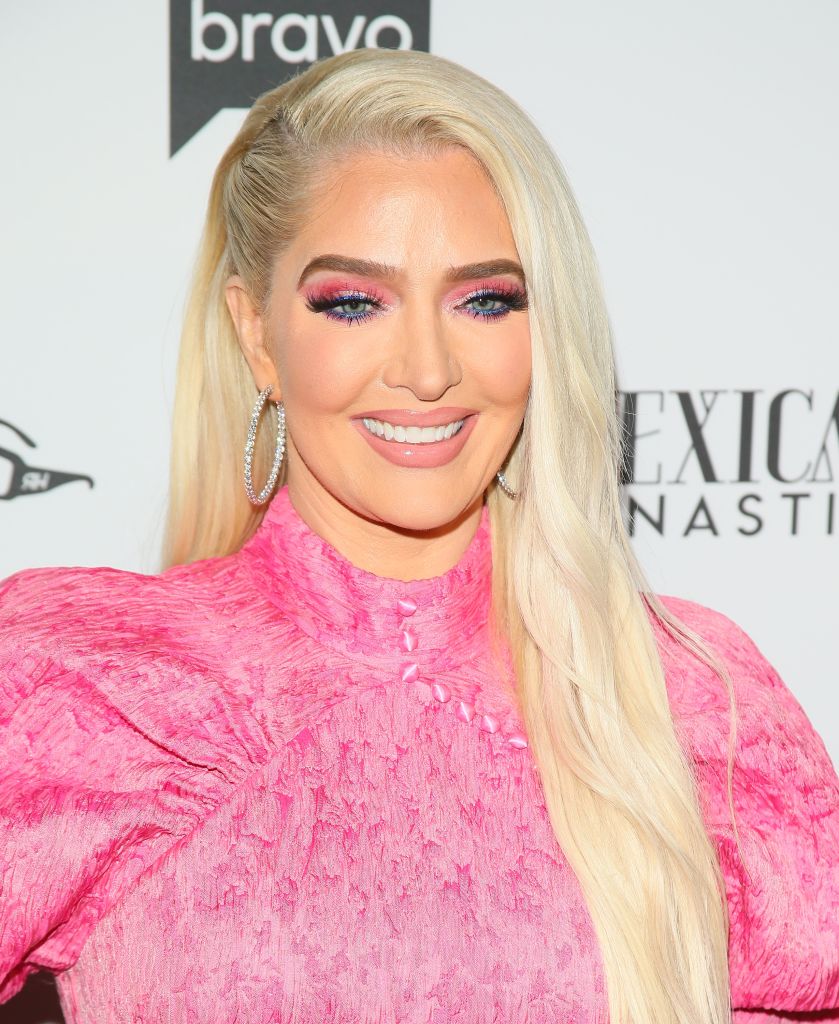 Girardi is known for her dry sense of humor and it really came through in her posts Wednesday afternoon. She's been home recovering from painful knee surgery and told fans she had some time to chat on Twitter while healing. While she truly wanted to take her follower's political pulse, she was still hilarious and fun.
This is how she opened the floor
No doubt Girardi likes to keep fans on their toes. So she dropped this tweet, which pushed many folks over the edge. "The President had no involvement." Most followers were like, "oh hell no."
The post quickly produced 70 comments with most fans being pretty upset. But one person commented, "Omg. People are seriously on your nuts these days. If they don't understand you're being sarcastic, I can't…"
She followed that comment up with, "I'm bored with this Housewives sh*t. I'm now watching CNN for some reality TV." Someone responded with a GIF of George W. Bush grooving to which she hilariously responded, "No disrespect but 43 looked like a good time."
But she asked some serious questions
Girardi floated some pretty serious questions and received hundreds of responses. Clearly, she touched a nerve as she managed to completely engage her followers. Plus she got them talking about something other than the dog adoption.
Some questions she asked included, "Honest question: Do you think North Korea has any intention of giving up nuclear weapons? Thoughts?" She added, "Honest question: Who will be the Democratic nominee for President? Lots of people in the race. Who gets the nomination?" And urged followers to avoid fighting. "No fighting OK?? Can Trump lose this next election? Be honest. Answer with your brain not passion."
Discussions were actually engaging and even productive. For the most part, Twitter commenters avoided attacks and kept the thread very topic centered. Not an easy feat considering it is Twitter, politics and Real Housewives. "See? Not one fight broke out. I asked questions and everyone was respectful . Thank you for answering," she added. Mic drop.
Then it gets fun
Twitter followers could see how well Girardi commanded an impossible topic. So one follower suggested she run for president. "If you think we're in bad shape now imagine if I tried to run sh*t!!" she hysterically wrote. "Lord help us."
She also wrote that being from Atlanta, CNN was everything. When a follower asked which reporter she liked, she wrote, "I have a crush on Cuomo shhhh…"
Plus, this television personality made a guest appearance. "Erika, anytime you want to talk politics, I am at your disposal xoxox," Meghan McCain wrote. Of course, Girardi was down. "Awwww my girl!!! I miss you!!" Girardi responded. Girardi added, "Listen, we are a great country together! Im a Democrat with Republican friends. Anyone is free to follow me and have fun!" Admittedly, her followers did have fun (and took a break from doggy drama).
Check out The Cheat Sheet on Facebook!