Was Erika Jayne Fired or Demoted From 'RHOBH' Cast for Season 10?
The Real Housewives of Beverly Hills is shaking up the cast for the upcoming Season 10. Two new housewives were confirmed last week and it might have been at the expense of another housewife. There are rumors that Erika Jayne will not be back to the Bravo show for the tenth season as production ramps up.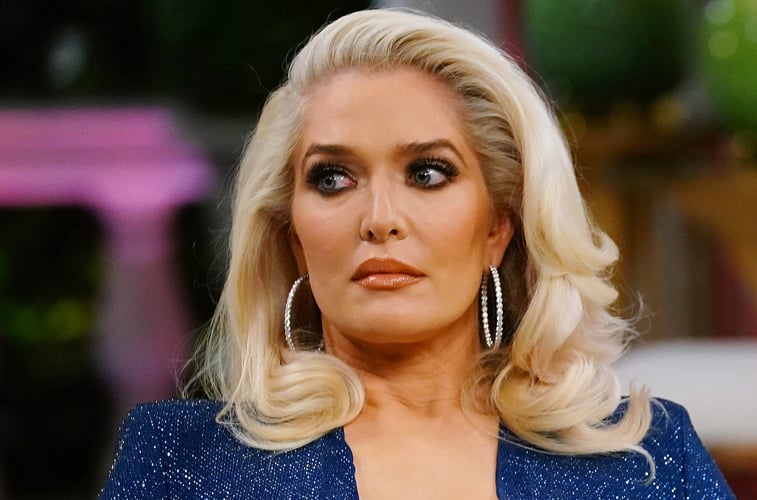 Garcelle Beauvais and Sutton Stracke join 'RHOBH'
Bravo confirmed that Garcelle Beauvais and Sutton Stracke would be joining RHOBH for Season 10 of the lifestyle show.
"I am excited and proud to be joining the cast of such a wildly popular and beloved show like The Real Housewives of Beverly Hills," Beauvais told The Daily Dish in a statement. "As a working actor who has been in the industry for some time, it's exhilarating to have the opportunity to delve into a new chapter in the entertainment spectrum."
The actress whose credits include NYPD Blue and The Jamie Foxx Show also acknowledge that is the first African American housewife for this franchise.
"As the first African American Housewife in the Beverly Hills franchise, I am honored and humbled by this awesome opportunity to exemplify the fact that Black Girl Magic lives and thrives in every zip code!" she added. "Already being intimately familiar with the spotlight of Hollywood, my journey of successes and trials has already been chronicled and shared with my many loyal supporters around the world. The continual encouragement, support and yes, even at times, criticism, have helped make me the dynamic woman I am today."
Just like Beauvais, Stracke is also a long-time friend of Lisa Rinna. "I am thrilled and honored to be joining The Real Housewives of Beverly Hills. As a mother to three children who is also deeply committed to my efforts in philanthropy, my life is a balancing act," Stracke also said in a statement to The Daily Dish.
"There is a lot going on in the best way possible and I strive to pursue all of my passions to the fullest," she continued. "I am excited to share my true loves of art and fashion design, and open the doors to my world. I am looking forward to this ride and where this journey takes me. Fun times ahead for this Southern Belle in Southern California!"
Was Erika Jayne fired from 'RHOBH' Season 10?
When the announcement was made, RHOBH fans thought it was surprising that two housewives were joining the cast. Speculation took over when a slip-up on Instagram made no mention of Jayne for Season 10.
"Beauvais and Stracke will be joining existing cast members Kyle Richards, Lisa Rinna, Teddi Mellencamp, Dorit Kemsley, and Denise Richards," the post read.
After Jayne saw the post she replied with a three laughing-crying emoji's in addition to a star. She didn't deny the claim she was off the show, but it did invite fans to ponder on the idea that she might have been demoted.
Just like Vicki Gunvalson on RHOC, some viewers think that Jayne would return as a friend and not a full-time housewife.
Camille Grammar not returning to 'RHOBH'
One friend of the housewives not returning for Season 10 is Camille Grammer. The former full-fledged housewife caused a lot of drama during Season 9 with the ladies. RHOBH fans believed she was almost certainly going to be offered a diamond for the new season, but things didn't play out that way.
"I wasn't asked back. It's fine. I did my time on the show. And it's Kyle's show," Grammar replied in a now-deleted Twitter comment to a fan asking where she was.
Grammar claims to be completely okay with not returning to the show and wants to move on to other things now.
"There comes a point when you realize your worth as a person," she replied to another fan. "The show became very toxic. I'm not proud of the things I said that were hurtful to others. I'm better than that. I want to move on to more positive endeavors."
Season 10 of The Real Housewives of Beverly Hills is now in production and expected to start airing in the first quarter of 2020.