'The Eternals' Actor Kumail Nanjiani On Coronavirus Fears: 'My Favorite Person In the World Is Immunocompromised'
Writer, actor, and producer Kumail Nanjiani is perhaps best known for his main role in the series Silicon Valley. But recently, he graduated to a new level of star power: A Marvel Cinematic Universe superhero.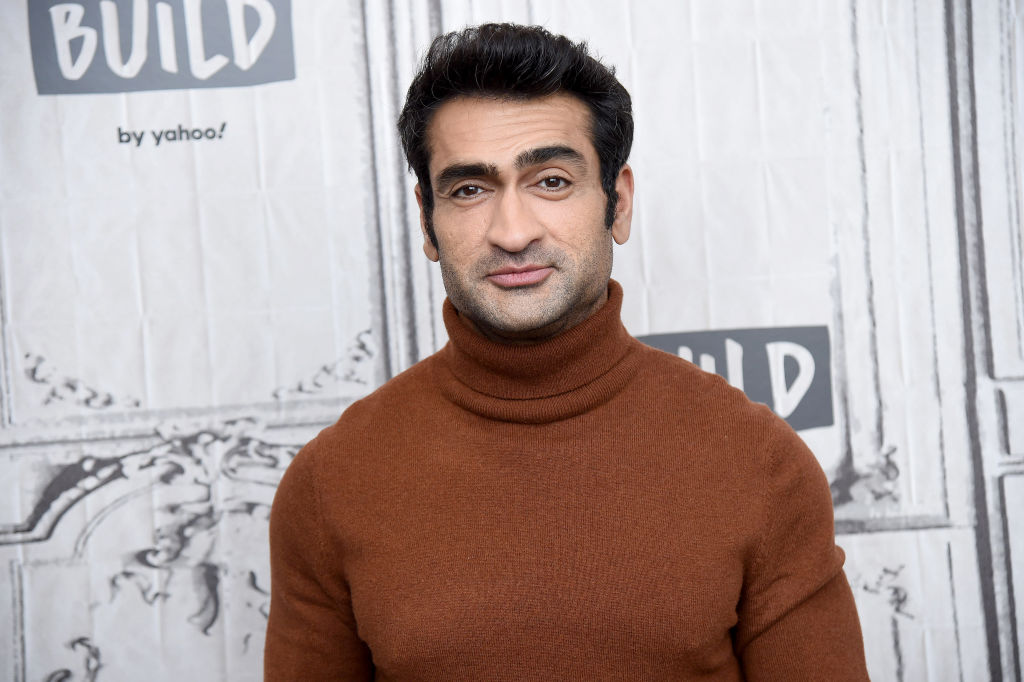 And he's taking his responsibility very seriously. Here's what he said recently about the importance of taking precautions during the coronavirus (COVID-19) pandemic and what that means for him, personally.
Kumail Nanjiani will star in 'The Eternals' as Kingo
Nanjiani was revealed to a be a member of the cast of The Eternals during the Marvel panel at San Diego Comic-Con 2019. He stars alongside Richard Madden, Gemma Chan, Angelina Jolie, Salma Hayek, and several more as the titular immortal beings.
The movie is due out in Nov. 6, 2020, with filming completed in February 2020. Just a couple of months prior, Nanjiani revealed his incredible physical transformation to the shock of many on the internet.
He shared his thoughts on social distancing during the coronavirus pandemic
Since wrapping, Nanjiani has stayed busy, promoting the Apple TV+ series he executive produced, Little America. He was then set to debut his new movie The Lovebirds, costarring Issa Rae, at South by Southwest, but that, along with its subsequent premiere, were canceled. And Nanjiani is all for these preventative measures.
After numerous tweets on the threat of coronavirus, he apparently received some backlash from his followers. His response? See the above tweet from March 15, in which he says, "My favorite person in the world is immunocompromised. Go ahead and unfollow me. I'll be tweeting about this until I'm down to zero followers."
Nanjiani's wife Emily V. Gordon
Who is Nanjiani talking about? He's most likely referring to his wife, Emily V. Gordon. Gordon is also a writer and producer. But she may be best known for her part in Nanjiani's film The Big Sick, which she co-wrote with him.
The movie is based on the true story of how they met. Shortly after Nanjiani and Gordon first began seeing each other, she was placed in a medically induced coma. She was then diagnosed with a rare systemic autoinflammatory disease known as Adult-onset Still's disease.
What does it mean to be immunocompromised?
For those who are unaware, what is immunocompromised? According to Dr. Steve Pergam of the Seattle Cancer Care Alliance, this refers to people who have "certain diseases or conditions that weaken the immune system." The most commonly known of these are types of cancer as well as HIV and AIDs, but there are many others.
People who are immunocompromised or immune suppressed are similar to those with other kinds of preexisting conditions and the elderly, meaning they are less able to fight off viruses. So they are most at risk during this pandemic.
Will 'The Eternals' be delayed?
The Marvel slate could be affected by coronavirus. Already, numerous productions have shut down. The Eternals has finished shooting, but there could be reshoots that were planned. And that's also not taking into account post-production, which could also be suspended.
As of March 16, 2020, it's unknown when theaters will be open again. November is a long way off. But whatever happens, it's clear that Nanjiani will put the health of his wife — and everyone else — ahead of the movie's success.