Every Moment That Proves Melania Trump Hates Being the First Lady
Melania Trump has been whisked into a world that's completely new to her, thanks to her husband's role as President of the United States. Throughout Donald Trump's presidency, the first lady has yet to appear comfortable, let alone happy, with her new job. As if her body language wasn't telling enough, her wish for the holidays recently revealed just how much she doesn't want to be in the White House.
These are the moments that prove Melania hates being the first lady — including why those body double rumors were so believable.
1. Her delayed move-in to the White House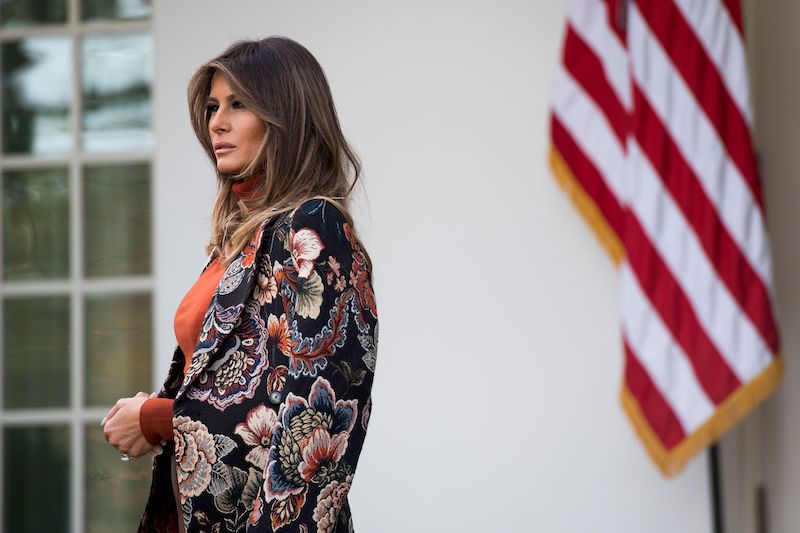 Melania made history as the first lady after her husband's inauguration — but in a controversial way. It took her five full months to move into the White House, which she claims was to allow their son, Barron Trump, to finish his school year in New York.
However, it seems she was grateful to have a reason not to make the immediate move to Washington, D.C. A source told People, "I don't know if she will ever live away from New York full time, especially with her son in school there. She loves her home in Manhattan and her independent life."
2. Her constant look of misery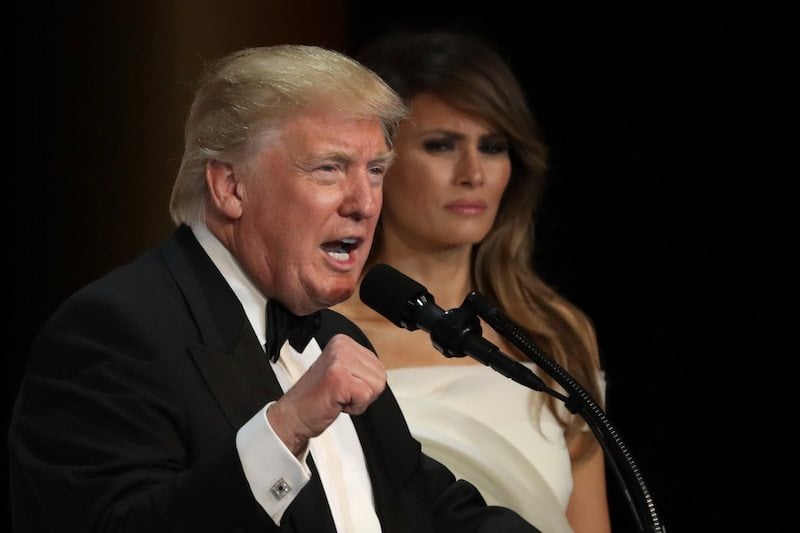 Even if Melania is playing her part as first lady, her face can't hide her true feelings. Body language expert Patti Wood revealed to Cosmopolitan just how much Melania has changed since her husband became a presidential candidate.
Past photographs reveal Melania being expressive and joyful, but since the start of her husband's campaign, her demeanor has shifted. Her body language can regularly be described as "stiff," as put on display during her first dance with Donald at the inaugural ball.
The hashtag #FreeMelania even began trending on Twitter after her infamous look of disdain on Inauguration Day. She can be seen smiling in an encouraging manner at her husband, but once he turns away, her face turns to a miserable scowl. Wood described the look as "sadness mixed with a little bit of anger."
Wood explained that since becoming first lady, Melania has become someone "whose shoulders go down, whose mouth turns down, who gives furtive, down-gazing looks, and who is tense, tight, small, and unhappy."
3. Swatting away Donald's hand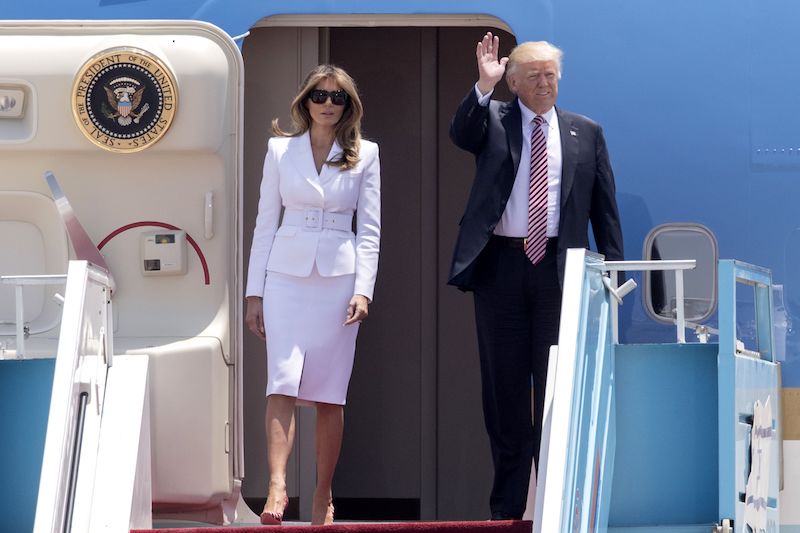 When Melania swatted away Donald's hand on the tarmac at Tel Aviv in May 2017, we doubt she suspected the media frenzy that would follow. A video of the first lady not just avoiding the president's hand-holding, but slapping his hand away, went viral on Twitter.
Wood used her body-language expertise to devise that it could have been "a further sign of how the Trumps' relationship has changed since becoming the First Couple," according to The Independent.
4. She never actually thought Donald would win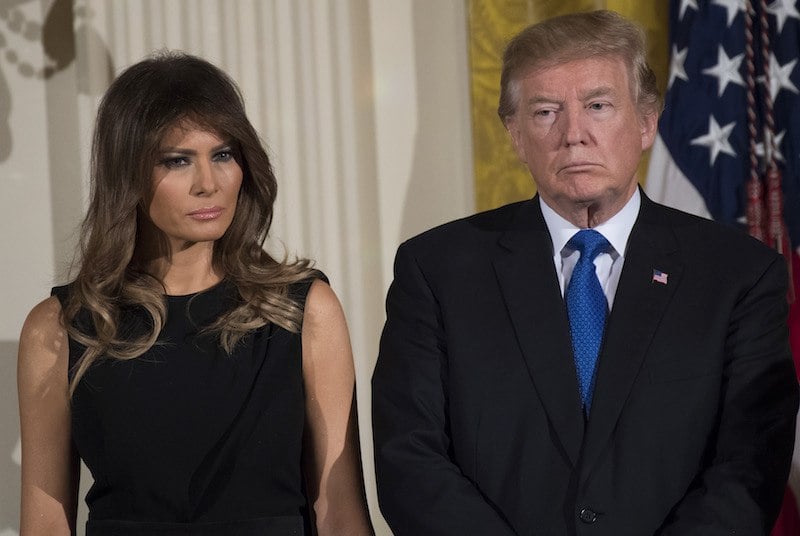 Melania may have pushed her husband to run for president, but she never actually thought he'd win. Roger Stone, an early Trump adviser, revealed that Donald had been debating for a number of years whether he should run. However, Melania was the one who encouraged him to make a decision.
It wasn't that she actually wanted her husband to become president. According to Vanity Fair, she just knew that "he was going to be unhappy if he didn't run."
A friend of Donald even confirmed, "This isn't something she wanted and it isn't something he ever thought he'd win. She didn't want this come hell or high water. I don't think she thought it was going to happen."
5. Donald's tweet defending Melania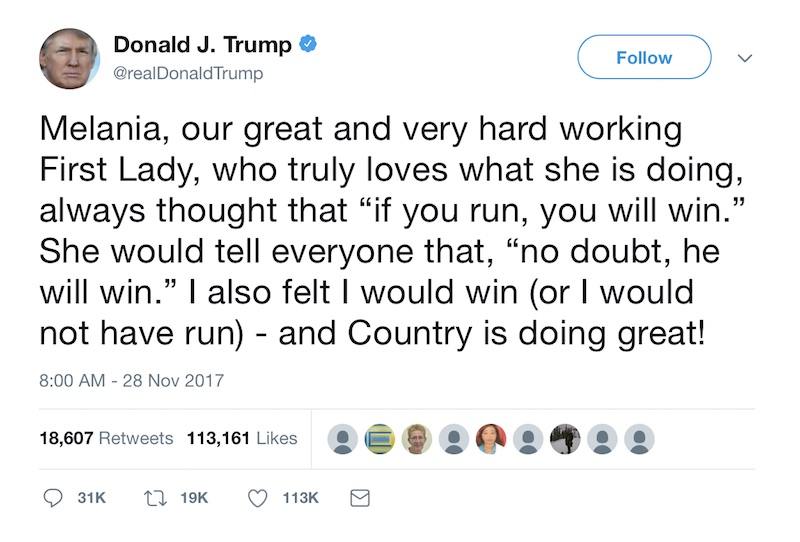 The president wasn't exactly pleased to hear speculations regarding Melania's misery in the White House. He took to Twitter, naturally, to prove that Melania was actually loving her new role.
He wrote, "Melania, our great and very hard working first lady, who truly loves what she is doing, always thought that 'if you run, you will win.' She would tell everyone that, 'no doubt, he will win.' I also felt I would win (or I would not have run) – and Country is doing great!"
The desperate tone of the tweet seems to have the opposite effect, suggesting that everything's not as coming up roses as he claims. Many Twitter users suspected Trump's cover-up of Melania's true feelings about her new job. One user replied, "So she doesn't work hard and she doesn't like what she is doing? The truth hurts, jerk. But lying is worse."
It wouldn't be the first time Donald lied on Twitter about how successful his presidency has been so far. For example, he tweeted that his job approval rating was "not bad" in July 2017, when in reality, his ratings hit a historic all-time low compared to every past president at the same point.
6. Wishing she was on a deserted island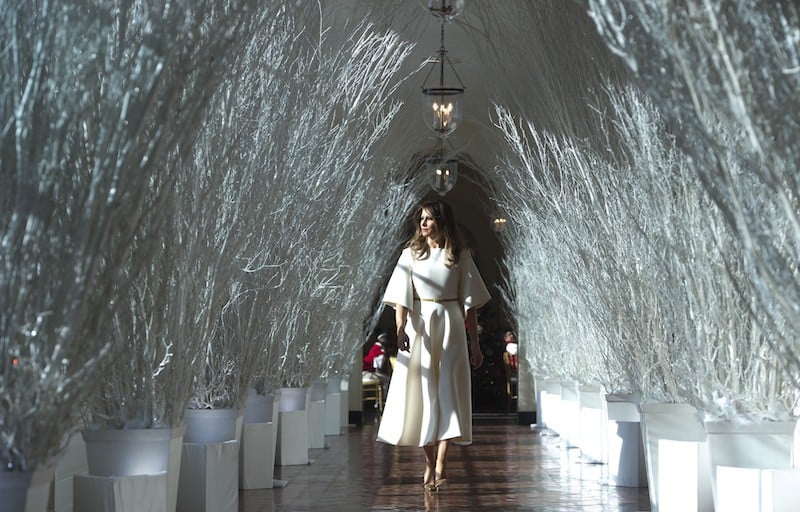 Only one week after Donald criticized skeptics of Melania's happiness, she added fuel to the fire with her Christmas wish. During a visit to the Children's National Hospital in Washington, D.C., a 10-year-old boy asked Melania, "If you could spend the holidays anywhere in the world, where would you go?"
She replied, "I would spend my holidays on a deserted island, a tropical island — with my family." Intentional or not, we're definitely picking up on Melania's suggestion that she is tired of being in the White House. Twitter users didn't let it pass, either.
Comedian Deven Green tweeted, "Melania Trump's Christmas wish is for her family to go to a deserted island. Funny, that was mine, too."
7. That 'Fake Melania' conspiracy theory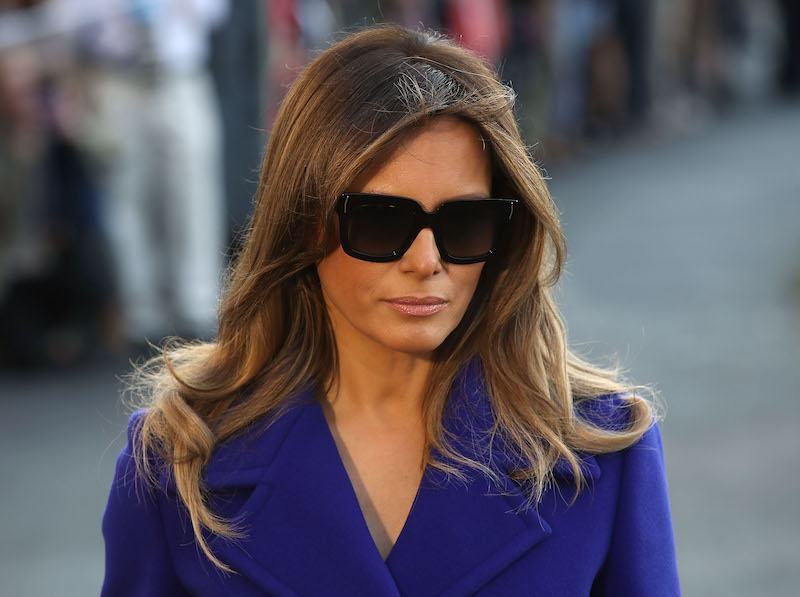 While the theory that the Trumps hired a body double to pose as Melania is very likely false, people were quick to jump on board with the conspiracy. Twitter users guessed at the reasoning for the "Fake Melania," with suggestions such as being an "unwilling participant in her marriage and the current administration."
Even if the administration has involved no imposters, the theory still holds a scary truth: how believable it was. Based on Melania's actions as first lady up to that point, hiring a stand-in so she didn't have to fulfill her duties as first lady made complete sense.
It seems that with or without a body double, it doesn't take away from the fact that Melania will probably go down in history as one seriously miserable FLOTUS.
Check out The Cheat Sheet on Facebook!