Every Pink Floyd Album Ranked, From Worst to Best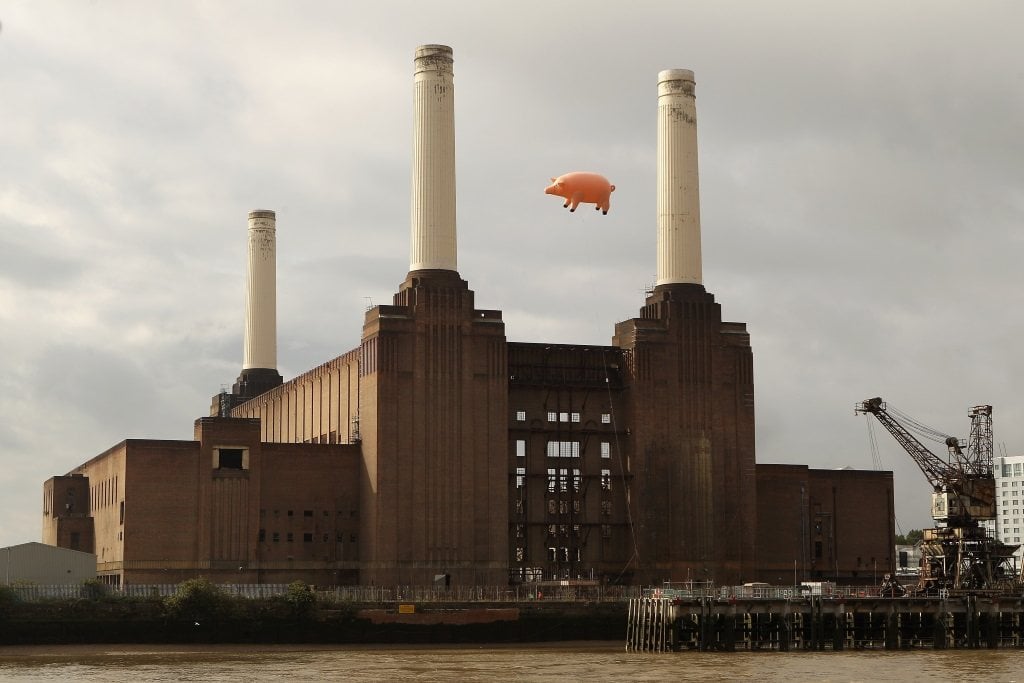 Pink Floyd's discography is an unwieldy one — filled with lineup changes, murky concept albums, and directional shifts — but a rewarding one too. Across 15 albums, Pink Floyd reinvented themselves repeatedly to create ambitious albums that synthesize psychedelia, jazz, funk, folk, and more into sonic explorations that brilliantly mirror their lyrics and concepts in innovative ways. Every album, even the forgotten ones that don't stand up beside their best work, is its own experience, with its own ideas worth hearing at least once — and most of them a whole lot more. Let's begin ranking this fantastic band's albums, starting with the worst:
15. A Momentary Lapse of Reason
David Gilmour is a fantastic guitarist but a poor substitute for Roger Waters, as this often painful release shows. A Momentary Lapse of Reason sounds like a dated '80s retread of earlier ideas, boasting a few strong pop numbers ("One Slip," "Learning to Fly") marred by a lot of uncompelling nonsense (the groan-worthy "On the Turning Away") with Gilmour trying to wail like Waters over it all ("Dogs of War").
14. The Division Bell
A slight improvement over A Momentary Lapse, but still plenty dated and unnecessary. As with its predecessor, I'm always aware, even during standouts like "High Hopes" and "Wearing the Inside Out," that the band is only trying to recapture its old glories, rather than trying something new, as all the best Floyd releases do.
13. The Endless River
The apparent final Pink Floyd album, built around a series of unreleased material from late keyboardist Rick Wright, is another unnecessary release, but at least it's a pleasant one. Gilmour doesn't try to replicate Roger Waters's lyrics or vocals, because there are no vocals (except the ending "Louder Than Words"), so all that's left is a lot of pleasing atmospheric pieces.
12. More
More is a film soundtrack, which explains why it contains a whole lot of ambience, much like The Endless River. Unlike The Endless River, this album has the wonderful texture of late '60s psychedelic fuzz, with lots of gorgeous English-accented folk ("Green is the Colour") scattered in between. Rockers like "The Nile Song" sound distinctly out of place, but the band chemistry is great during the jams nonetheless.
11. Ummagumma
We're only at No. 11 and already I feel bad for ranking a great album so low. Ummagumma is likely the most inaccessible of all Floyd releases, with one disc devoted to (great) live recordings of the band's simmering jams and the other to experimentation on the part of each individual band member. All of it is audacious and often beautiful (except maybe the animal noises in "Several Species"), but not as strong as Floyd's most collaborative efforts.
10. A Saucerful of Secrets
With Syd Barrett on his way out, Pink Floyd sounds noticeably like a band without a leader, but that doesn't mean they can't still create fascinating psych-rock soundscapes. Tracks like "Corporal Clegg" and the title track are at times interesting but mostly directionless. However, the album is saved by standouts "Set the Controls for the Heart of the Sun" (a track that sounds like it was written by an ancient civilization) and "Jugband Blues" (a moving final word from Syd Barrett, who was booted from the band before Ummagumma).
9. The Final Cut
The Final Cut is an album by Roger Waters, recorded by Pink Floyd. Translation: Every song is a hushed reverie built around Waters's lyrical dramatics, with a David Gilmour guitar solo thrown in halfway through. Thankfully, Waters's lyrics, which are focused on nearly all aspects of war, from the leaders who wage them ("The Fletcher Memorial Home") to the innocents irreparably harmed by them ( the moving title track and "Paranoid Eyes"), are beautiful, and Gilmour's solos are damn good too. What it lacks in musical ingenuity it makes up in lyricism.
8. Obscured by Clouds
An underrated gem of an album, Obscured by Clouds is a loose collection of Floyd trademarks, including Dark Side of the Moon-esque rock ("Childhood's End"), macabre sing-alongs (the brilliant "Free Four"), pretty piano ballads ("Burning Bridges," "Stay," "Wots…Uh, the Deal"), and guitar instrumentals that make it clear this is, after all, a soundtrack with its fair share of filler material.
7. Atom Heart Mother
The 23-minute title suite makes full use of its lengthy runtime to deliver all sorts of interesting musical ideas spliced around a rousing epic horn theme. Side two features contributions from each band member, most of them tender folk ballads except for the strange, half-ambient "Alan's Psychedelic Breakfast" that ends the album on an odd, but I'd argue inspired, note.
6. Meddle
One side of Meddle is "Echoes," a 23-minute underwater journey that points the way toward Dark Side of the Moon, and the other is a collection of five oddball genre tracks they never quite pulled it off. "One of These Days" is a seething, then energizing rocker, and "Pillow of Winds" and "Fearless" are gorgeous folk, but, unfortunately both "Seamus" and "San Tropez" are throwaways, even if one of them does have a dog singing backup vocals.
5. The Wall
The Wall is an album best discovered as a moody 15-year-old. The sprawling double album is a self-pity party for and by Roger Waters, but it's a brilliant one nonetheless. All 26 songs offer something worthwhile in their emotional resonance or musical ingenuity, and even better, they work as a satisfying whole, filled with recurring themes and connections waiting to be drawn. That's a whole lot more than I can say for most other double albums.
4. The Piper at the Gates of Dawn
The Piper at the Gates of Dawn captured Syd Barrett's spaced-out songwriting abilities before his sanity began to deteriorate, and the result is an album like no other. Nursery rhyme lyrics ("The Gnome") and childlike innocence ("Bike") collide with some of the most electrifying psychedelic jams ever committed to record ("Astronomy Domine," "Interstellar Overdrive"). It's not the Pink Floyd most of the listening public would come to know in the '70s, but it's just as unique.
3. Animals
Animals is really only three songs, with a couple of sweet acoustic bookends ("Pigs on the Wing") tacked on. They're the only thing that's sweet about this bitter political album inspired by George Orwell's Animal Farm, as the remaining songs capture the hopelessness of backstabbing businessmen ("Dogs," one of the band's all-time best), power-hungry politicians ("Pigs (Three Different Ones)"), and passive citizens ("Sheep"). There's all sorts of vocal manipulation and clever sonic ideas to distinguish the album from previous Floyd releases too.
2. Dark Side of the Moon
This is a concept album that aims to encapsulate all of life, from birth to death, in nine songs. Somehow the album achieves it — through sound effects and background conversation, saxophones and wailing female vocals, groovy bass lines and killer guitar lines, great lyrics and oddball, doodly-do keyboards. "Time" is a heartbreaking song that actually sounds like the passage of time, "Money" is a cynical bass-driven groove, "Us and Them" captures all the grandeur and tragedy of war in seven minutes, and every other song is just as poignant or interesting in its own way — except "Any Colour You Like," which is just an awesome jam. What more could you want?
1. Wish You Were Here
How do you follow up an album as enduringly successful as Dark Side of the Moon? If you're Pink Floyd, you release an album eviscerating the fickle music industry and mourning the insanity of former bandleader Syd Barrett. The sorrow and vulnerability of "Wish You Were Here" and expressive epic two (or nine?) parter "Shine On You Crazy Diamond" provides a perfect counterbalance to the groovy snark of "Have a Cigar" and "Welcome to the Machine." Together these five songs comprise a little of everything that made Pink Floyd so great.
Follow Jeff Rindskopf on Twitter @jrindskopf
Check out Entertainment Cheat Sheet on Facebook!