Every Professional Athlete the Kardashian and Jenner Sisters Have Dated
The dating lives for most of the Kardashian and Jenner sisters over the years have consisted of other celebrities. One could argue that they have a thing for rappers since Kim Kardashian married Kayne West, Kylie Jenner welcomed a child with Travis Scott after her getting out of a relationship with Tyga, Khloe Kardashian previously dated French Montana, and Kendall Jenner went out with A$AP Rocky. However, the number of athletes the sisters have been with is much greater. Here are the famous sports stars they've been linked to.
Kim Kardashian
Back in 2007, when the Kardashians weren't well-known, Kim began dating then-New Orleans Saints running back Reggie Bush. They broke up in 2009 for a bit due to their busy schedules, however, they reunited and got back together in 2010. But as Kim's career grew she and the NFL star grew apart and Bush reportedly just couldn't take her hectic work schedule.
Following her split from Bush in 2010, romance rumors started to fly after the reality star was spotted in Spain locking lips with soccer stud Cristiano Ronaldo. Things didn't go very far after that though as the two were never in any type of serious relationship.
After the reports about Ronaldo quieted down, Kim was linked to then-Dallas Cowboys wide receiver Miles Austin. The pair dated for a mere three months before calling it quits.
Later that year, Kim started a relationship with NBA player Kris Humphries. They even ended up getting married, but only remained husband and wife for a total of 72 days.
Khloe Kardashian
In 2008, Khloe Kardashian dated then-Minnesota Timberwolves shooting guard Rashad McCants. Their relationship was short lived as they were only together for about a month until she met another NBA player, who she walked down the aisle with.
Khloe and Lamar Odom only dated for about four weeks as well but they fell hard for each other and decided to get hitched. Things went south after a few years and the Revenge Body host filed for divorce in 2013. That was withdrawn though so she could make medical decisions on Odom's behalf after he was found unconscious in a Nevada brothel. Their divorce was finalized in 2016.
The Keeping Up with the Kardashians star then met and hooked up with another NBA player, James Harden. The pair lasted for several months but broke up after Khloe claimed he cheated on her.
Speaking of cheating, in 2016, Khloe got involved with her fourth basketball player, Cleveland Cavaliers star Tristian Thompson and later announced that they were expecting a baby. Just a few days before she delivered their daughter though, multiple allegations about Thompson's infidelity made headlines. Despite what happened, Khloe ended up forgiving him.
In between dating NBA superstars, the Strong Looks Better Naked author was linked to MLB outfielder Matt Kemp and NFL wideout Odell Beckham Jr. However, it was later reported that they were just friends and she never anything romantic going on with either of them.
Kendall Jenner
Like Khloe, Kendall Jenner has a history of dating quite a few NBA players.
The first was in 2014 when she was spotted with then-Dallas Mavericks small forward Chandler Parsons. After a dinner date, the two weren't seen out much together until 2017 when they bumped into one another at a Bentley dealership. Following their encounter, Jenner was seen sitting courtside at one of his games and then hitting up the same nightclubs together. But their romance eventually fizzled out for the second time soon after.
A year later, the runway model reportedly moved on with Los Angeles Lakers rookie D'Angelo Russell. However, despite several news outlets noting that they were an item, other publications cited sources who claimed they were no more than friends.
In 2016, Jenner was rumored to be involved with another Lakers player Jordan Clarkson after a video of them kissing on New Year's Eve circulated online. People then reported that the two were "secretly dating," but by the end of the year it was over.
After Clarkson, Jenner started seeing then-Clippers power forward Blake Griffin in 2017. The supermodel actually opened up this relationship in an issue of Vogue saying, "I'm happy. He's very nice. I have someone being very nice to me." Apparently being nice didn't pay off because by April 2018 they were no longer a thing and avoided each other at Coachella.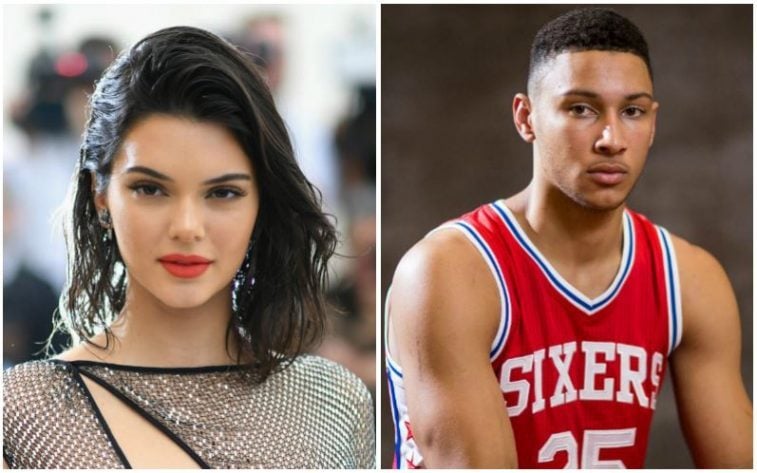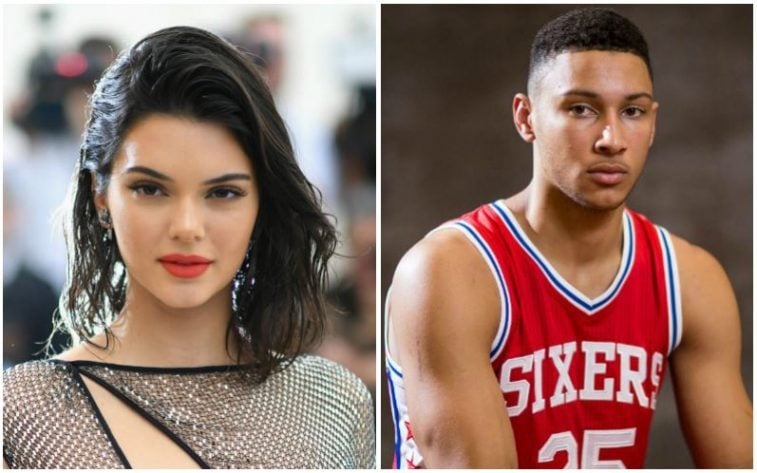 Jenner went from a relationship with Griffin to one with Philadelphia 76ers point guard Ben Simmons. Things between the pair really heated up in the summer of 2018 when it was reported that they were shacking up together in a $25,000 a month pad in L.A.
Before Jenner, Simmons was dating singer Tinashe, who he reportedly broke up with because she was acting like a Kardashian. So yeah, this news left us scratching our heads.