Every Scandalous Detail From the 'Tiger Woods' Book
In Tiger Woods, a recently published book about golf's most recognizable figure, authors Jeff Benedict and Armen Keteyian conducted hundreds of interviews with people involved in all aspects of the athlete's life. Their reporting is meant to give a fresh perspective on Woods.
The writers take us through everything from his upbringing to his fall from grace. There are also many never-before-told stories about how the golfer wasn't exactly kind to people he crossed paths with, including a former U.S. president. Here the most scandalous details revealed by The New York Times best-selling authors.
How his parents treated him very differently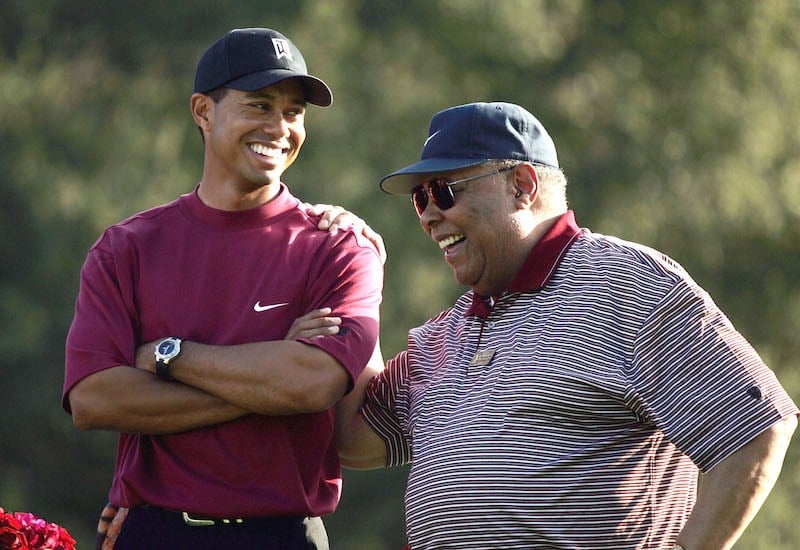 The book dives into Woods' unusual upbringing and how he was a stuttering, lonely child whose parents, Earl Woods and Kultida Punsawad, influenced his life, career, and who they wanted him to be.
Tiger's inability to show gratitude, apologize, or express appreciation was rooted in his warped upbringing. His mother pampered him like a prince, and his father rarely uttered the words "thank you" or "I'm sorry." Tiger learned early and often that his needs were all that mattered. His unapologetically self-centered attitude was critical to his success in golf, but it had an utterly devastating impact on the way people perceived him.
When Woods' father passed away from cancer in 2006, the golfer said his dad was his "best friend and greatest role model."
Next: Woods doesn't play nice. 

Woods' had a contentious round of golf with Bill Clinton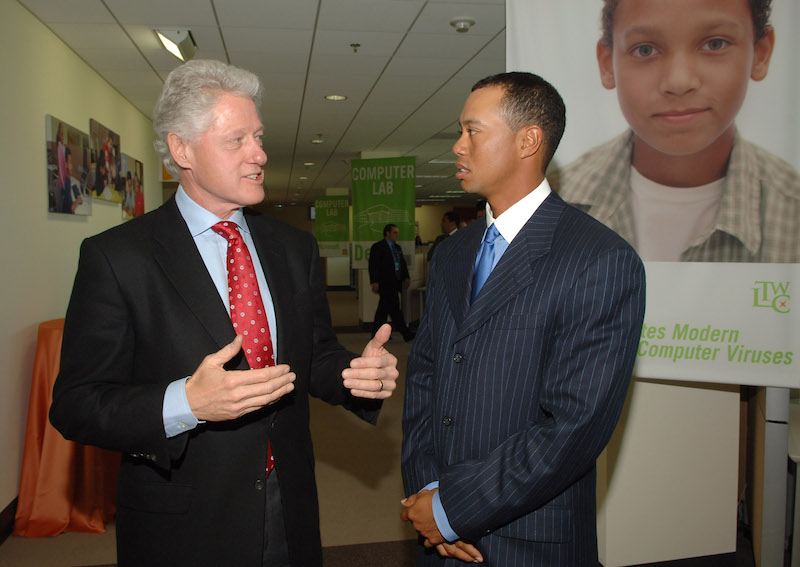 A story that really sticks out in the book is how Woods acted when former President Bill Clinton agreed to attend a function for Woods' foundation in 2006. Although there is a backstory about how Woods was rude to Clinton prior to his people asking the politician for a favor, Clinton agreed to appear at the function if Woods played a round of golf with him.
But it was during that golf game that witnesses said the athlete paid no attention to anyone else in the group. They recalled Woods being on his phone most of the time, riding in a golf cart by himself, walking off the green while others were still putting, and laughing when Clinton made a bad shot.
"He was really obnoxious," an observer said. "It was so clear to me that day who Tiger really was. I've never seen the president more put off by a person than that experience."
Next: Did he forget to sign it?

He may have refused to sign picture for the former president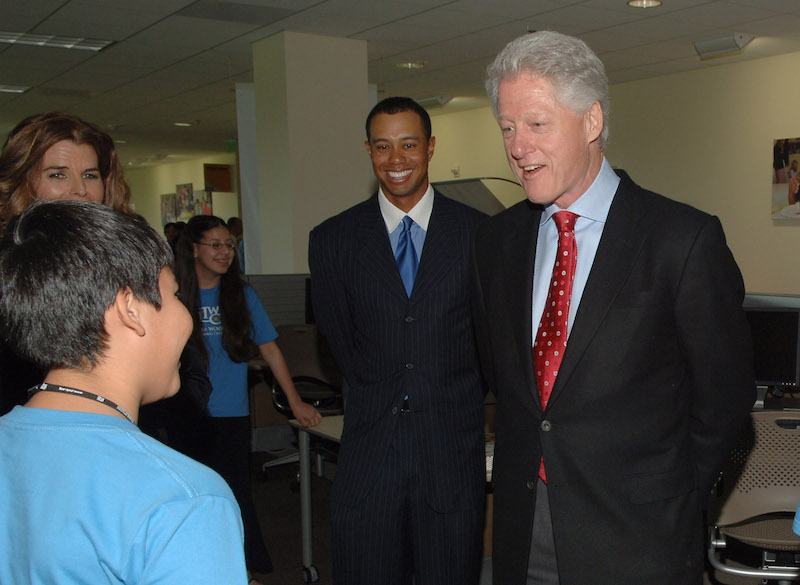 Following the contentious round of golf, Clinton's office sent Woods a picture of the two men together that was going to be framed and asked it Woods could personalize it. After several months passed and the office still did not get the photo back or hear from Woods, an employee called to find out where it was. Woods then reluctantly just signed his name on it and sent it back.
"Clinton hauled his ass out West, and you can't sign a picture?" said a longtime staffer to the former president. "The whole experience was a lot of 'I'm Tiger Woods, king of the world, go f**k yourself.'"
Next: Woods chooses who he wants to acknowledge.

Woods' treatment towards others wasn't always kind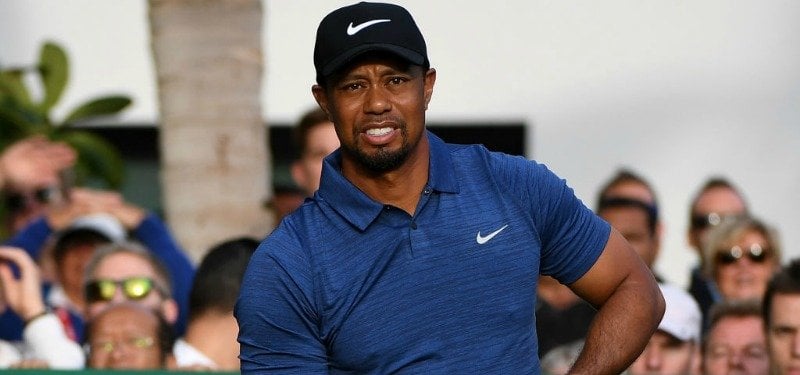 There were many other people who don't have fond memories of meeting the golfer either. In 1998, while staying at a house fellow golfer Mark O'Meara was renting out. Woods went over to the neighbor's house and met a woman named Peggy Lewis, who actually owned the property where the golfers were staying.
The woman was excited to tell Woods that they were staying in her home, but when she extended her hand to greet him, he ignored her gesture and just went on looking for O'Meara's wife, Alicia.
"Humiliated, Lewis quietly sat down as Woods walked out, never acknowledging her," the authors wrote.
Next: He had to do this while in sex rehab. 

He confessed to infidelity as part of his sex rehab program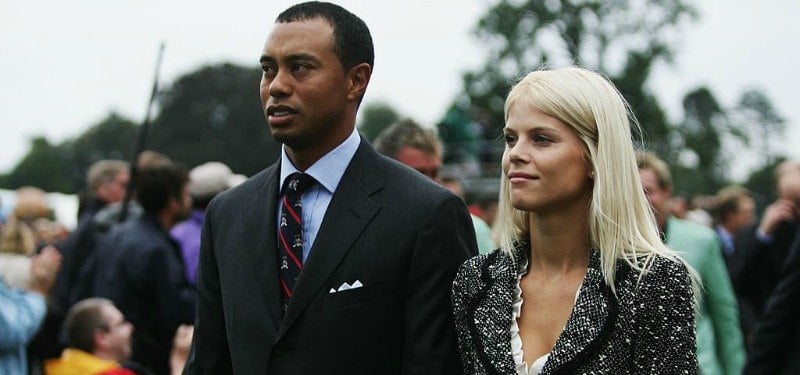 Of course, the authors could not ignore what happened on Thanksgiving night in 2009 when Woods' then-wife Elin Nordegren discovered that the athlete had been cheating on her and chased him out of their mansion wielding a golf club. The rest of the world soon learned about Woods' infidelity, and he checked himself into a sex rehab.
While in sex addiction treatment at the Pine Grove facility in Hattiesburg, Mississippi, Woods had an hour-long session with Nordegren, in which he confessed to all the extramarital affairs he had while they were together.
The couple eventually divorced in 2010.
Next: Was human growth hormone used in his recovery?

HGH was used in Woods' recovery after knee surgery?
Another bombshell the book describes is Woods' treatment by Dr. Anthony Galea, the doctor who was arrested in 2009 for smuggling HGH into the United States. A source told the Benedict and Keteyian that following Woods' 2008 knee surgery, Galea used PEDs to aid in the golfer's recovery process without Woods' knowledge. 
That claim, however, has been denied by another physician, Dr. Mark Lindsay, an associate of Galea's who also saw Woods during his rehabilitation following the surgery.
Woods did not participate in interviews with the authors of the book himself, but did authorize Lindsay to speak with them.
Next: Woods had moved on from 2009 and his other past troubles. 

The golfer has put his past behind him
The March 2018 release of this book has coincided with a big comeback for Woods, following an interior lumbar interbody fusion procedure in 2017. He said during an interview with ESPN that his severe back pain is finally gone. And many believe that he is ready to move forward and put his past behind him.
"He's more upbeat, talking about the future. He's putting everything negative behind him: the scandal, the DUI, everything," an insider told People. The source also added, "He's a new man."
Benedict and Keteyian agree that he's a whole "new" Tiger now, saying:
In Tiger's case, there is the fact that he has gone through some very difficult personal challenges. His long battle with pain has perhaps been the biggest factor in changing his outlook. Immobility has a way making a person more acutely aware of and appreciative for the simple things in life. Then consider that Tiger was the best in the world at one thing. To suddenly be unable to do that one thing is devastating. But to regain that ability is no doubt exhilarating and gratifying and, to a certain degree, humbling.
Follow Michelle Kapusta on Twitter @philamichelle.
Follow The Cheat Sheet on Facebook!