Every Time David Harbour's Social Media Was the Best Thing Ever
David Harbour is easily one of the most beloved members of the Stranger Things cast. That's partly because he plays one of its best characters, Sheriff Jim Hopper. And it's partly because, in real life, he's every bit as entertaining as his on-screen counterpart.
Since Stranger Things became a pop culture hit, fans have started to take notice of Harbour's pitch perfect use of social media. He uses Twitter and Instagram to interact with fans, post behind-the-scenes peeks, or just mess around. But no matter what he's up to, fans are always eagerly awaiting what Harbour will post next.
Here are some of his best social media moments so far.
1. When he broadcast his bromance with Joe Keery
After Stranger Things 2, everyone had a bigger appreciation for Steve Harrington. And the fandom's newfound love for Hawkins' most badass babysitter translated into an obsession with Joe Keery, the actor who plays him.
Even though they don't share many scenes in Stranger Things, Harbour and Keery appear to be good friends off-screen. And he, more than anyone else, appears to be totally smitten with the newly minted heartthrob. He's shared tons of photos of Keery on Instagram. And most of them gently poking fun at the Stranger Things 2 breakout star.
On Nov. 28, 2017, Harbour shared a collage featuring Rob Lowe, David Hasselhoff, and numerous other men with feathered hair. Keery was front and center, and the accompanying caption made it clear that Harbour only had eyes for his co-star.
Harbour wrote, "You know that feeling when you're crushing out on someone and you keep seeing their face everywhere you turn… damn your eyes @uncle_jezzy, damn them!!"
Next: He may be harboring another co-star crush, too.
2. When his Instagram turned into a Winona Ryder fan account
Stranger Things reminded everyone that deep down, we all love Winona Ryder. But from the looks of things, few people love her more than Harbour. He's frequently used his Instagram and Twitter accounts to wax adoringly about his co-star. Like, all the time.
Usually, Harbour's posts have a humorous slant. And that's often been the case when he's shared photos of him and Ryder, like when he posted snaps of them hanging out on set with the caption, "Photo study of one of the greatest movie stars of all time and an excited bearded man."
But sometimes Harbour can't even bring himself to do anything but share his gratitude for having been able to work with Ryder. On Oct. 27, 2017, he shared another photo of them making funny faces together to promote Stranger Things 2. In the caption, he called out Ryder without a hint of humor, saying, "I lucked into acting with this beautiful, beyond talented movie star on a daily basis, and it's been one of the most loving, inspiring working relationships I've ever had."
Next: Harbour made one high school senior the coolest kid in the universe.
3. When he posed in a fan's senior pictures
Harbour isn't shy about answering questions on Twitter. Still, when one Stranger Things fan asked him how many retweets she'd have to get for him to pose in her senior pictures with him, she probably wasn't expecting a response.
She got one, though, when Harbour promised he'd be there on picture day as long as two conditions were met. One, that she get 25,000 retweets. Two, that he be allowed to wear her high school sweatshirt and pose with a trombone. The fan's tweet went viral almost instantly, and within a matter of days, she had the requisite retweets. And, because he is awesome, Harbour kept his end of the bargain.
On Jan. 12, 2018, the fan, Harbour, and the amused photographer all shared the results of their portrait session. The Stranger Things star proudly posted his favorites on Instagram, telling fans he was, "Voted most likely to hijack someone's high school senior photos 24 years later."
Next: Dearly Beloved, we are gathered here to witness Harbour's amazing Twitter feed.
4. When he agreed to officiate a fan's wedding
Once fans realized they could get Harbour to do pretty much anything if their requests to him went viral, all bets were off. He was flooded with requests for favors. But one in particular caught his eye.
In January 2018, Ericka Millholland asked Harbour what it would take for him to officiate her wedding. He upped the ante on the stakes — 125,000 retweets, and the promise that he could choose what he read at the altar and get the first piece of cake at the reception.
It took less than 24 hours for Millholland's request to hit Harbour's retweet threshold. And again, Harbour promised he'd be there on the big day, to the delight of fans worldwide. The wedding isn't until September. But it will surely be a social media sensation. And Harbour has promised to make it really hard on fans the next time they need a favor.
Next: A dream is a wish your tweets make.
5. When he really wanted to dance with penguins
In January 2018, Harbour found a way to redirect the fan fervor for his attention. He tweeted at Greenpeace and asked how many retweets he would need to get a chance to meet up with some penguins.
Greenpeace hit him back and told him he'd need 200,000 retweets. Plus, they linked to a petition to help set up an Antarctic ocean sanctuary for penguins. Harbour begged his fans to spread the word, so he would get a chance to dance with the penguins. And he got his wish.
On Feb. 4, 2018, he shared a video on Instagram, letting fans know he was on his way to get on a Greenpeace ship. The footage of him dancing with "the 'guins" has yet to show up — but we all know it's coming.
Next: Harbour weighed in on the Dad Bod phenomenon.
6. When he embraced his dad bod physique
Harbour isn't the first actor to be given the "dad bod" descriptor. And in November 2017, he let fans know that he had embraced his fabulously flabby physique. TV writer Danielle Henderson tweeted that fans had wasted the phrase on lesser mortals after seeing Harbour in Stranger Things 2. And the actor retweeted her to weigh in on whether he thought fans had been sleeping on his dad bod status.
He said, "danielle, go easy on them. there's no way they could have known that i would emerge from brief character appearances in movies you never saw and come jiggling and flapping with all my excess midsection into the limelight. i stand on the soft shoulders of great dad bods before me."
Next: Harbour took his love for Stranger Things to the next level.
7. When he 'fessed up about his fanfiction obsession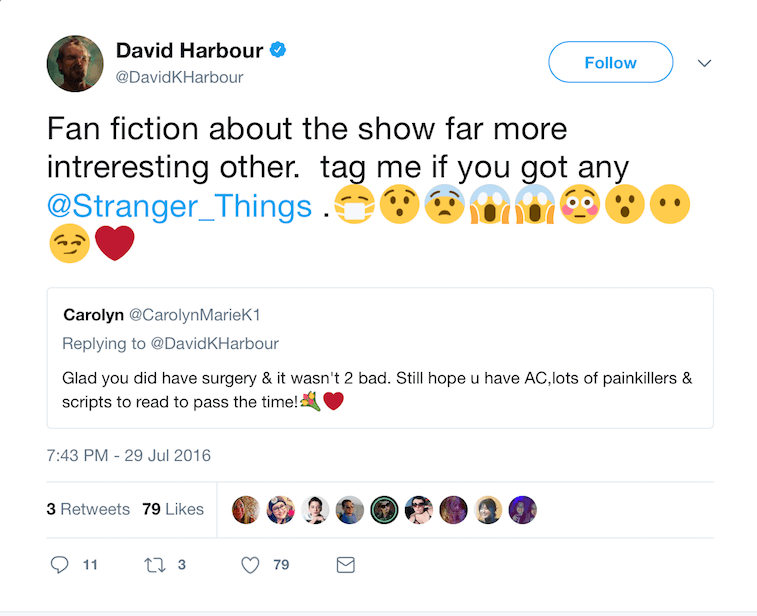 Back in July 2016, Harbour was just beginning to catch the attention of Stranger Things fans. Those that found his Twitter account were quick to share their enthusiasm about the series with him. And more often than not, he was happy to respond. And he wasn't afraid to let fans know how much he likes Stranger Things, too.
But after he had surgery for a torn Achilles' tendon, he may have gotten a little too loose with fans. Because he admitted to one fan on Twitter that he'd rather read Stranger Things fanfiction than new scripts.
He even asked fans to tag him with their favorite fics, or share their own. And they were more than happy to oblige.
Next: Harbour shocked fans on the biggest TV night of the year.
8. When he won the Super Bowl … at least, online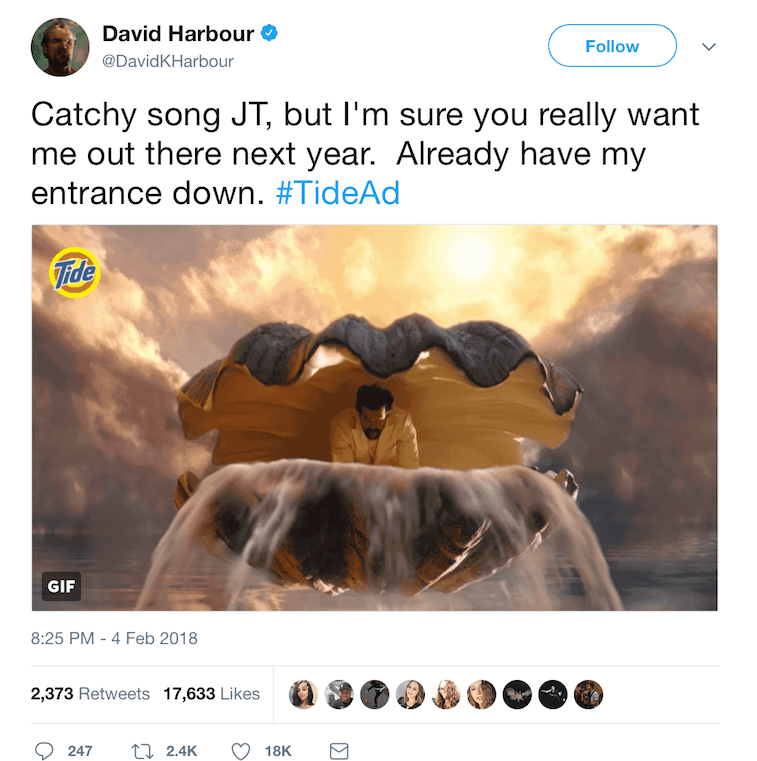 Millions of people tuned in to watch Super Bowl LII on Feb. 4, 2018. Few of them expected to see Harbour's face pop up. Yet, there he was, in a hilariously meta commercial for Tide that poked fun at … well, basically every other commercial out there. Harbour's "It's a Tide ad" campaign had fans rolling, with many calling it the best of the night.
And he made sure to pop online to share one of the commercial's most meme-able moments (and poke fun at the half-time show).
Follow Katherine Webb on Twitter @prufrox.
Check out The Cheat Sheet on Facebook!