Jimmy Kimmel: Every Time the Late-Night TV Host Has Taken on Donald Trump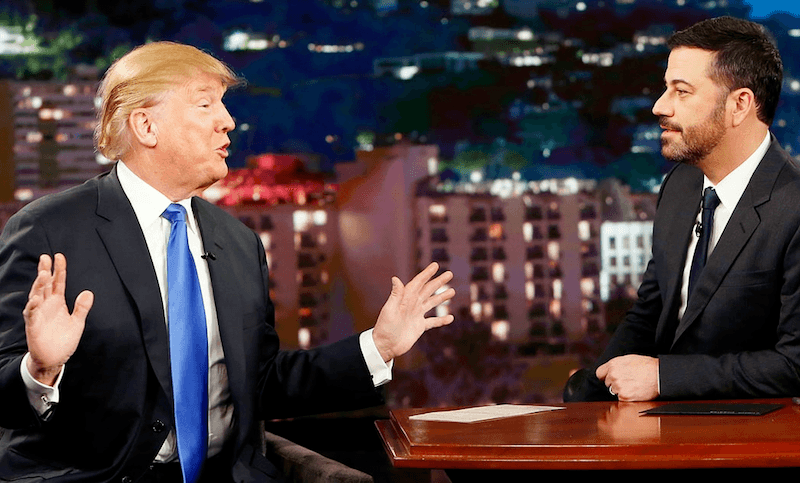 President Trump has no shortage of critics. Elected officials, celebrities, and millions of citizens have been vocal about their frustration with him since before he took the oath of office.
The president's controversial actions have led to a change in discourse from coast to coast. And that discourse has become a fixture on many late-night talk shows. Sure, The Daily Show will always tackle the dysfunctional side of Washington D.C. But since Trump was elected, TV hosts like Stephen Colbert, John Oliver and Seth Meyers have gone out of their way to talk to their viewers about important policy matters.
One host in particular, Jimmy Kimmel, has made headlines for his frequent criticism of Trump. The Jimmy Kimmel Live! host has devoted multiple segments — and a great deal of passion — to discussing Trump's policies and relationship with the media. And he's earned a lot of fans and enemies in the process. Here are all the times Kimmel has taken on Trump, his family, his administration, and his agenda.
1. Pick on someone your own size
https://youtube.com/watch?v=JPFwQPsRh_E
In May 2017, Trump issued an executive order banning U.S. entry for citizens from seven Muslim-majority nations. Some supported the travel ban, to varying degrees. But many others worldwide were upset with both the order itself and how it was implemented. That was due, in part, to the fact that it affected international travelers who were already on their way to the United States.
Kimmel hadn't exactly been easy on Trump prior to the travel ban. He'd shared plenty of jokes at his expense. But he took his criticism of the president up a notch after news of the travel ban broke.
On Jan. 30, 2017, Kimmel brought up the travel ban during his opening monologue, first drawing attention to the tens of thousands of protestors that showed up at airports nationwide. "That's when you know people are mad. It's Sunday. They have no travel plans. And they go to the airport," he said.
Then, Kimmel turned his attention to the chaos that ensued in airports as immigration officers detailed travelers. And to make his point, he told the story of a five-year-old Iranian boy held by immigration officers for hours without his mother.
The host also aired a clip of then-Press Secretary Sean Spicer defending the child's detainment before expressing his incredulity at the entire situation. "What's he going to do?" Kimmel asked, as the audience cheered. "Tinker toys?"
2. A personal plea against Trumpcare
In May 2017, House Republicans were busy crafting a health care bill to replace the Affordable Care Act. And a lot of rumors were swirling about what the bill would and wouldn't make insurance companies cover — like pre-existing conditions.
Until that point, Kimmel hadn't weighed in too heavily on policy debates. But he went all in on the Affordable Health Care Act aka Trumpcare. As he explained in his widely shared May 1 monologue, his aversion to the new bill came from a terrifying and recent family crisis.
On April 21, 2017, Kimmel's wife, Molly McNearney, gave birth to their son, Billy. And they quickly learned that he had a rare heart condition that required high-risk surgery. Kimmel detailed the ordeal he, McNearney, and the rest of their family went through as they waited to learn if their son would survive (thankfully, he did).
Kimmel, who grew emotional multiple times during the monologue, took time to thank everyone who'd helped them throughout those frightening days. And then he turned his attention to Congress and asked them not to pass legislation that would make it harder for Americans to get or keep health coverage.
He pointed out that, without the ACA, Billy would not be able to have health coverage due to his heart condition. And he asked Americans to let their representatives know they want that type of coverage to stay for good. "If your baby is going to die and it doesn't have to," he argued. "It shouldn't matter how much money you make."
3. Cersei for President
On Aug. 10- Aug. 13, 2017, white supremacists descended on Charlottesville, Va. and marched through the city with torches. Their weekend of demonstrations led to widespread arrests, multiple incidents of violence, and the death of a counter protester. The events of that weekend shocked and angered millions of American, and Trump's insistence that "many sides" were to blame for the violence were widely considered to be both inaccurate and insensitive.
Kimmel used his Aug. 16 opening monologue to address what happened in Charlottesville — and he didn't mince words when it came to the president's response. "We came out of [the weekend] wondering if our president is cutting eye holes out of his bedsheets" he said.
The host refuted the president's claim that there was blame to go around. "There were two sides," he said. "Not many sides. And one of those sides had Nazis on it."
After he president later doubled down and placed blame for the violence in Charlottesville on liberal counter-protestors, Kimmel called attention to the president's rhetoric once more. He called Trump unhinged, and said, "I'm not joking when I say I would feel more comfortable if Cersei Lannister were running this country at this point."
The late-night TV host argued, "If you're with a group of people and they are chanting things like, 'Jews will not replace us,' and you don't immediately leave that group, you are not a very fine person." He also stated that by refusing to condemn the actions of the alt-right protestors, the president made a "passionate defense of white supremacists."
4. Fire and fury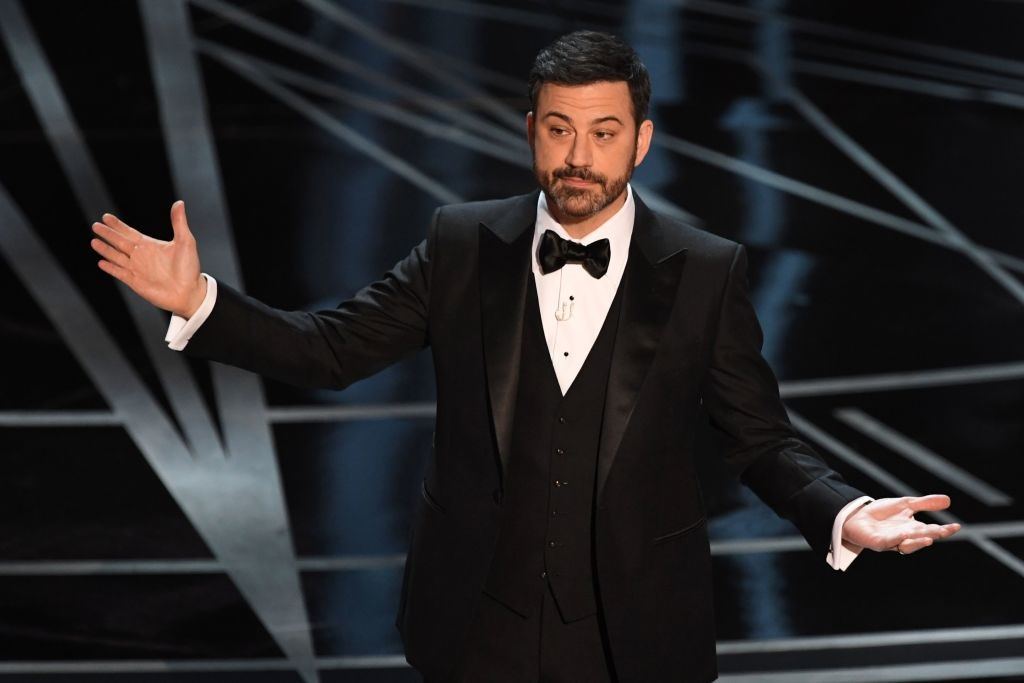 One of the most pressing issues facing President Trump is how to handle the potential nuclear threat posed by North Korea. But in lieu of policy initiatives or diplomatic conversations, the president seems to be dealing with the issue with bluster and Twitter threats.
Some fear that Trump's cavalier attitude toward North Korea could lead us into a large-scale war. Kimmel has voiced those concerns himself multiple times. During his Aug. 10 monologue, the host read some of the president's recent tweets about the strength of the United States' nuclear arsenal. Then, he vented his frustration at Trump's foreign policy methods.
Kimmel also addressed a statement Trump made that said North Korea would feel "fire and fury like the world has never seen." He offered up a relatable comparison for Game of Thrones fans, arguing, "If our president was Daenerys Targaryen, I'd have no concerns. But she's not, he is, so I do have concerns."
The host reiterated his concerns as the monologue came to a close, stating, "We cannot afford to have an unstable, unpredictable, egomaniac dictator in charge of an arsenal of nuclear weapons. And Kim Jong Un needs to be stopped too."
After the president spoke to the UN General Assembly — and threatened to "totally destroy" North Korea — Kimmel mentioned his concerns again during his Sept. 20 monologue. He addressed the president's tendency to call Kim Jong Un "Rocket Man," saying, "I think he does that nickname thing because he can't remember anyone's real name.
5. What not to do after a natural disaster
In late September 2017, Hurricane Maria devastated Puerto Rico, and Trump faced a new round of criticism for the way his administration handled relief efforts for the U.S. territory.
On Oct. 3, Trump and his entourage traveled to the island to survey the damage and offer support to the citizens. While there, he said that Puerto Ricans should be "very proud" their death toll was low. He delivered paper goods to a crowd of citizens by throwing them like they were basketballs. The president later told CBS News he was "having fun" during his trip to the water-logged region.
On a whole, media figures, including Kimmel, did not respond well to Trump's visit. The comedian used his Oct. 3 Jimmy Kimmel Live! monologue to raise an eyebrow at the president's bizarre behavior in Puerto Rico. After showing a clip of the president telling a crowd that hurricane recovery efforts had "thrown our budget a little out of whack," Kimmel was incredulous.
"He really puts the ass in compassion, doesn't he?" he said. Kimmel then showed footage of the president telling survivors to have a good time, and offered up a friendly reminder: "It's a hurricane, not a pool party."
6. Thoughts and prayers (and gun control policies)
On Oct. 1, a gunman opened fire on the Route 91 Harvest music festival in Las Vegas, Nev. Fifty-eight people died, and more than 400 injured in what is now the deadliest mass shooting in U.S. history.
As is often the case when these events occur, politicians around the country offered their thoughts and prayers for the victims and first responders. Kimmel, too, offered his sympathy to all involved during his emotional Oct. 2 monologue. But he was deeply shaken by the event, as it happened in his hometown. And he had some harsh words for every politician who refuse to do more than offer their condolences, time and time again.
Kimmel's passionate plea to politicians didn't specifically focus on Trump. But he did mention the president, telling viewers that Trump "said he's praying for those who lost their lives. In February, he also signed a bill that made it easier for people with severe mental illness to buy guns legally."
7. A tornado of fake news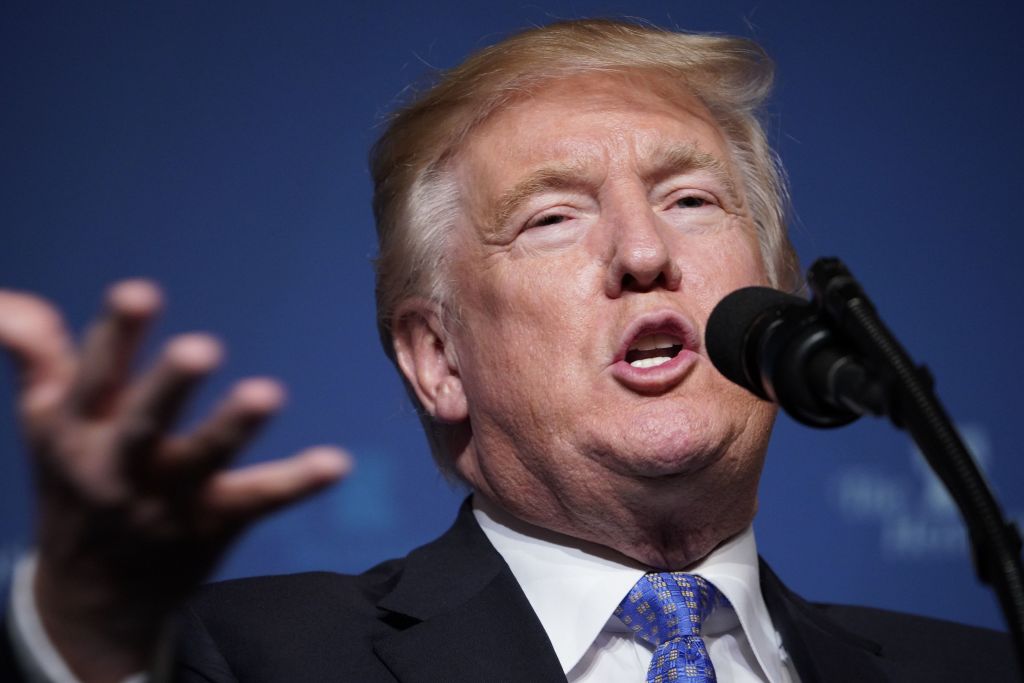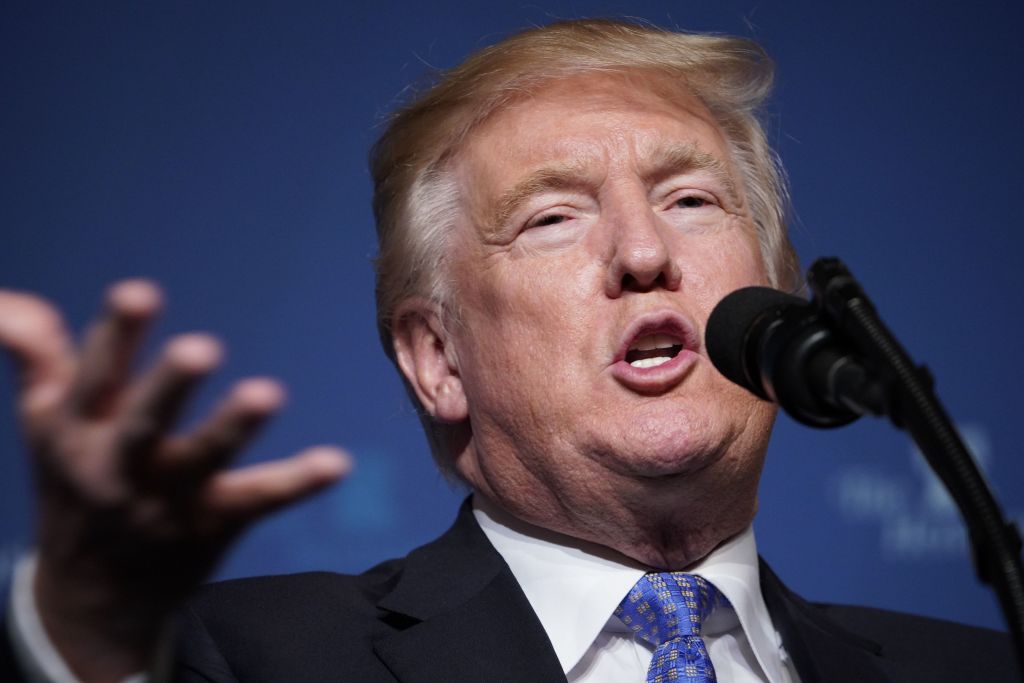 Trump often complains that the United States has a "fake news" problem. According to Trump, the main purveyors of said false information include The New York Times, NBC, and virtually all other major news outlets.
On Oct. 4, Trump once again accused the media of spreading lies after an NBC News report that his Secretary of State, Rex Tillerson, called him a "moron." And he took to Twitter to ask why the Senate Intelligence Committee isn't investigating why news networks are allowed to spread what he perceives to be lies about his administration.
Kimmel decided to address the president's frequent critiques of the press in his Oct. 5 monologue. He told his audience, "No breathing human on the planet Earth produces more fake news than Donald Trump."
The host also cited Politifact, a nonpartisan website, arguing, "only 5 percent of the things that come out of his mouth are true." He also offered up more statistics for viewers, referencing a Washington Post study that showed "over the last 232 days, Donald Trump has made 1,145 claims that are false or misleading."
As far as Kimmel was concerned, that makes Trump the biggest purveyor of the falsehoods that he rails against and a "tornado of fake news."
8. Taking on Trump Jr.
https://youtube.com/watch?v=5xgX_tNTWgs
The president isn't the only Trump that Kimmel has taken to task. On Oct. 7, Donald Trump Jr. tweeted at Kimmel, asking for a response to the allegations that Harvey Weinstein had sexually harassed and assaulted multiple women.
Kimmel responded that he thought the news was "disgusting." Trump Jr. then told the late-night show host he hoped he'd mention the allegations in his monologue. Kimmel addressed the back-and-forth during his Oct. 10 Live! monologue, saying, "I got in a fight with the president's son on Twitter. So just a normal, regular, usual weekend."
But he also took the opportunity to fire back at Trump Jr. "The insinuation was that we as part of the biased, left-wing media propaganda machine wouldn't say anything about [Weinstein] because he's a Democrat," Kimmel said, reminding his audience that the Hollywood mogul had made significant contributions to Hillary Clinton's political campaign.
While confronting the Weinstein scandal, Kimmel also took the opportunity to remind everyone that Trump has faced multiple sexual misconduct charges of his own. Kimmel pointed this fact out both on Twitter and during his monologue. And to illustrate that fact, he shared the 2005 Access Hollywood tape that revealed Trump bragging about sexually assaulting women.
Kimmel didn't stop there, though. He went on to state,
Fact is, [Clinton's] campaign did take money from what turned out to be a high-profile man who's been accused of sexual harassment multiple times. And not just one of them, by the way. She took money from two of them: Harvey Weinstein and Donald Trump, who donated to Hillary's campaign in 2008.
Then he offered this advice to Trump Jr:"Next time you're defending your father and you think it's a good idea to draw a comparison between him and a freshly accused sexual predator? Don't, it doesn't help."
Follow Katherine Webb on Twitter @prufrox.
Check out The Cheat Sheet on Facebook!