Here's Why Everyone is Freaking Out About Kate Middleton's Handwriting
There are a lot of reasons why people adore Kate Middleton. As the Duchess of Cambridge, she's constantly in the public eye yet keeps a poised and polished presentation at all times, despite the press always being on her tail. Kate is the future Queen Consort, and she's earned a reputation as a widely respected member of the royal family. But among all of those reasons, people are also obsessed with… Her handwriting?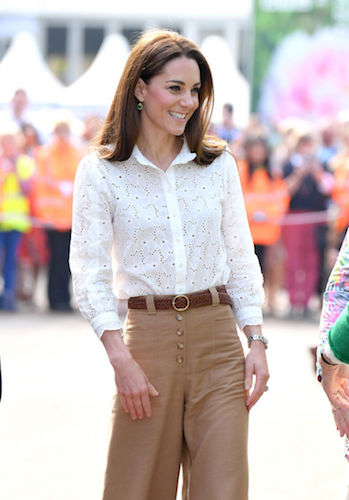 When people first saw Meghan Markle's handwriting, they couldn't believe how neat it was
While it's hard to believe that anyone could freak out over handwriting, people will take pretty much any reason to gush over the Duchesses of Sussex and Cambridge. When Meghan Markle first began dating Prince Harry, there were a lot of things to learn about her. But one thing that was quickly brought to the public's attention was Meghan's immaculate penmanship. In a note she had handwritten to a fan, her writing almost looks like a font that was created for Microsoft Word. It was nearly flawless; people have praised her and questioned how she could have become so talented with a pen. But little did the public know, Kate was hiding something about her handwriting, too.
Kate recently revealed her own penmanship at a gardening engagement
Earlier this year, Kate helped design a "Back to Nature" garden for the Chelsea Flower Show in London. This week, Kate welcomed a group of students to the garden, and she and the students all contributed a handwritten memory to the garden's wall of "joyful garden memories." But Kate's note caught the press by surprise. Her regal handwriting, which few had ever seen, was hard to stop looking at. She had written her note in cursive, and though it didn't flow as nicely as Meghan's it was clear she had incredible penmanship, considering she was only writing on a small piece of paper with a pencil. Her note read, "Boulder hopping in the Lake District," and was signed Catherine instead of Kate. People were freaking out over the handwriting they had never seen.
People all over the world admire both duchesses for various reasons — but it's hard to imagine handwriting as one of them
Meghan and Kate are admired around the world for various reasons. People love that Meghan is redefining the royal family traditions and that she and Harry will be doing life a bit differently than the other royals. And people love Kate's polished look; she's one of those ladies who acts as if she was born to be a royal. Kate is kind and compassion, and people love to see her with her children. But it's hard to believe people could be so obsessed with someone's handwriting.
As far as penmanship goes, most people would agree that writing neatly, especially in cursive, is no easy task. It's just one more reason we're all jealous of these duchesses. Since Meghan married into the family, people have been comparing her and Kate endlessly — apparently, even their penmanship has been compared. Realistically, these women have more in common than we realize — right down to their handwriting.      
Check out The Cheat Sheet on Facebook!