The 1 Reason Everyone Thinks the Feud Between Kate Middleton and Meghan Markle Is Really Over
For the past year, the media has been in a frenzy over whether Kate Middleton and Meghan Markle actually get along. Throughout 2018, the two were in the news almost every day over some new leak about their supposed feud. But in 2019, the two have been making their best effort to erase the whole thing. And Kate Middleton just did one thing that has everyone thinking it's over for real.
Kate Middleton supposedly cried over Meghan Markle's wedding, which sparked the alleged feud
Back when Meghan and Prince Harry were planning their elaborate nuptials, things started to seem rocky between Meghan and Kate. While planning a wedding can definitely be stressful (especially in such as a short amount of time), something happened at Princess Charlotte's dress fitting that reportedly left Kate in tears. However, it was never proven that Kate left crying; the story was told by a supposed source close to the royal family. Plus, if Kate had been crying, it may not have had anything to do with Meghan. She had just given birth to Louis at the time, and her body was still recovering; she could have had a lot of emotion about anything.
Those close to the family claimed the two hated each other
Once Meghan and Harry announced that they were moving to Frogmore Cottage, located about 25 miles away from Will and Kate (Meghan and Harry were originally supposed to live next door to Will and Kate), the rumors picked up. There was so much to be said about the supposed feud between the two women. One source said that Kate yelled at Meghan over how she talks to Kate's staff members; another story suggested the tension between Kate and Meghan was the entire reason Harry and Meghan decided to move. Even if the two women did have tension, it's hard to believe Harry would just uproot his entire life without even attempting to have the two reconcile.
On Christmas, the two women were seen smiling and laughing together
It didn't take long for Kensington Palace to learn what the media was saying about the two duchesses. After a while, there were new rumors that Charles and the queen both supposedly reprimanded the two women and told them to make sure the rumors were squashed. (At this point, there are rumors about rumors.) On Christmas morning, Meghan and Kate attended mass alongside their husbands, and all four of them were nothing but smiles. The two women appeared to be getting along well, and there was no tension in their body language, either.
Now, Kate just greeted Meghan with a kiss on both cheeks, a strong sign that things are finally going well between the women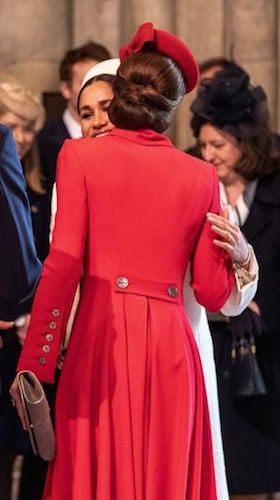 Although things have died down a bit with the Kate and Meghan feud, people still pay close attention to how the women interact when they're together. And one gesture finally has everyone thinking things between them are once again great: Kate kissed Meghan on both cheeks when she greeted her earlier this week. This is a strong sign of affection in the United Kingdom, and it's only used with people you truly know and like. While there are still some saying the act was deliberate, there isn't much more these women can do to prove things are looking up between them.
Check out The Cheat Sheet on Facebook!