Here's Why Everyone's Talking About Lupita Nyong'O's Golden Globe Awards Shoes
The Golden Globe Awards are a time when, once again, Hollywood stars, especially women, get to make a major fashion statement. This often means actresses wear dresses worth thousands of dollars and shoes that are just as expensive to match. But every once in a while, a celebrity surprises everyone by wearing something shockingly inexpensive — Lupita Nyong'O surprised everyone with her shoe choice at this year's awards show.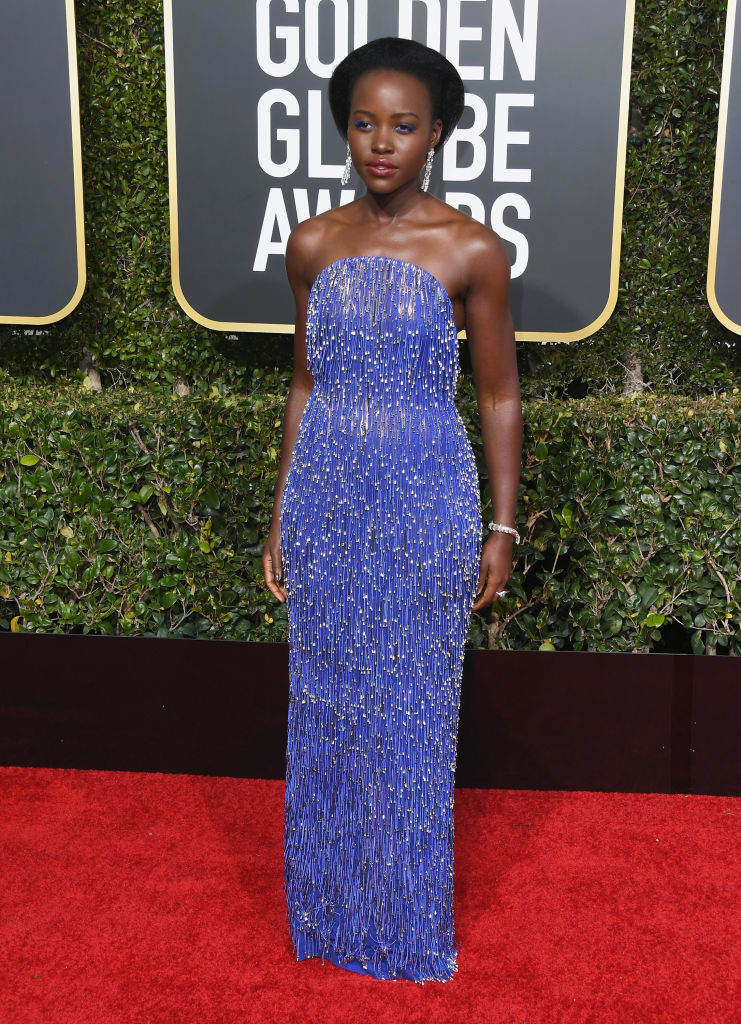 Nyong'O wore a blue Calvin Klein dress on the red carpet
Nyong'O made an appearance on the red carpet in a dress that showed off both her poise and style. She wore an electric blue Calvin Klein dress when she stepped onto the carpet with her "Black Panther" costars. The dress was strapless with a unique front that curved downward toward her ribcage; it was held up by a thin strap that attached to the dress in the back. The dress was loaded with silver fringe — a fun yet classy outfit choice. But what had people freaking out about Nyong'O's outfit actually had nothing to do with her dress — it was all about her shoes.
She matched the dress with a pair of $45 Aldo shoes
Perhaps the most incredible shoes on the red carpet last night were Nyong'O's strappy silver heels. While most people invited to the Golden Globes step out in a pair of shoes worth at least a few hundred dollars, Nyong'O went the more affordable route. The actress wore a pair of $90 silver Aldo heels. And for even more of a shock effect, the shoes are currently marked down to just $45. Those on the red carpet couldn't get over her affordable fashion choice. But the shoes looked high-quality and paired perfectly with her designer dress. After all, fashion doesn't have to be all about spending money. Sometimes, the more affordable option works the best. And Nyong'O showed she isn't above an awesome bargain.
Nyong'O was not nominated this year, but in some ways, she still stole the show
While Nyong'O was simply attending the Golden Globes as a guest, all eyes were still on her before the show. Not only did her outfit look incredible, but once people caught wind of the price tag of those shoes, she truly made a statement. She humanized Hollywood. So often, stars are looked at as above all others in society. And while many people emulate Hollywood actors and actresses, at the end of the day, we're all human. Nyong'O wearing a $45 pair of shoes may not seem like a big deal, but in a way, it reminded everyone that those in Hollywood are actually just like us. Nyong'O valued the comfort and look of those $45 shoes over a more expensive pair, which only shows how down to earth the actress actually is.
This isn't Nyong'O's first time wearing affordable fashion on the red carpet. In December 2018, the actress was caught attending an event in a pair of Nine West mid-heel pumps that retailed for only $60.
Check out The Cheat Sheet on Facebook!