Everything We Know About the Aretha Franklin Biopic With Jennifer Hudson
Ever since MGM Studios' Aretha Franklin biopic started picking up pace, the public has been given updates here and there on the who, what, and where of the film. In January, it was announced that Liesl Tommy would be directing the project, and she's worked on shows such as The Walking Dead and Queen Sugar.
It's been years in the making, and prior to her death, Franklin was involved with the creation of this particular movie. Titled Respect, it's due to arrive in theaters next summer, but what are the details behind the film?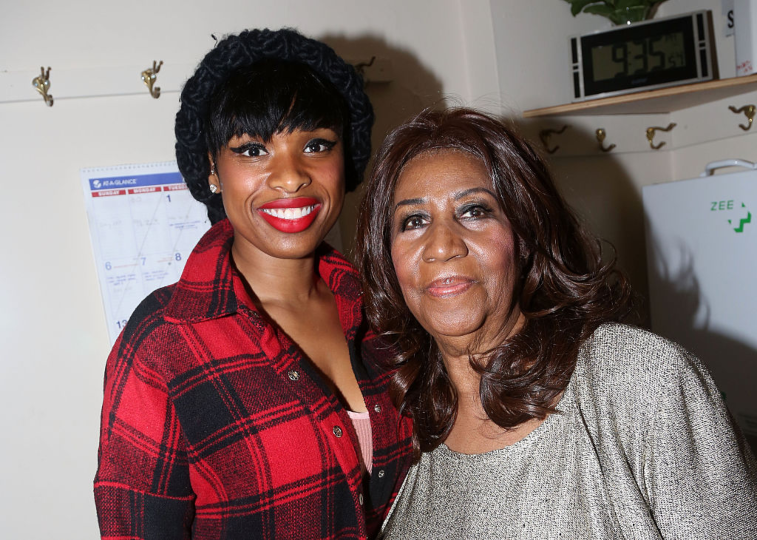 Jennifer Hudson will play the role of Aretha Franklin
Early on, Hudson was cast to play the adult version of Franklin in the biopic, and filming began in Atlanta last month. According to one of Franklin's close friends and producers, Harvey Mason, Jr., Hudson was handpicked by the late singer to be a part of the story.
Last year, Mason spoke to the Detroit Free Press about Respect and what the Queen of Soul wanted it to depict. He touched on the similarities between both women's singing styles:
"They both sing with a lot of emotion. They both sing with a lot of range and power. It's really hard to compare anyone with Aretha, though. I think the good thing about Jennifer is that was Aretha's pick to play her. … There was a lot of discussion about a lot of people, but Aretha was adamant that it be Jennifer."
The movie will chronicle Franklin's life and rise to fame, including the early parts of her childhood when she began singing gospel music in church.
Other big names are attached to the project
Along with Hudson, there are some other talented performers who have recently joined the cast. The Hollywood Reporter notes that Forest Whitaker, Mary J. Blige, Audra McDonald, Marlon Wayans, Tituss Burgess, and GLOW's Marc Maron will also be in the drama.
Whitaker will star as Franklin's minister father, and McDonald is set to be her mother. Wayans has been tapped to play Franklin's former husband, Ted White, whom she married at age 19.
Rising star Skye Dakota Turner will fill young Aretha Franklin's childhood shoes, but the up-and-comer has experience playing the younger version of another musical icon. She's performed on Broadway as Anna Mae Turner, a.k.a Tina Turner.
Blige is on tap to fill the role of the legendary Dinah Washington, who was a friend of Franklin's father as she was growing up. Not only did Franklin admire Washington musically, but she was the one who introduced Ted White into her life. The story gets tricky, because White was said to be an abusive man, and Franklin's father did not approve of their courtship. The film will address Franklin's marriage to him.
There's another Franklin project in the works
In addition to this MGM film, National Geographic is producing its own docuseries on Franklin which stars singer Cynthia Erivo in the title role. Genius: Aretha is a scripted television miniseries that will also explore Franklin's life and musical legacy.
According to Deadline, the project is due to begin filming in November and will air on the network in spring 2020. Clive Davis is on board to executive produced. Both projects received the blessing of Franklin. Respect will hit theaters in August of next year.